4 Simple Wedding Ideas + 10 Money-Saving Ideas For A Wedding On A Budget

This post may contain affiliate links. This means if you click on the link and purchase the item, I will receive an affiliate commission. More here: Disclaimer & Privacy Policy


Planning the big day? Looking for simple wedding ideas?! Check out these fantastic free wedding ideas that will save you time and money!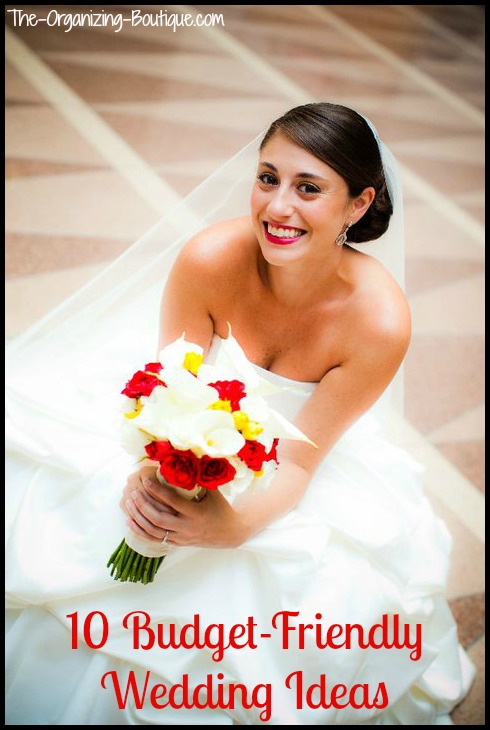 (That's me in the above photo!)

Checklists, budgets, vendors, dresses, flowers, decorations, lights, food, drinks, music, cake, transportation, party favors, table linens, invitations, save the dates, stamps, ah!
Planning the big day is a lot of work, even for an organizer. :) Since I now have first hand experience, I want to share my simple wedding ideas and lessons with you in hopes of making your engagement as fun and as stress-free as possible. Enjoy!
4 Simple Wedding Ideas

Simple Wedding Ideas:
#1: Whose Wedding Is It?

The most important thing about planning a wedding is that you remain true to yourself. It's not anyone's wedding but your own. Keep this in the forefront of your mind. You have been waiting a long time for this big day, and it should be what YOU want it to be.
Brides often drive themselves crazy over trying to please everyone else. This is a huge mistake and causes a lot of emotional strain which is the exact opposite of how you want this process to be. Again, remain true to yourself.
Now that being said, don't shut everyone out either. Be open to their wedding ideas. Listen to what they have to say, because in the end they are just trying to help (even though it doesn't always seem like it). Tell them you'll consider it and thank them for the idea. Who knows? You may just love what they have to say.
Anyone that is forcing an idea on you rather than suggesting one does not have you in mind and should not be involved in any part of planning the wedding. Period.
So the lesson summed up is... consider the wedding ideas of others and remain true to yourself. READ MORE ABOUT DEALING WITH MENTAL STRESS THAT CAN ACCOMPANY THE WEDDING PLANNING PROCESS.
Simple Wedding Ideas:
#2: Meet Everyone You Hire

You must meet with every vendor. You must go to every venue. You must see absolutely everything in person for all the obvious reasons and for all the not-so-obvious ones. Must!
Obviously you want to choose vendors and venues that are within your budget, offer what you want and are available for your date.
Not so obviously:
What is the atmosphere of the hotel you are recommending to your guests?
Do you feel comfortable with your photographer?
How's the service at the restaurant where you intend to have your rehearsal dinner?
I repeat, you MUST SEE EVERYTHING in person.
I've heard horror stories. One was about a bride and groom who hired an inexpensive yet professional videographer through a national online company. They didn't meet with him prior to the wedding, so there was no sense of who he was or what he's done. Come the big day, he decided to simply not show up. Yikes!!!
Simple Wedding Ideas:
#3: Review Your Vendors

Help a bride out...or whoever is planning the wedding. This is one of those simple wedding ideas that is actually post wedding for you but pre-wedding for others.
The first place people look nowadays is online (at least that's what I did). If I wasn't directly referred, I did Google searches for vendors and then looked at the reviews others had posted about them. Believe me, it made an impact in the decision-making process.
You will most likely consider online reviews in your vendor decision process (thanks to the brides that came before you), so give back. When you're special day is over, review your vendors online - TheKnot.com, WeddingWire.com, or what have you - and let the world know what your experience was (good or bad).
Simple Wedding Ideas:
#4: Be Budget-Friendly

Weddings are expensive. All the details really add up, and they add up fast!
The best place to start is with a budget. You need to know how much you are aiming to spend on the whole thing. No matter who is paying for the wedding, it is absolutely crucial that you know this number at the beginning of the planning process.
Once you have a budget figured out, decide what details are most important to you and your husband-to-be. Is it the venue? Is it the photographer? Is it your dress? Is it the flowers? Or the cake? Or the music? What aspects of your wedding are worth spending more money on?



CAKE simple wedding ideas to save money

Bakeries charge by the slice, and it's easy to spend $1000 on a cake. Crazy!
Have any baking-savvy friends, relatives or co-workers? You'd be surprised how many people know "people" that make beautiful cakes out of their homes as a side business and don't charge nearly as much as the bakeries.
Also, do you need a huge, fancy cake? If the cake isn't as important to you, then why not have a display cake and serve the guests sheet cake? A display cake looks great and is simply for show. They are less expensive, because they are smaller or sometimes they are tiered but the bottom layers are not actual cake. With this wedding cake idea, the guests won't know the difference and you save money!
I've also heard of brides going into bakeries the day of and buying a bunch of smaller cakes that were already made fresh that morning. You save money because you're buying something "as is."
Finally, what about cupcakes?! We did cupcakes for our wedding and it ended up being a couple hundred bucks. Plus, everyone LOVED them and it's one of the unique things people actually remember about our wedding. That's them in the photo below. Food for thought.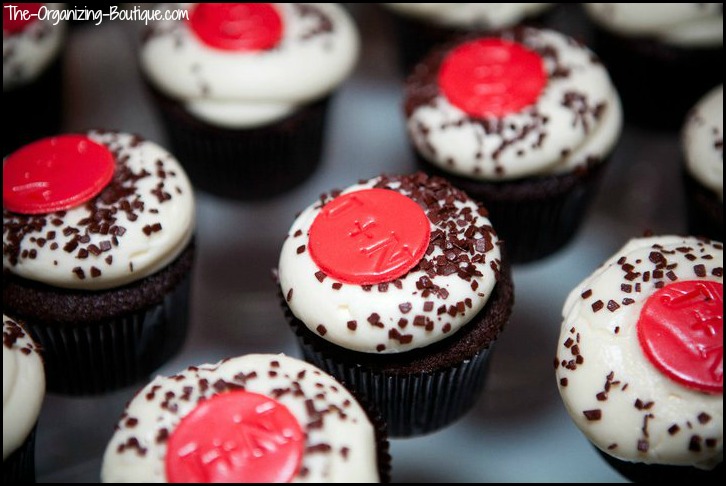 MUSIC (during the ceremony) simple wedding ideas to save money
String quartets can cost a pretty penny, because you are paying multiple (usually four) artists by the hour.
Why not hire a classical guitarist? Or a harpist? One musician, one instrument, just as good, if not better.
You can also scrap the musicians altogether and play music through a sound system. Trust me, it can sound just as good.


MUSIC (during the reception) simple wedding ideas to save money

DJ or band? If having a band is not as important to you, then hire a DJ. They are less expensive and can offer a wider variety of music.


WEDDING GOWN simple wedding ideas to save money

There are tons of ways to save money on your dress!
First, keep in mind that you are wearing it once. And seriously, what is the likelihood that your future daughter will wear it at her wedding?
Does anyone you know have a dress you would consider wearing? If so, altering it a bit would cost way less than buying a brand new gown.
Thrift stores and charities can have tons of wedding dresses! Lots of brides donate their dresses after the big day to charities who help babies, the prevention of human trafficking and the military. Check out:
There are also websites dedicated to selling pre-owned wedding gowns. My favorite is

Tradesy.com.

It's free, fast and easy. Then of course there's Craigslist, eBay, your local newspaper's classifieds and so on.
Have your dress cleaned and preserved right after the wedding, so you can sell it in good condition to another bride-to-be. I sold my dress to a local consignment shop and ended up making almost half of what we originally paid for it back!



PHOTOGRAPHER simple wedding ideas to save money

The pictures are all you have left after the wedding is over, and trust me, it all happens really fast. That being said, quality is a major factor when choosing a photographer but that doesn't mean you have to spend a crazy amount of money.
The MOST important factor is the connection between the photographer and you and your spouse-to-be. If you are uncomfortable or don't like the photographer in any way, it will show in the pictures so don't settle.
Now that being said, you can choose an experienced photographer who takes quality photographs that you are comfortable with and still save money...
Hire the photographer for 6 hours instead of 8. Usually the last hour or so of the reception is people doing what they've been doing - dancing. The photographer can capture that at the beginning of the party.
Don't get your wedding album right away. Order it for your one year anniversary. This could easily take $500 to $1000 off of your photography expense. It takes quite a while to get the album anyway, so why not wait a bit?
If you live in an urban area, consider photographers who are based outside of the city. They tend to be less expensive and just as good. You'd be surprised how costly vendors are simply because of where they are.


INVITATIONS simple wedding ideas to save money

Just like everything else, it is beyond easy to spend a lot on wedding invitations. There's folds and bows and inserts and RSVP cards and on and on and on.
First, keep it simple. I have been to numerous weddings and couldn't recall what a single invitation looks like. That's not what people remember, so make sure you pick something that you like and gets the job done. Other than that, you don't need the fancy shmancies unless you have the budget for it.
Second, go to Google and search for "discount wedding invitations." You'll find tons of legitimate websites that have designer invitations on sale.
Third, do you need an RSVP card? Think about it. The RSVP card adds an extra printed piece of paper, an envelope and a stamp. This is a huge expense. If you are comfortable having your guests RSVP on your wedding website, then by all means do it!

Get creative with it too. On your invitations you could put something like, "We've gone green! In lieu of RSVP cards, please let us know whether or not you can attend by filling out the form on our website." Now who could argue with going green?


VIDEOGRAPHER simple wedding ideas to save money


First, do you even want a wedding video? I've been to many weddings that didn't have a videographer. Talk it over with your spouse-to-be. If you're comfortable with just having photographs as a record of your big day, then you can eliminate this expense altogether.
If you know you want to have your wedding videotaped, do you have any family members or friends that would want to volunteer for the job? Possibly as a wedding gift?
If you're going to hire a professional, first make sure they are just that. Meet with them at their studio. Ask about their credentials. Ask to see some of their work. Cover all the angles.
On that note, a videographer can get expensive. To be budget-wise, hire a professional to capture the day on film and only edit out the unnecessary shots. Having them make a six-minute highlight DVD with music and titles is very time consuming and can cost hundreds of dollars more.
If you'd like to have a highlight DVD of your wedding, consider having it made as a one year anniversary gift to each other.


FLOWERS simple wedding ideas to save money

Flowers are fun!! As with anything else, it is very easy to spend a fortune on them. But of course, I have some money-saving strategies for you. :)
First and most often said, pick flowers that are in season and not hard to come by.
Make selections with your wedding colors in mind as opposed to the type of flower (unless your wedding theme is a certain kind of flower or something of that nature). There are so many kinds of flowers out there that come in so many colors. Your look can easily be achieved without using expensive, rare flowers and without breaking the bank. For example, if you are looking for a white flower think about using hydrangeas. They are beautiful, take up a lot of space, not hard to come by and therefore very economical.
Repurpose!! Coordinate ALL the flowers, to not necessarily match, but to look cohesive - centerpieces, ceremony arrangements, bouquets, everything. After the ceremony, use the bridesmaids bouquets as centerpieces on some of the reception tables. Use the bride's bouquet as a centerpiece on the sweetheart table. Use the arrangements decorating the ceremony on some of the reception tables (if you are getting married and having the reception in the same location).
Does the cake table really need full flower decorations? Does the place card table? Does the guest book table? Instead of putting full arrangements on these tables, have the florist sprinkle petals on them. This way you have a floral presence, a decorated look, and a much smaller price tag.


SEATING ARRANGEMENTS simple wedding ideas to save money

Just like the RSVP cards in the invitations, place cards for the dinner can be an unnecessary expense. A really economical way to direct your guests to their seats is to display a framed seating chart (or two). Not only do you save money, but it is greener and easier to set up.
First, decide the size of the frame(s) you are going to display. Remember, the larger the text on the chart, the easier it will be for your guests to find their seats. I'd suggest frames that are 16"x20" or 18"x24". You can use frames that you already own, get inexpensive ones at an arts and crafts store like Michael's, borrow them, etc.
Then, you can download seating chart templates from the Internet, have a design savvy friend create it or draft it yourself. Make sure the document is saved as a .pdf and that it's the same size as the frame(s) you have/bought.
Next, take the document to Kinko's (or the like) and have them print it out on the most inexpensive paper. (It's a really thin stock of paper, but it doesn't matter because it'll be framed!) This shouldn't cost more than $10 per print out.
Put the printed seating chart in the frame and voila!
Now all you have to do is find out if your venue has easels (which I'm sure they do). Also, remember to display your seating chart(s) in a very visible location for your guests.


SOME THINGS BORROWED simple wedding ideas to save money

Think about all your friends and family members who are already married. They've gone through this whole process and may have some items they are glad to lend you like...
veil
shoes
box or receptacle for gift cards
hair accessories
wedding gown
jewelry
EXTRAS
---
Have a good "lesson learned" moment while planning your wedding?
Share your wedding wisdom! Failure? Success? Funny story? Horror story? We want to know the details and how you dealt with it.
What Other Visitors Have Said
Click below to see contributions from other visitors to this page...

---
---