Organizing Makeover Before and After Photos | My Before And After Pics

This post may contain affiliate links. This means if you click on the link and purchase the item, I will receive an affiliate commission. More here: Disclaimer & Privacy Policy


Below are makeover before and after photos of some of the organizing sessions I have completed with my clients. Let this page be your inspiration to get started, to keep going, or to finish the job. You'll be so happy when you do. Enjoy!
**Tip: Take pictures of your progress, so you can see the change happening. Being able to visualize the improvement is very motivating!**
---
Scrapbooking Center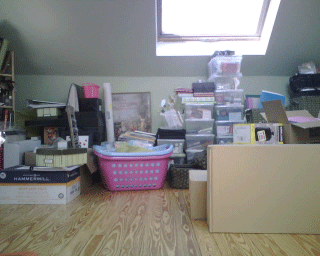 This is a third floor room that has many purposes. Among a playroom, media room, and office, it is a scrapbooking center. As you can see, there are arts and crafts supplies galore!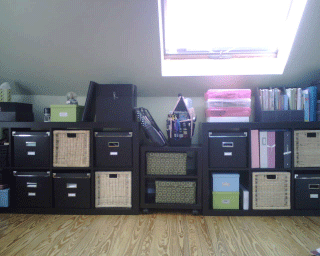 Two shelving units were purchased, assembled and installed on this wall. The supplies were separated by likeness into categories (i.e. stickers, paper, tools) and put into labeled baskets or boxes that fit into the cubes of the shelving units. Here's the exact organizational process and scrapbook storage furniture we used to transform this area from a jumble to a scrapbooking center!

---
Bathroom Drawer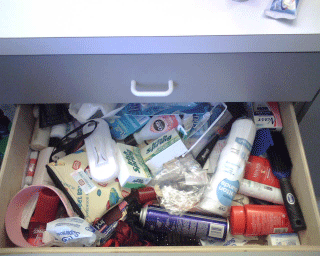 This bathroom drawer was filled with clutter. It was hardly used because of the state it was in and locating things required a lot of digging.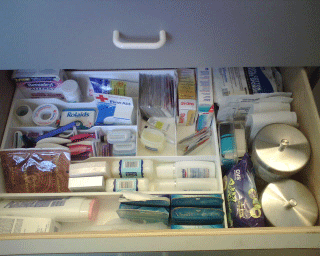 Everything was taken out and gone through. Most of it could be and was pitched. The rest was sorted into categories (i.e. shaving, first aid). A drawer divider was purchased and utilized to keep the categories separate and neat. Here's the exact organizing process we used to turn this drawer chaos into a neat bathroom space.

---
Basement Closet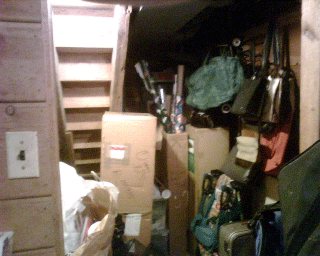 This makeover before and after is a closet filled to the brim with random items. There was room for one foot to step in making it difficult to find or reach anything.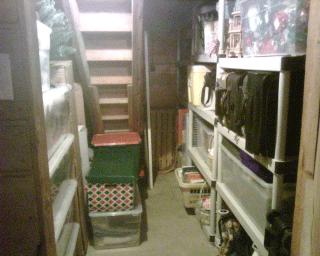 Everything was taken out and gone through. Heavy duty plastic shelving was purchased, assembled and utilized to hold the items that went back in and to employ the vertical space. Here are the closet organization tips we used to whip this space into shape!

---
Home Office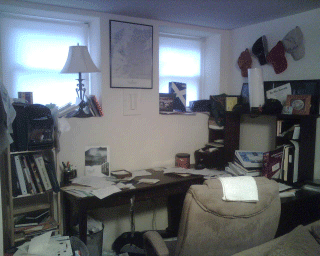 This home office was crammed into a small space and filled with a jumble of paper, supplies and books.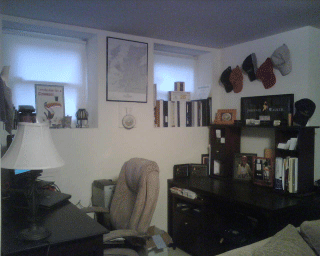 Everything was taken out and gone through. The furniture was rearranged to fit the space more appropriately and create a better flow. Books, office supplies, and paper were sorted into categories and given homes in the desk's drawers and shelves.
---
Office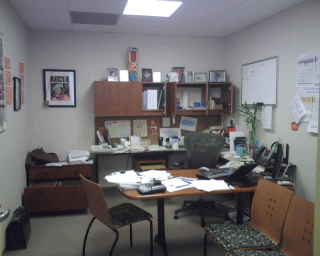 This before and after is an office was filled with paper, supplies, books and random decor. It needed structure and a proper filing system.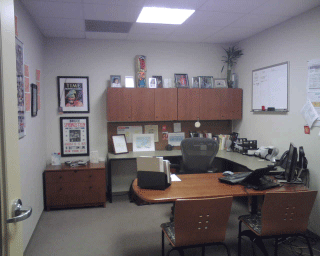 We went through everything and pitched, recycled, or shredded as much as possible. The remaining paper was sorted into labeled files and put in the filing cabinet. The office supplies were separated by likeness and stored in the desk drawers. The books were put in the upper cabinets, and the decor was arranged to be visually pleasing.
Want to see more before and after photos? Great! Here are makeover before and after pics others have submitted to us, here's our Pinterest board and here is a before and after in my own home. Enjoy!

---