New Uses for Old Things - Upcycling, Recycling, Reusing, Repurposing.

This post may contain affiliate links. This means if you click on the link and purchase the item, I will receive an affiliate commission. More here: Disclaimer & Privacy Policy


Creating or finding new uses for old things is a valuable organizing fundamental. The elemental thought process behind this principle is to simplify, simplify, simplify, simplify, simplify, simplify, simplify (and save some loot).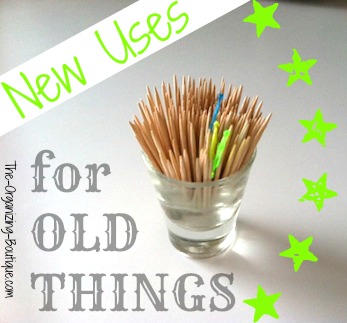 Let's say you are sorting through your home office supplies and haven't gone to The Container Store to get your fancy desk drawer organizer. Instead you are going to simplify and think to yourself, "I need to find something around here that can keep all of these little pieces organized and fit in my desk drawer." You walk around your home a bit, enter the kitchen and it hits you! I can upcycle an ice cube tray!! It will do the job, and it's free. :)
Discovering new uses for old things is a great way to get creative, save time and most importantly money. Using the tips below you can turn trash to treasure by upcycling old items. Enjoy!
In Alphabetical Order

BINDER CLIPS as...
• chip clips. **This is a favorite among the new uses for old things!** Use binder clips to reseal bags of chips, popcorn, trail mix, nuts, pasta, coffee...snacks or pantry items of any kind!
• cord collectors. Have a mess of wires around your desk area? Clamp them together with binder clips to keep them tame and your work space clear.
• picture holders. Rather than putting holes in the pictures you have on your bulletin board, use small binder clips to hold your photos and hang them from the tacks. This keeps your pictures in ship shape and allows for easy transition when you want to switch them out.
• gatherers for blinds strings. Have a tangled mess of string attached to your blinds? Have trouble opening and closing your shades because of it? Never more! Coil the excess string and put a binder clip around it.
• a lot more repurposing ideas for binder clips here and a link to some really cute office supplies!


BULLETIN BOARD as...
• a jewelry organizer. **This is a favorite among the new uses for old things!** Mount a small bulletin board to your closet or bedroom wall and gather some fun push pins. **Use more than one bulletin board if necessary and wall space allows it.** Hang your necklaces and bracelets on the push pins as an easy and adjustable solution to jumbles of jewelry.


BUSINESS CARD BOOK as...
• an extra button holder. You know when you get a new piece of clothing, and there's a little envelope with an extra button inside attached to it? Forget trying to sift through a big jar of these or even a drawer full. These fit nicely into a business card book!
• a gift card and/or rewards card holder. **This is a favorite among the new uses for old things!** Gift cards, rewards cards, business cards - all the same size!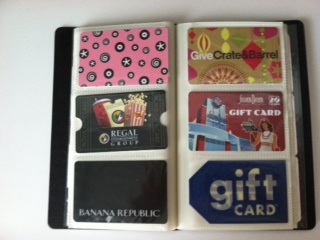 CASSETTE CASE as...
• a gift card box. Want a creative way to wrap gift cards? Use a cassette case. Gift cards fit perfectly into the slot where a cassette tape would usually sit. Stuff some tissue paper in it, then wrap it and presto! Upcycled and given away!
CHRISTMAS TREE TRIMMINGS as...


DESKTOP ORGANIZER as...
• as a bathroom organizer. The compartments of a desktop organizer vary in size and are great for holding makeup, brushes and other bathroom accessories.


EGG CARTON as...


GIFT TIN as...
• a toilet paper holder.


(USED) GREETING CARDS as...
• gift tags. **This is a favorite among the new uses for old things!** Before tossing baby announcements, birthday cards, thank you notes, etc. in the recycling bin, turn them into one-of-a-kind gift tags. Tear off the front cover and cut into squares or any shape of your choice. Write your message on the back, punch a hole in it and attach it to a gift with ribbons. Save trees and money too! (courtesy of Mama Lisa)
• donations. **This is a favorite among the new uses for old things!** St. Jude's accepts used greeting cards. They turn them into new cards and sell them to support their effort. Here are the details.


HANGER as...
• a ribbon holder. Use a swing arm hanger to store your ribbon spools. Just slide them on the swing arm and voila!


ICE CREAM SCOOP as...
• a snow ball maker. Want to make easy, round snow balls? Take an ice cream scoop outside with you, scoop up some snow and voila! Not just repurposed, dual-purposed!


ICE CUBE TRAY as...
• a drawer organizer. **This is a favorite among the new uses for old things!** Place an ice cube tray or two in a shallow desk drawer. This is great for separating all of those small office items - paper clips, binder clips, push pins, rubber bands, staples, hanging folder tabs, keys, extra change, and any other little things that would usually get lost.
• a craft organizer. Utilize an ice cube tray to separate the small items you are using for your current project - beads by color, buttons by size and so on.
• a jewelry organizer. An ice cube tray is perfect for storing all of those small pieces of jewelry like earrings and rings.


JARS as...
• drinking glasses. Spaghetti sauce or jam or olive jars are great for this. Once the jar is empty, soak off the labels and reuse as drinking glasses.
• vases. Do the same thing as above and then insert flowers.


KITCHEN CABINET ORGANIZER as...

MAGAZINE FILE as...
• as a container for paper of all kinds. **This is a favorite among the new uses for old things!** A magazine file is great for storing tall, thin books like kid's books or for keeping menus together in one place or holding office supplies like file folders.


METAL DOOR as...
• as a magnet board. We use our front door to display special photos, announcements, invitations, and more for all to see! Not just repurposed, dual-purposed!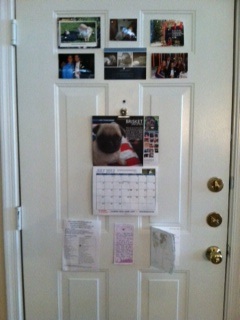 MUFFIN TIN as...
• as a hair accessory tray. A muffin tin or baking pan is great for holding all those clips, barrettes, elastics and any other small hair accessories.
• as an office supply sorter. Instead of hair accessories, you can use the muffin tin to sort and hold small office items like paper clips, staples, binder clips and so on.
• as an ice cube tray. It makes jumbo ice cubes, but it does the job!
• as a craft organizer to sort and store small things like beads.


OVER-THE-DOOR SHOE ORGANIZER as...


PAPER BAG as...
• as turkey roaster! My mom showed me how to do this. It was so cool and so easy! Stay tuned for a post on how to do this.


PAPER SORTER as...
• as a kitchen organizer. **This is a favorite among the new uses for old things!** The partitions of a vertical paper sorter are also great for keeping cutting boards, baking trays and other flat kitchenware straight.
• as a charging station. The slots of a horizontal paper sorter are just the right size for holding your flat devices (iPad, Kindle, small laptop) while they charge.


PAPER TOWEL HOLDER as...
• a ribbon organizer. Slide ribbon spools onto the rod of a paper towel holder and presto!


PAPER TOWEL ROLL as...
• a boot filler. Put two paper towel rolls side by side, and place a rubber band around them to hold them together. **Quantity of paper towel rolls used depends on the size of the shoe.** Stick them in your cowboy boots (or what have you) and voila! Keeping the shape of your boots has never been so easy.


PITCHER as...
• a cooking utensil holder. Don't buy a utensil holder! Utilize a pitcher you already have to contain the cooking utensils you use frequently, and put it on the counter near the stove.
• a vase. The handle will make it easy to transport to the sink for a water change or refill.
• a change collector. When it's full, pour the coins into a Ziploc bag and take it to the bank.
• a brush/comb holder. This will add a unique decorative accent to your bathroom counter.
• a candle holder. For floating candles, just add water! Or stick tall candles in a pitcher, and fill it with stones or marbles to keep the candles in place. Or fill the pitcher with stones or marbles and place a few votives on top.


PLASTIC GROCERY STORE BAGS as...
• garbage bags. They are a great fit for smaller rubbish bins, and the handles make for easy emptying.
• packing material. **This is a favorite among the new uses for old things!** These bags are awesome for wrapping up small fragile items.
• lunch boxes. They will hold your lunch, provide handles for easy transport, and you don't have to worry about any moisture damage (like you do with paper bags).
• doggie bags. These bags do the job when it comes to cleaning up after your dog who has just done his job.
• filler material. Utilize these bags in gift boxes or gift bags to hold the present in place, prop it up or provide padding for a fragile item.


PLATE RACK as...
• a cookbook organizer.


ROASTING PAN as...
SHEET PROTECTOR as...
• as a recipe guard. **This is a favorite among the new uses for old things!** Keep your recipes in sheet protectors. They can be easily wiped off and quickly transported in and out of binders.
• as a scrapbook page holder. If you're making a letter size scrapbook, sheet protectors are great for covering and containing all the layers of paper and decorations on each page.
• as a reusable checklist. Tailgating? Holiday decorations? Sports equipment? Whatever the occasion, slip your checklist into a sheet protector and use a dry erase marker to check off your items.


SHOE LACES as...
• ribbon. Wrapping a present? Low on ribbon or bows? Shoe laces will do the trick!


SHOT GLASS as...
• a bobby pin holder.
• a toothpick holder.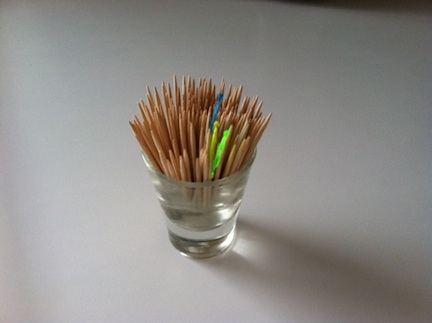 T-SHIRTS as...
• a quilt (scarf, pillow, stuffed animal, Christmas stocking).**This is a favorite among the new uses for old things!** Take that pile of old, sentimental shirts and send it to one of these companies. This solution allows you to keep your memories and save space at the same time!


TIE RACK as...
• a necklace organizer.


TIERED TRAY as...
• as a desk organizer. You know those tiered trays that people usually use to display sweets at parties? It would also be great for holding small office supplies - paper clips, binder clips, rubber bands, business cards, and so on.
• as toy storage. Put a tiered tray in the playroom or in your kid's room. Whenever you find a tiny toy or a little part that goes to something, put it in the tiered tray. Next time you're playing a game that's missing a piece, you'll know where to look.
• as an entryway catchall. Use each tray for something different that ends up in the entry way - keys, spare change, cords, lip balms, pet accessories and so on.


TOOL TRAY as...
• a desktop organizer.


TOWEL as...
• an ironing board. Double a towel over and put it on a piece of wood. Poof! You've got an ironing board.

TRASH CAN as...
• a wrapping paper roll holder. Have an extra tall rubbish bin? Use it to store your wrapping paper rolls!


TUPPERWARE as...
• pantry organizers. Use different Tupperware containers to hold and sort the small products that end up lurking around your pantry - sugar packets, tea bags, candy, sauce packets, snacks, dressing packets, and any other small, odd-shaped pantry items. This is a great way to recycle those containers that are missing lids.
• drawer organizers. **This is a favorite among the new uses for old things!** See below!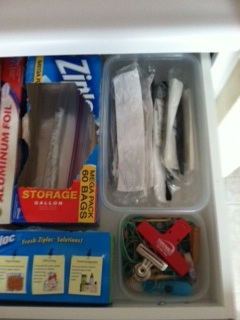 TWINE AND TACKS as...
• a card holder. **This is a favorite among the new uses for old things!** Don't know what to do with the mass of cards you receive on your birthday or for the holidays? Put your cards on display by tacking up pieces of twine and/or saved ribbons on some empty wall space. (Get creative - use funky or decorative tacks to match the room's color scheme.) Utilize clothes pins or binder clips to hang the cards and voila! (courtesy of Mama Lisa)
**Transform this into a permanent wall decoration. Use it year round to display wedding invitations, baby announcements, upcoming gatherings, birthday celebrations and any other important events worth exhibiting.**


VASE as...
• a canopy leg weight. Put each leg of the canopy into an outdoor metal or plastic vase, fill it with sand and voila! Your pop-up tent is anchored to the deck.
• an office supply holder for things like pens, pencils, and highlighters.
• art supply storage for items such as paint brushes.
• cooking utensil storage. Gather the most frequently-used cooking tools and put them in a vase near the stove.


WINE CORKS as...
• art - check out these amazing sculptures made out of used wine corks!

• place-card holders. Cut a small slit and put the place-card in it.
• a bulletin board.
• decoration. Spruce up the edges of a mirror or framed picture by gluing wine corks to it!
• ornaments. Kept wine corks are usually mementos. Write what the special occasion was on it, stick a hook in it and hang it on your Christmas tree.


WINTER ACCESSORIES as...
• stockings. Everyone has a missing glove, a rogue sock or a beanie that's too small. Rather than discarding them, utilize them during the holidays. Hang them from the mantle and stuff them with goodies for your family.
• dusters. Stick your hand in a sock or mitten and wipe down open surfaces. You can also put a chopstick or two in a sock, secure it with a rubber band, and dust hard-to-reach places.


WRAPPING PAPER SCRAPS as...
• wall art. Wrapping paper designs come in all varieties, and lots are display-worthy. Frame old scraps and hang them on the wall for a fresh, free update to a room in your house.


ZIPLOC BAGS as...
• portable pillows. **This is a favorite among the new uses for old things!** Blow into the bag to inflate, seal and put in a pillowcase. Great for traveling!
Have A Great New Use For An Old Thing?
Did you repurpose an old thing in an awesome new way?? Share it with us!
What Other Visitors Have Invented
Click below to see contributions from other visitors to this page...

If You Liked These New Uses For Old Things
Then Check Out...

Want to see photos of new uses for old things? Check out my Pinterest board!
---