How to Clear Your Mind & How To Deal With Stress

This post may contain affiliate links. This means if you click on the link and purchase the item, I will receive an affiliate commission. More here: Disclaimer & Privacy Policy


Wondering how to clear your mind? Or how to deal with stress? Are your thoughts scattered? Does your brain get overloaded with ideas? Or with worries? Can't figure out how to turn it off?!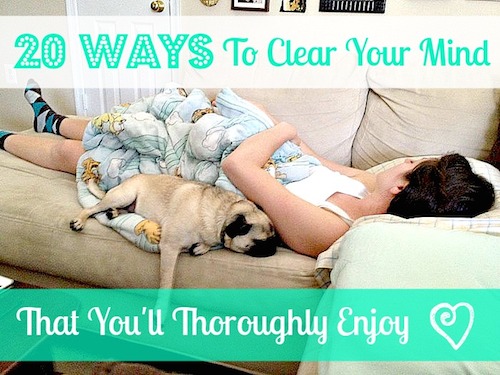 Being organized does not only apply to physical spaces. In fact, mentality is the foundation for physicality in the organizing world. In other words, how you think about stuff dictates what you do with it which is why it's important to start organizing from the inside out.
This brain overload happens to everyone, even me (a professional organizer)! In this day and age, how can it not? Below you'll find a variety of different ways to quiet your mind that have great ripple effects like overcoming procrastination and reducing stress. Enjoy!

How To Clear Your Mind In 20 Different Enjoyable Ways

1. Unclutter you mind by singing a song at the top of your lungs with or without music. Pick a song that matches your mood for even better results.

2. Play with your pet. A simple game of tug-of-war or fetch is great for decluttering your mind.

3. Do an activity you used to do as a youngster like a puzzle or a coloring book.

4. Clear clutter mentally by taking a drive in your car with the windows all the way down on a sunny Spring day.

5. Put on music and dance like no one is watching.

6. Watch something funny...anything that you find humorous and is sure to bring a smile to your face. The benefits of laughter are enormous. Enormous, I say! For example, I like to watch YouTube videos of Pugs doing hilarious things.

7. Go for a walk or run outside. Bring your dog if you have one.

8. Do some arts and crafts - work on a scrapbook, finish a knitting project, sew buttons on to clothes that are missing them, and so on.

9. Get involved in your passion. For example, I'll organize a small area of my home for 15 minutes and end up cleansing my mind and my space at the same time!

10. Ignite the mind body connection by practicing yoga. Sit with your legs crossed, eyes closed and back straight. Focus on your breathing and that's it.
11. Take a hot bath - bubbles, candles, light music and all.

12. Cook something simple.

13. Take a power nap. Turn everything off - lights, television, your mind, everything.
14. Look at memorabilia like scrapbooks, photo albums, etc.

15. Play a game (i.e. good old fashioned solitaire or play your turn on Words With Friends).
16. Call an old friend and catch up.
17. Hug a loved one or a pet.
18. Write down your thoughts in a journal.
19. Say a prayer or connect with your faith in some way.
20. Smell something good (i.e. candle, cookies, flowers).

Now that you've learned how to clear your mind, here's how to get organized and exactly where to start organizing.
How Do You Clear Your Mind?
What kind of mind-clearing techniques do you have? Share them here!
What Other Visitors Have Said
Click below to see contributions from other visitors to this page...

Watch A Good Comedy

I usually watch TV or a movie for a couple of hours every night. There's nothing like a really good movie to take my mind off of other things, but I prefer …
I love to do yoga, walk my dog, and listen to music

I like to do the following to clear my mind on a daily basis: Yoga 10 minutes a day Walk the dog every day Listen to music every day
Pilates is definitely mind- clearing! Not rated yet
I do Pilates to clear my mind - 4 times a week, 1 hour sessions on the mat, reformer, Cadillac and chair, stretching my up line and down line.