Roses for Weddings and How to Arrange them
by Izzy Smith
(United Kingdom)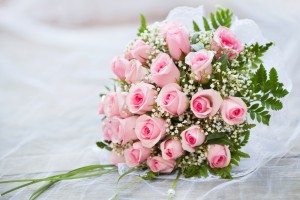 Roses are a classic choice for any event or holiday, so choosing this flower is always a safe decision. The rose signifies love and is representative of warm feelings. Something a lot of people tend to overlook, however, is that the meaning the rose conveys largely depends on the number of the flowers. If you are arranging a bouquet, there are several things you should know on the matter:

- Buying a single red rose as a gift says "I love you," since this is the flower of lovers.

- A single white rose stands for innocence and purity.

- Offering a rose in pink would mean you're saying "I like you."

- If you give someone a dozen roses, you are definitely saying you want to be with them.

- Choosing a bouquet of 25 roses is a good way to say "Congratulations" or to just celebrate an anniversary.

- Remember that if you happen to be given a rose, the hand you use to accept it matters too. If you take it with your right hand, you share the feelings of the person giving you the flower. Taking it with your left hand would mean disagreement.

Giving a rose is a culture in itself, so take the above-mentioned into account. As you can see, roses are perfect for any occasion.

If the event is a wedding, you should do deeper research of the rose flower. Here are some tips that might help you arrange the perfect wedding bouquet.

- A beautifully arranged bouquet in white will match the purity and gown of a young bride.

- It is preferable for the bouquet to be round in shape as it will compliment any dress.

- As for the size of the rose bouquet, it is good if it contains from 30 to 60 roses while those of the bridesmaids should have from 20 to 40 rose flowers.

- If you have little flower girls, it will be good to think of rose petals in red or white.

- Rose petals will be needed and will do great work when it comes to the favor basket as well.

Roses are an international symbol of love and as such they are the perfect flower for a wedding. It is important to know when and how to use the rose flower as a gift, as it was mentioned in the first lines of this article. Since arrangement is essential you should not overdo it, but then again, one can never have too many roses at a wedding. Feel free to experiment and decorate the aisle, the benches, and everything else you can think of with roses.