Christmas Tree Crafts - How To Reuse The Christmas Tree Trimmings As Decor Even If You're Not A Crafty Person

This post may contain affiliate links. This means if you click on the link and purchase the item, I will receive an affiliate commission. More here: Disclaimer & Privacy Policy


Do you make Christmas tree crafts? Or any crafts for that matter?

Perhaps you long to be able to generate Pinterest-worthy creations, but you're just not very crafty? Me too, but I didn't let that lack of craftiness get in the way of being creative and having fun so....

Here's an easy way to reuse the trimmings as Christmas tree decor around the house even if you're not very artsy.
Christmas Tree Crafts
Do you want the trimmings?

My husband and I have had a real Christmas tree during the holidays since we first started dating, and not once did we ever get the extra trimmings. I don't remember them ever being offered with the tree, but regardless, this year they were so we accepted.
I thought that surely there was something fun I could do with them. I'm not a very crafty person by nature and I was raised with a Jewish upbringing, so my DIY Christmas ideas were limited. Thus, the first thing I did when I got home was do a search on Pinterest.

Of course I found the gorgeous elaborate crafts created out of Christmas tree branches that my hands would NEVER be able to accomplish. The end result would definitely be one of those "Pinterest fails."
Anyway, I kept looking and bingo! There was a photo of a Christmas tree branch in a mason jar, and it was simple yet beautiful. That was perfect inspiration, so I went with it.
[If you want to see the search results I got on Pinterest, I searched the term "christmas tree branches" and here's the pin that inspired me.)

Christmas Tree Crafts
This is what I did.

We had quite a bit of extra trimmings, so I took them outside (to keep the mess out of the house) and started cutting away.
First, I put together some branches in a mason jar and filled it with water. Then, I put a small green vase inside a larger red bowl and filled the space with clippings from the branches. I put a tea light in the small green vase for a twinkling decoration.
I decorated our main level bathroom with these two items, and it smells so good in there too!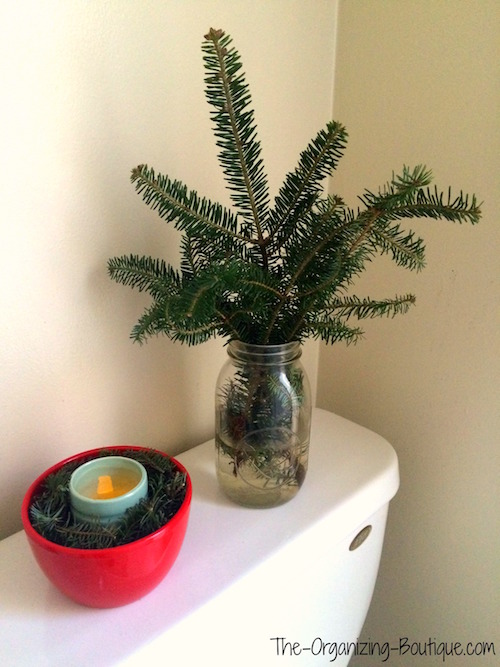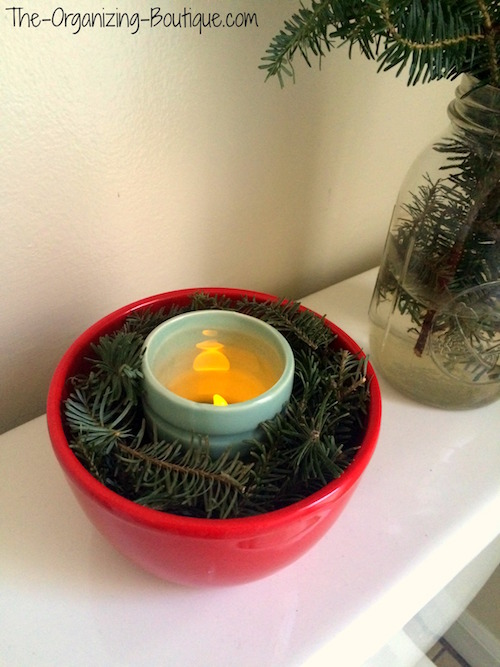 I also put together an arrangement in a mason jar and a small red bowl to add some holiday flare to our mantle.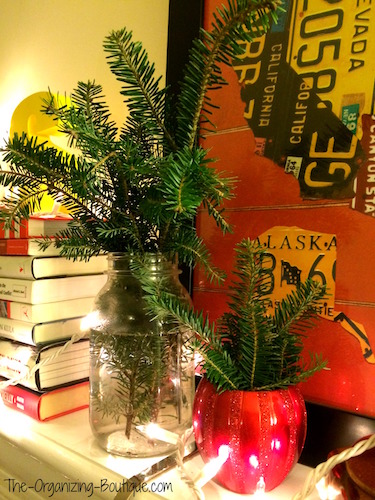 There you have it - simple yet creative ways to reuse Christmas tree branches as home decor. If I can do it, so can you! What do you do with your trimmings?
---
Back to New Uses for Old Things

---