Recipe Book Binder & Recipe Organization Tips

This post may contain affiliate links. This means if you click on the link and purchase the item, I will receive an affiliate commission. More here: Disclaimer & Privacy Policy


Check out these delicious recipe organization tips and recipe book binder suggestions!
Organizing recipes is beneficial to both your cooking and your belly... :)
Recipe organization ensures that you will find what you're looking for when you're looking for it. This means that you can locate healthy recipes, buy the ingredients at the grocery store and cook them. So not only are you encouraged to eat healthy, you are also motivated to learn how to cook wholesome meals!
Organized and healthy? What a great deal!
Below you will find the recipe organizing process as well as some great organizer product suggestions. Happy organizing!
The Recipe Organizing Process
Utilize the general organizing procedure of purge, sort and store, and apply it when organizing recipes.


PURGE:
Start by going through each recipe one by one. Get rid of the recipes you can no longer read, the ones you have made so many times you know them by heart and/or those you know you will never make.


As you make decisions, put the item in the corresponding pile - Keep & Trash/Recycle.


SORT:
Categorize the recipes, so that you will be able to find what you need when you need it (i.e. by food group; alphabetically; appetizers, entrees, desserts; breakfast, lunch, dinner and so on). For example, would you look for a chicken marsala recipe under "chicken" or "entrees"?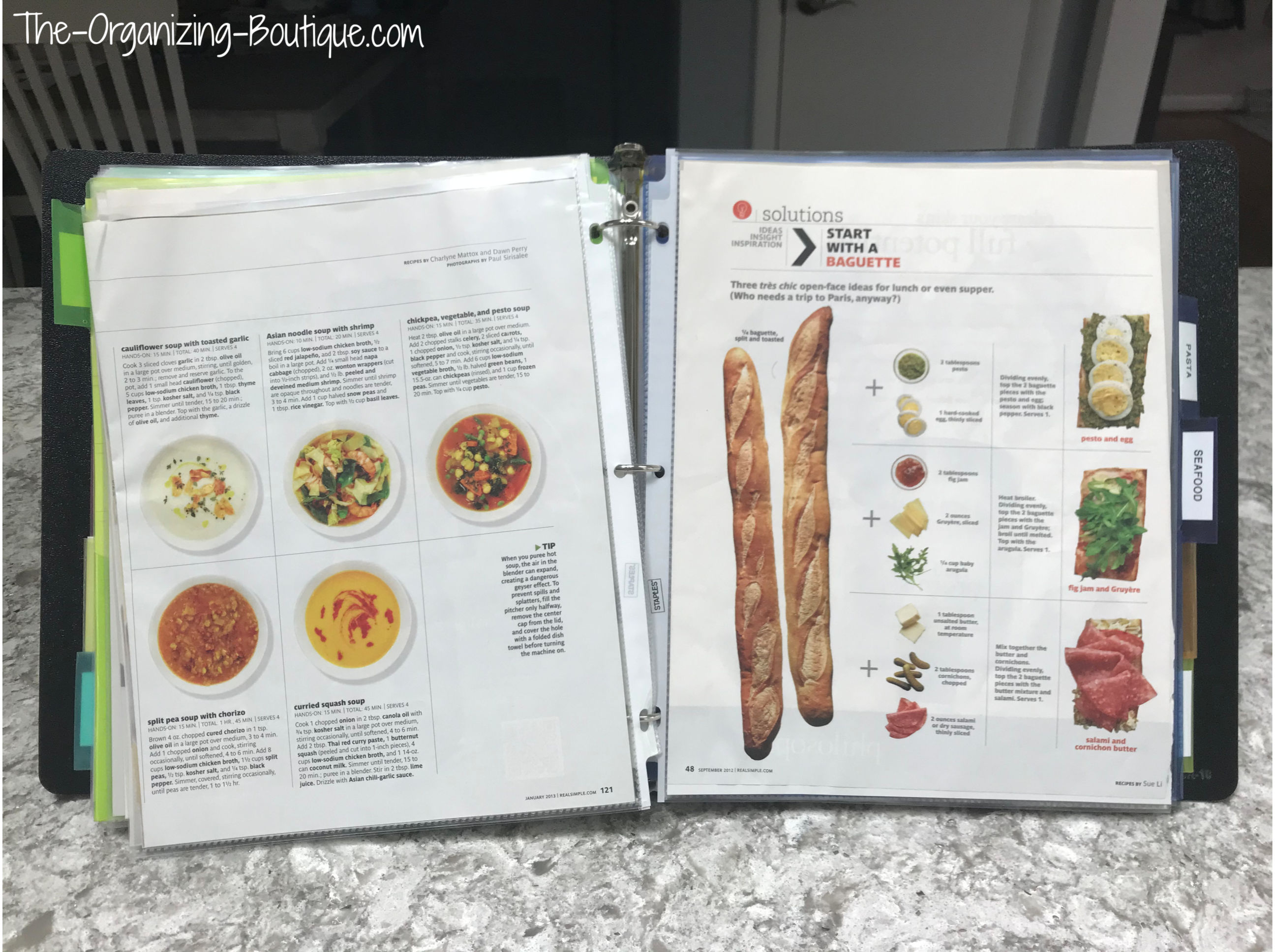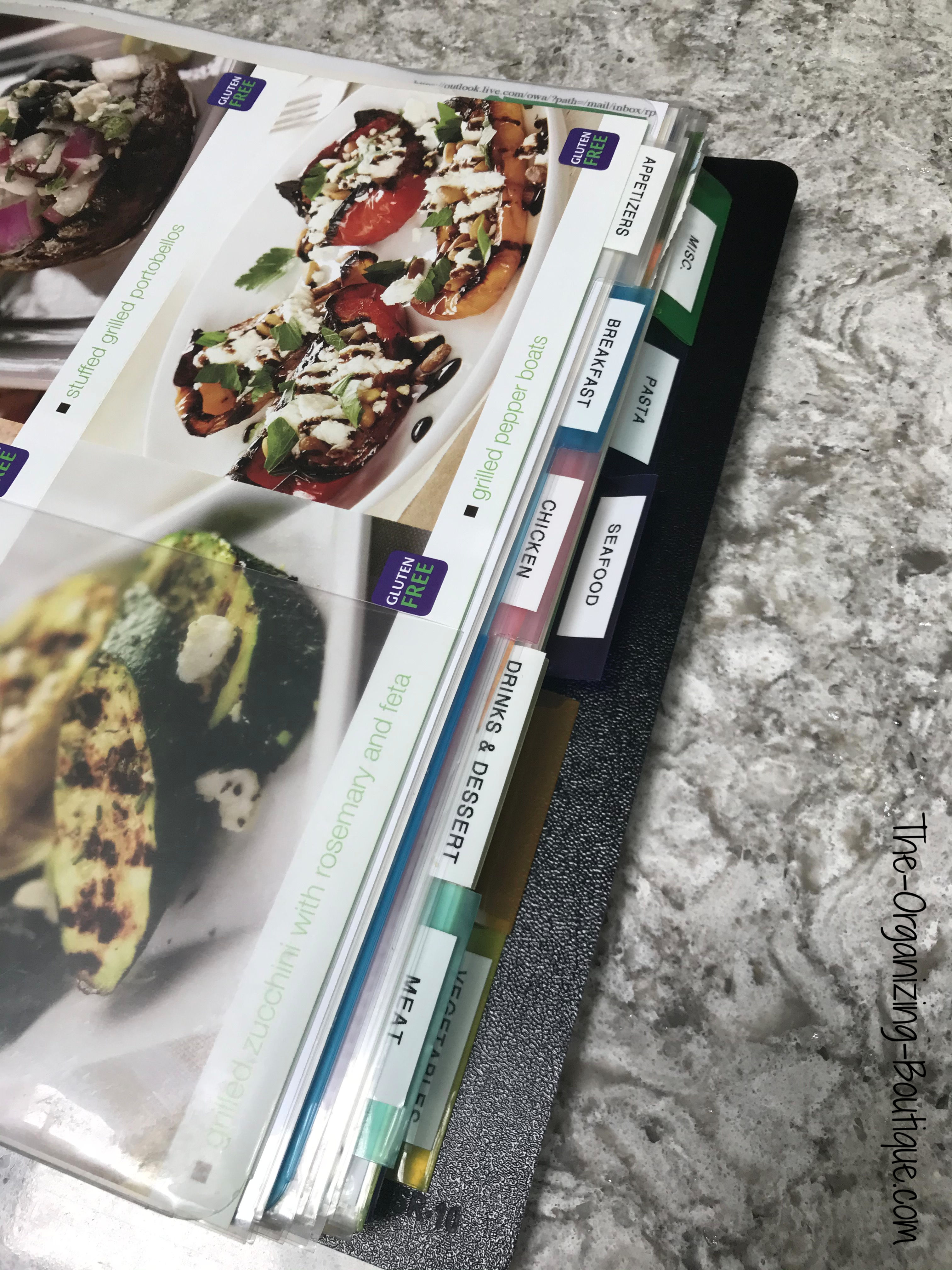 This is my recipe book binder! I use sheet protectors and pocket tabs in a binder that stands up on its own with a built-in easel. See below for product links.

STORE:
To create your own recipe binder, get any three-ring binder, clear sheet protectors and divider tabs. Label the divider tabs according to the categories you created during the sorting process, and put the recipes in the sheet protectors. Then put it all together in the binder, and store it in or near the kitchen for easy access.

**Note: The sheet protectors allow you to effortlessly pull out individual recipes as well as keep them clean when on the kitchen counter or near the sink. (If something does happen to spill, then it's as simple as wiping it off!)**


You can also purchase a ready-made recipe book binder like these!


If you have tons and tons of recipes you simply cannot part with, then use multiple binders. For instance, you could have a different binder for each category: meats, vegetables & fruits, carbohydrates, dairy, and sweets. Within each binder your recipes could be organized alphabetically. Multiple binders can also be used to keep holiday recipes separate from everyday cooking, to distinguish kosher and non-kosher meals and so on.


MAINTAIN:
Go through your recipe book binder (or binders) once a year to weed out all old, unreadable items or any recipes you didn't like and will not make again.


Be sure to put recipes back in their proper place after use. You want to be able to find them for next time!
I store my recipe binder on our kitchen island shelf next to the printer and under the cookbooks. It doesn't take up much space and is easy to access.


Recipe Book Binder & Organizing Products

Organizing recipes can be so much fun! With the process outlined above and the products suggested below, you'll be organized and cooking in no time!
Recipe Binder
I love this recipe binder! I use it for my recipes which are very easily displayed while cooking. When I'm done, I fold it up and it uses so little counter space!
Sheet Protectors
Like mentioned above, sheet protectors are very useful when organizing recipes (especially for magazine rip-outs) and extremely helpful in keeping them spill-free. Check these out!
Recipe Card Organizers
Looking for a way to organize your recipe cards? Here are Amazon's bestselling options!
Digital Recipe Organization
You can scan in your paper recipes using a scanner, and/or you can use Pinterest to keep track of digital recipes like I do!
---
---