Organizing Kitchen Cabinets & Kitchen Storage Organizers

This post may contain affiliate links. This means if you click on the link and purchase the item, I will receive an affiliate commission. More here: Disclaimer & Privacy Policy


Organizing kitchen cabinets is vital to keeping order in this multipurpose, high traffic room.
With the cupboards in the kitchen organized, life is much simpler. You can find things easily and put items away quickly, which is great for cooking, cleaning and your sanity in general.
Below you will find tips that will guide you through the process of organizing your kitchen cabinets as well as recommended products to maximize space. Happy reading!

Organizing Kitchen Cabinets: The Process

Follow the process on the organizing kitchen page to purge the cabinets of any unnecessary items, sort what's left and figure out what to store in which cabinet.
Organizing Kitchen Cabinets: Storage Tips

1. A quick kitchen cabinet organization tip for deciding what item goes in which cabinet is to store items in the cupboards closest to where they get used. For example, the pots and pans should be kept in the largest cabinet near the stove.
2. A general rule for organizing kitchen cabinets is to put the items that are used the most in the front and on the most reachable shelf. Remember to consider all of the family members (i.e. lower shelves in lower cupboards are better for children).

3. Like goes with like. Put the drinking vessels in one cupboard. Then break them down into further categories by shelf (i.e. thermoses/to go cups, plastic cups, water glasses, etc.).
You won't be able to fit ALL of the drinking vessels into one cabinet, so consider storage elsewhere. For example, you might want to keep the coffee mugs in a cupboard near the coffee maker or the plastic cups for the kids in a lower, more reachable cabinet.

4. Cabinets usually have a lot of unused vertical space. Rather than stacking breakable items like plates, utilize products like kitchen cupboard organizers to maximize use of the area.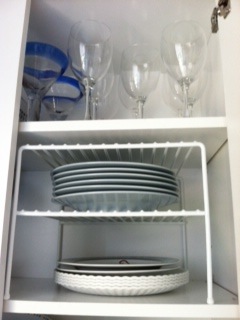 5. This also holds true for items that are not breakable. The below cabinet corner organizer is great for holding pans and makes it so easy to retrieve what I need when I need it.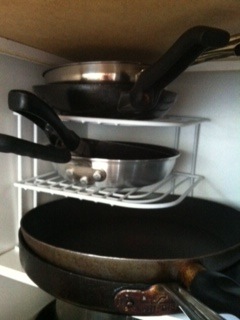 6. If you're low on kitchen drawer space, then consider using extra shelf space. Like in the below photo (top shelf), you can use kitchen storage organizers like handled baskets to hold items that might normally be found in a drawer.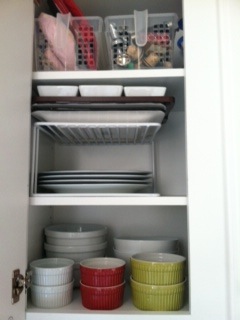 Organizing Kitchen Cabinets: The Storage Products

Products for organizing the kitchen cabinets are fantastic. Check these out!
Rev-A-Shelf Search
Rev-A-Shelf has pull out shelving solutions for every cabinet in your kitchen. Check it out!
Handled Storage Baskets - a Favorite for Organizing Kitchen Cabinets!
These are great for holding smaller items, and the handle makes it so easy to access. I use this product to store corks and small wine accessories on the shelf next to my wine glasses.
Under Shelf Basket
Not all kitchen cabinet organizers are for on top of the shelf. How about one that hangs under the shelf! This product is great in kitchen cabinets, bathroom cabinets, as a kitchen pantry organizer, you name it! I use one in my linen closet to hold wash cloths.
Wide Pull-Out Cabinet Organizer
An essential for pots and pans, this convenient product eliminates losing cookware in the back of low, deep cabinets. Its removable plastic sheet not only protects from drips and/or spills but is also easy to clean.
Corner Cabinet Organizer
This corner cabinet organizer is fantastic! I use it to hold dishes as well as to separate pans. It's sturdy, versatile and very affordable!
2-Tier Sliding Organizer
Successfully utilize the space underneath your kitchen or bathroom sink with this awesome organizer. The second tier can be conveniently installed on either side of the base to avoid pipes.
Cabinet Organizer Shelf
This product is great for maximizing the vertical space in a cupboard. I use this particular organizer for plates.
Want to keep going? Here's more on organizing kitchen drawers and awesome kitchen drawer organizers!

---
---