Kitchen Pantry Storage Cabinet: Before & After

This post may contain affiliate links. This means if you click on the link and purchase the item, I will receive an affiliate commission. More here: Disclaimer & Privacy Policy


I helped a client organize her kitchen pantry storage cabinet, and she loves it! Below are the before and after photos as well as the products we used. But first, some background...

My client has a large, new home and her pantry is its own room. However, that room is around the corner from her kitchen so frequently-eaten snacks were ending up in a pile on one part of the counter. I suggested using one or two of the kitchen cabinets for these items, and she showed me that she had already employed this idea. It wasn't working for her though. The cabinets needed some organization, and that's where I come in!

Step By Step Process Of How We
Organized This Kitchen Pantry Storage Cabinet
This is what the cabinets looked like before we did any organizing. As you can see, there's plenty of space but not much of a system.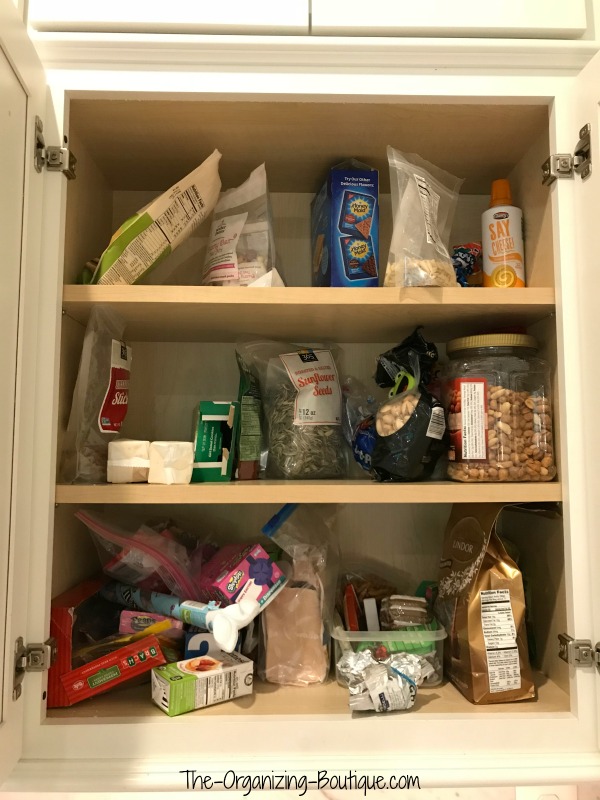 My client wanted to be able to find things easily and put them away just as quickly. Here's what we did...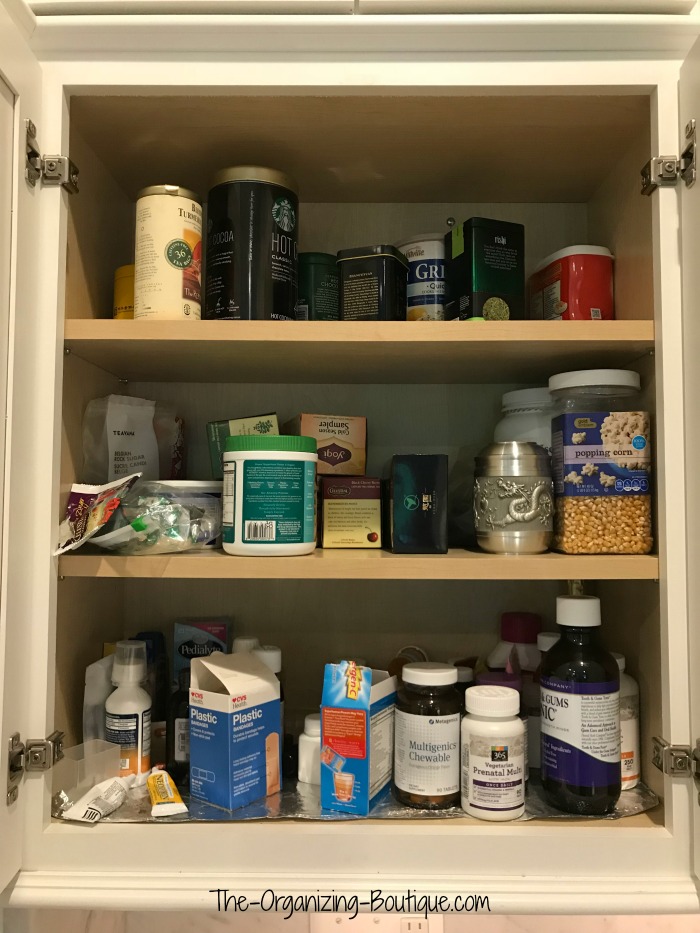 First, we took everything out of the cabinets in question and wiped down the shelves. After a declutter session in which areas are completely cleared out, is a great time to do a little cleaning. Wipe down that shelf, vacuum that corner or what have you.

Second, as we took everything out, we discarded anything that was expired and sorted what we kept into categories that made sense for the client. In this case, she had vitamins, first aid type stuff, pantry snacks and drinks.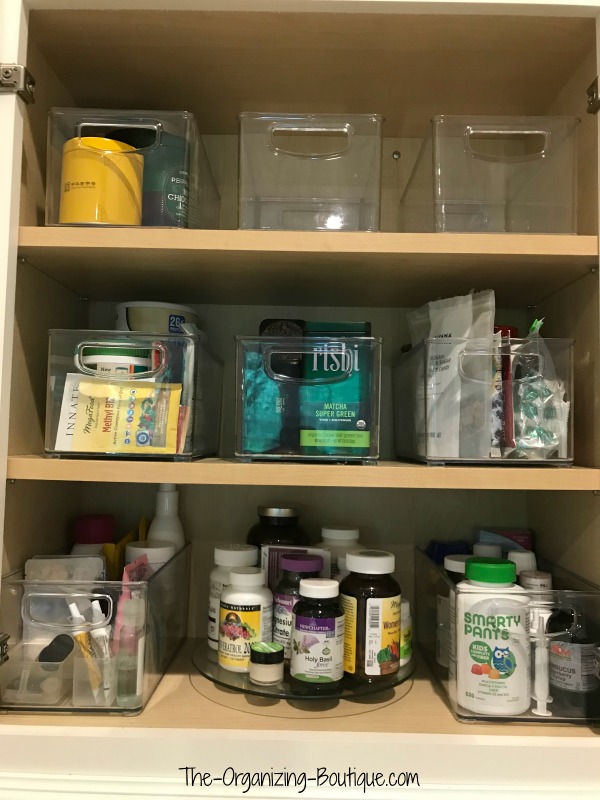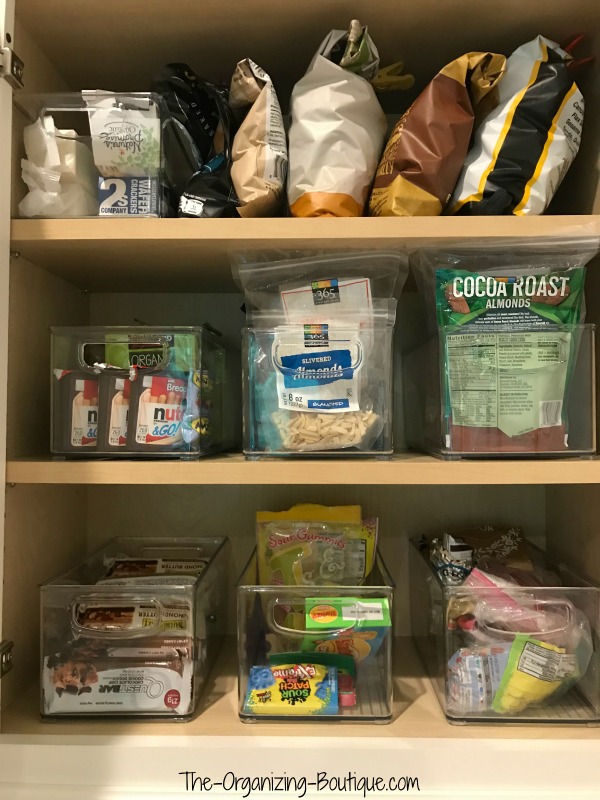 Third, we used Fridge Bins to organize each category as well as a single glass turntable. The turntable is useful for holding the vitamins and other bottles. That way my client wouldn't lose anything to the back of the cabinet. The clear bins are great for holding everything else.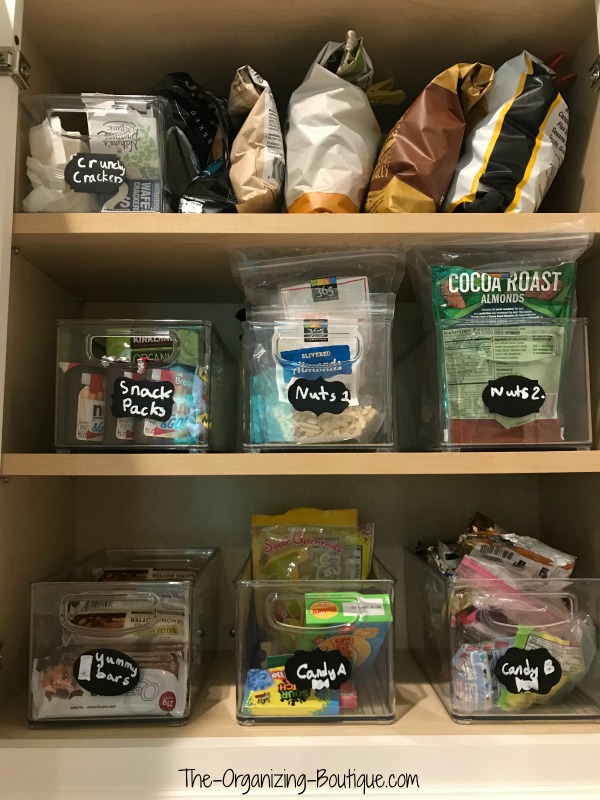 Fourth, we labeled each bin for easy recognition. My client used chalkboard labels, and her daughter wrote on them. It was a fun little activity and was a great teaching moment about organization. Win-win!
Before

After!

There you have it! A little organization goes a long way in this kitchen pantry storage cabinet. My client loves how easy it is to find things as well as put them away. AND, we cleared up some of the kitchen counter space in the process.

Now, I'd love to hear from you. Do you have a pantry storage cabinet in your kitchen? Or do you need to set one up? Have any questions or comments?
---
---