Office Storage Boxes - Office Organization Ideas

This post may contain affiliate links. This means if you click on the link and purchase the item, I will receive an affiliate commission. More here: Disclaimer & Privacy Policy


Using office storage boxes is one of my favorite office organization ideas. It's so easy to implement and makes any desk and/or office look great!

Below you'll find a list of benefits to this organizing strategy, the items I store in my office boxes and storage box options to choose from. Happy organizing!

Benefits Of Using Office Storage Boxes

If you're wondering how to organize an office, one of the most beneficial ways to get the supplies in order is to use storage boxes. Here's why:
Simple to implement
Very affordable
Available for purchase anywhere

Looks great
Quick, easy way to decorate a space

Reorganize the contents inside the boxes effortlessly

Easy to rearrange the office or move altogether
Find your things very quickly
What I Keep In My Storage Boxes

As you can see in the photo above, I use my decorative storage boxes to hold the following items on the shelves above my desk and also on the bookcase in my office.
Paper - note cards, small paper pads, post-its
John's Stuff - my husband's office items like business cards, pencils and pencil sharpener 
Scrapbooking - art supplies that I use when scrapbooking like stamps, stencils, glitter and stickers
Cards - greeting cards, thank you notes and their corresponding envelopes
Markers - markers sorted into Ziploc bags by type of marker (e.g. Sharpies, neon, metallic)

Electronics/Cords - headphones, computer cords and any other electronics that are used in or near the office
Printer Ink - all printer ink cartridges not in use
Books - small books
Pencils, Pens, Highlighters - writing utensils sorted into Ziploc bags by type
Types Of Office Storage Boxes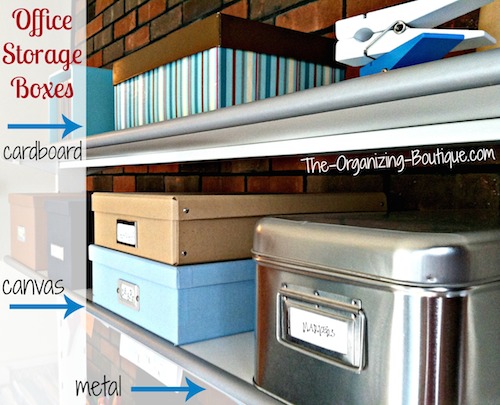 There are tons of different kinds of decorative storage boxes; the possibilities are endless. In my office, I have boxes that range in size (small to large), material (metal, canvas, cardboard) and color (solid, pattern).
Other features to consider are things like acid-free storage boxes for archival purposes and plastic boxes seem to hold up best against finger prints and wear and tear. Like I said, the options are limitless!

I acquired boxes from The Container Store (canvas boxes), IKEA (metal and white boxes) and Michael's (striped cardboard box) when I came across something that fit into my office's color scheme, but you can find storage boxes anywhere (including The Dollar Store!).
Here's where you can find some of the boxes I have in my office online:
Want even more visual inspiration? Wish granted! Check out how other people have utilized decorative storage boxes in their work spaces.

---
---