Computer Cable Organizer Ideas - How To Organize Cords & Avoid One Of The Top Causes Of House Fires

This post may contain affiliate links. This means if you click on the link and purchase the item, I will receive an affiliate commission. More here: Disclaimer & Privacy Policy


Liberate yourself from cord clutter chaos! Perhaps you need a computer cable organizer or the how-to office organization tips. Either way, you've come to the right place. Welcome to my page of getting cables and wires in order!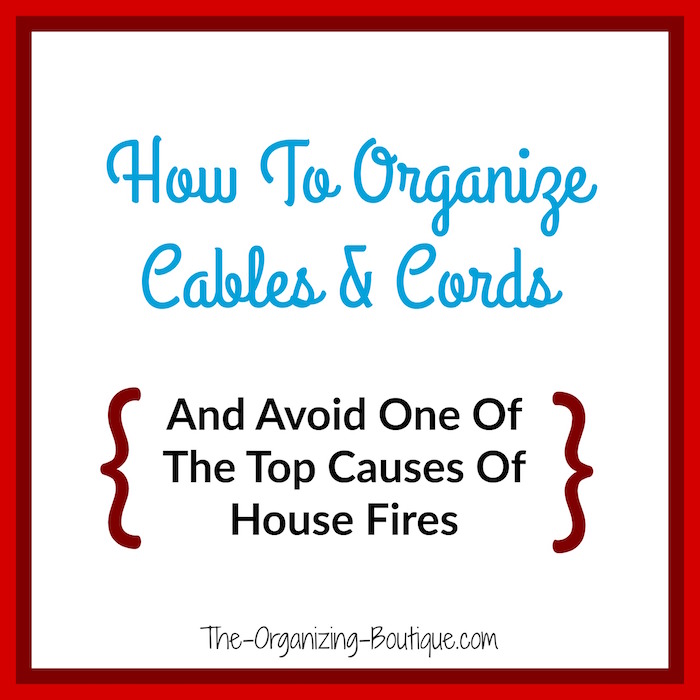 Organizing cords, cables and wires is a must for bringing order to an office. Not only does it avoid knots and twists of all kinds saving you time and energy, but cord organization also enhances the aesthetics of your work space and creates a safer environment.
Who wants to look at their desk and feel the unpleasant visual chaos of the exposed jumble of cables?!
Use the below information when organizing cords and cables of all kinds. From the process to the products, the following tips will help you successfully uncross your lines!
The Cord Organizing Process
Utilize the general organizing procedure of purge, sort and store, and apply it when organizing cords.


PURGE:
• Start by gathering all of your cords, cables and wires. Go through the pile by handling ONE cord at a time. Get rid of the things that you have several of and/or are no longer usable.
• As you make decisions, put the item in the corresponding pile, bag or box - Keep, Donate, Distribute, Don't Know, Recycle, Trash.
**If you come across cords that are a mystery, put them in the "Don't Know" pile. Keep them together somewhere, and get rid of them if you can't figure out what they are or don't use them for an extended period of time.**

• Take out the trash for a clean work area. Put the items in good condition going to donation and the unusable items going to be recycled in your car. If you found any items that belong to someone else, gather them and put them in a labeled bag in a visible place. This way you will remember to disburse them.


SORT:
• Next, separate what is left into categories in order to see what and how much you have (i.e. phone cords, audio/video wires, computer cords).


STORE:
• Finally, wrap rubber bands or velcro cable ties around them to keep the cords in neat coils.
• Use several bins or plastic drawers to store the wires not used very often by category.
• For cords that are frequently-used, utilize the products below to keep your desk area tidy.


MAINTAIN:
• Take the time to recoil cords and put them back in their proper place when done using them.
• Once a year, go through your wires and pare down.




IMPORTANT! WHY ORGANIZE CABLES?

According to Fire-extinguisher101.com, electrical distribution equipment (i.e. outlets, cords, wiring) is the third leading cause of house fires and the second leading cause of fire deaths.



The Computer Cable Organizer Products

Computer cable organizer products really enhance the look of your desk area, offer safe alternatives to jumbled cord hazards and make things more convenient when it comes to knowing which cable goes to what.
CableOrganizer.com is a website dedicated to all kinds of computer cable organizer products. Check it out!

On The Desk
The Cable Turtle
These handy little cord organizers are great for handling cables that are longer than necessary. They come in different colors and sizes to fit your needs.
Under The Desk
Power Strip Saver
Want to get full use of your power strip? The power strip saver allows you to use every outlet, no matter how many AC adapter bricks you have.
Pivot Power Strip
This handy power strip pivots (hence the name), so that you can use all of the outlets. This is great for over-sized adapters too!
Behind The Desk
The WireMate Cord Organizer
Affordable and convenient, this computer cable organizer conceals and separates allowing cables to coexist in harmony. Eliminate the jumble of cords by your desk with ease!
On The Wall
Wire Blooms
Let's face it, cords and wires are present in the home, the office, everywhere. Why not dress them up a little? Decorate your cables with these awesome wire blooms!
On The Floor
Cord Protectors
Looking for an affordable cord protector? These are Amazon's top-rated products. Take a look!
---
---
---