Greeting Card Storage, Organizing
& Upcycling Ideas!

This post may contain affiliate links. This means if you click on the link and purchase the item, I will receive an affiliate commission. More here: Disclaimer & Privacy Policy


Looking for greeting card storage ideas? Here's the organizing process, awesome greeting card organizer products, upcycling ideas and more!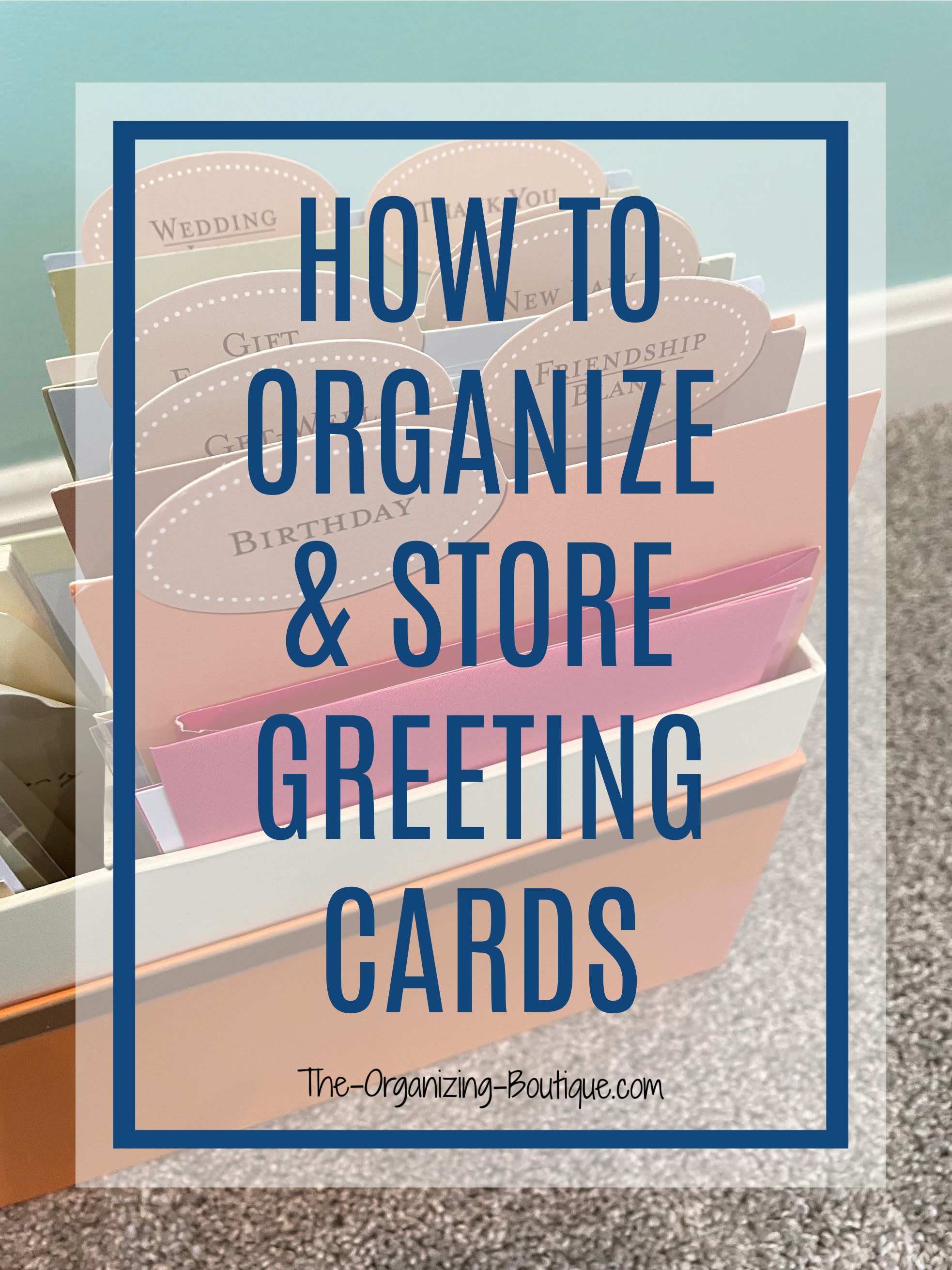 Like with anything else, having your greeting cards in order is convenient, saves time and money... and just rocks!
Outlined below is the process as well as the products to organize cards and other stationary items, so use the following tips to get started. Cheers!
The Greeting Card Organizing Process

Utilize the general organizing procedure of purge, sort and store, and apply it when you organize greeting cards, birthday cards and other stationary items.


PURGE:
Start by gathering all of your greeting cards, invitations, envelope stickers and any other appropriate items. Pick up one item at a time and decide if it is worth keeping. In order to accomplish this, ask yourself appropriate questions (i.e. Is this card still in good condition? Is it creased or ripped? Is it outdated?).


As you make decisions, put the item in the corresponding pile, bag or box - Keep, Trash or Recycle.


Take out the trash and recycling when finished with this process. This hinders the possibility of undoing your hard greeting card organizing work.
Upcycling Ideas: New Uses for Greeting Cards!
 Before tossing used baby announcements, birthday cards, thank you notes, etc. in the recycling bin, turn them into one-of-a-kind gift tags.

Here's exactly how to recycle greeting cards!


Repeat #1 and use for scrapbooking.



Repeat #1, but cut into long strips instead of small squares and use as them as bookmarks.

SORT:
Now that you have gotten rid of all unnecessary items, it's time to focus on what's left. Separate the remaining things into categories (i.e. birthday cards, thank you notes, sympathy, friendship, congratulations, holiday cards, envelope stickers, random envelopes and so on).


**PLEASE NOTE: For a quicker organizing process, combine the purging and the sorting into one seamless step. For example, let's say you pick up a birthday card and decide it is worth keeping. Start a "birthday card" pile, so that the next time you come across a birthday card you want to keep you can put them together.**


STORE:
With your greeting cards categorized, you can see how much you have of everything. Use greeting card storage products accordingly. See items suggested below.


So...where should you keep your greeting cards? Well, where are you most likely to write them? In the home office? In the kitchen? By the front door? Whatever your answer is...is the answer!
This is one of the two greeting card boxes I have. The dividers keep individual cards sorted by category, and retrieving a specific type of card is fast and easy! See product link below - Greeting Cards Assortment Box.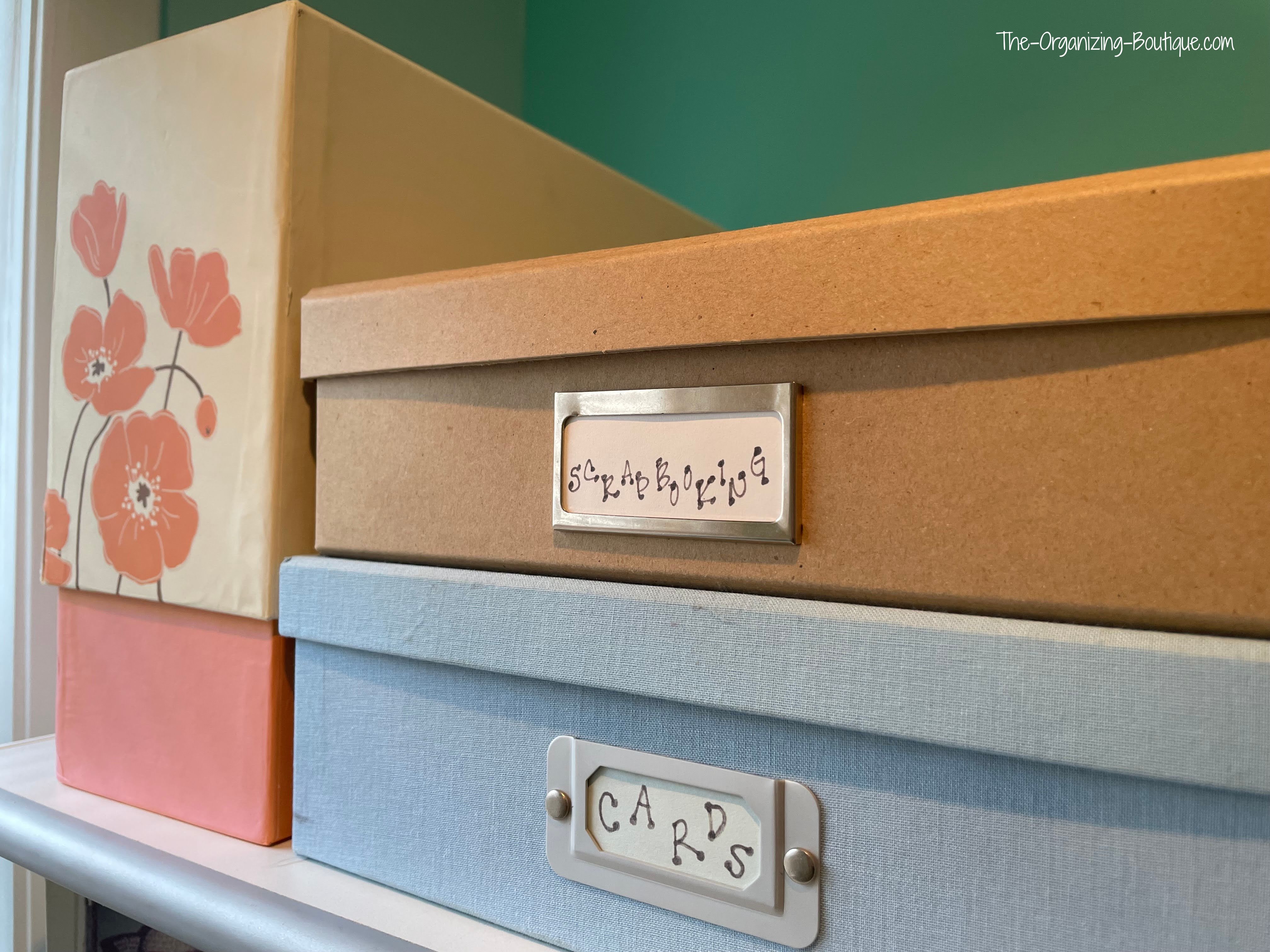 The light blue box labeled "CARDS" is the other storage container I use. It holds card sets like thank you notes, holiday cards, blank stationary with our last name at the top and so on.

MAINTAIN:

Greeting cards are fun! I have plenty of them just like the next person. As soon as I get a new one, I put it in the greeting card "home," so I can find it when I want to use it. This is a good habit to adopt - saves time, money, and frustration.


If your greeting card collection starts to outgrow its home (which is easy to do when all those free ones come in the mail), then it's time for a decluttering session. Do this once a year or as often as necessary.

The Greeting Card Storage Products

The products to organize greeting cards are handy, convenient and fun! Check out the suggested items below.

Greeting Cards Assortment Box
I love this type of greeting card storage product! You get a lot of bang for your buck since you're buying bulk greeting cards and are left with a beautiful greeting card storage box.
SendOutCards.com
Cut back on the paper in the house and use this greeting card service. They do it all for you!

Iris Greeting Card Keeper
This is a sturdy greeting card holder that comes with removable dividers, so you can customize it to what greeting cards you have.

She Believed Birthday Book
If you're having trouble remembering birthdays or other important dates, record them in this fun book and never forget again!
---
---