How To Organize Work Tote Bags, Laptop Shoulder Bag, Briefcase, What Have You!

This post may contain affiliate links. This means if you click on the link and purchase the item, I will receive an affiliate commission. More here: Disclaimer & Privacy Policy


If you're wondering how to organize work tote bags, then I'm guessing you're frustrated with the current state of your briefcase or work bag.
Is it so full that you can't find anything without making a huge mess?
Is your work bag so heavy that your shoulder needs physical therapy after carrying it?
Is it a black hole that even light can't escape?
Not to worry, we're going to remedy this situation so you can find your stuff, give your shoulder a break and impress the people you work with.

Below you'll find step-by-step instructions on how to organize a briefcase as well as some great organizing products that will help you maintain order. Happy reading!

4 Simple Steps For Organizing Work Tote Bags

Utilize the general organizing procedure of purge, sort and store and use it to organize your work tote bags, briefcase, etc.
1. Purge

Empty your briefcase onto a table or a surface.

Pick up ONE item at a time and decide if it is worth keeping.

In order to accomplish this, ask yourself appropriate questions (Is this trash that I left in my bag? Does this item belong somewhere else? Do I use this item enough for it to live in my briefcase?).
As you make decisions, put the item in the corresponding pile, bag or box - Keep, Distribute, Recycle, Trash.
Throw away the garbage and distribute the items that belong elsewhere.
This is my empty work tote bag!
2. Sort

Now that you have gotten rid of all the unnecessary things, the focus is on what's left. The next step to organize your briefcase is to divide up what remains into categories - like goes with like.
work papers
work-related tools (i.e. tape measure)
receipts
your business cards
pens, note pad & other office supplies
lip gloss, lotion & other beauty products
laptop & other electronic devices or accessories
purse-related items like wallet, phone & keys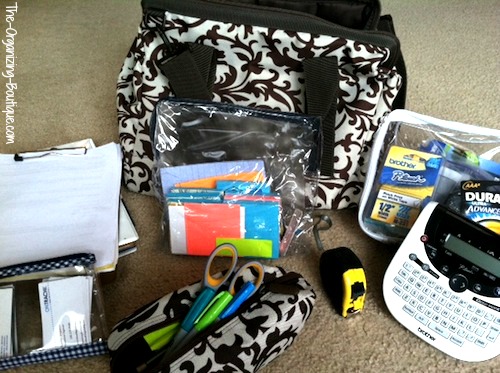 As you can see in the photo above, the items in my work bag are categorized. Starting from the right, there is the labeler with its accessories in a clear bag behind it, my collection of post-its in a clear bag, my tape measure, assorted office supplies in a cloth zipper bag, my business cards in a clear bag, a clipboard for taking notes and underneath is a binder where I keep client information organized in sheet protectors.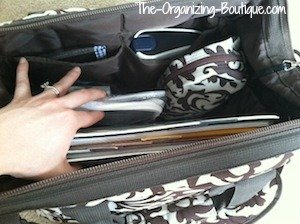 This is what my work bag looks like when everything is in it. As you can see, I utilize the bag's built-in pockets as well as the tips outlined on this page. Thus, I can see everything and get to everything. Lovely!
3. Store

First, make sure you are using an appropriate bag or case for carrying your work items around. Consider things like...
The size of the bag - Is it large enough to hold everything you need? Is it too big for you to manage?

How the bag is held - Do you prefer a cross-shoulder strap? A backpack? What about something handheld that also has a shoulder strap? What about something that rolls?

The look of the bag - Does it reflect your professional side? What is it made out of? Is the bag ripped, stained or look overused?

If you think it's time to purchase a new bag, here are some awesome work tote bags with fantastic reviews to check out!
To keep your work papers organized on the go, use a binder.
Store small items in clear bags like office supplies, electronic accessories and beauty items. This way you can easily identify the contents of each bag, and this also prevents these small things from falling into the "black hole" of the briefcase.

You can save money by simply using small Ziploc bags (that you probably already have) or check out these options.
If you use your work bag also as your purse, then organize all those "purse" things with a purse organizer or handbag organizer. A handy product like this will keep your keys, phone, wallet, etc. within reach. Check out these purse organizers!


4. Maintain

It's one thing to organize your briefcase, but it's quite another to keep it organized. Get into the habit of ridding your work bag of the day's trash and/or items that need to get distributed elsewhere on a daily basis.
Once a month or so, clean out your briefcase completely. Take everything out, pitch the trash, put items back in their proper pouches and so on.
7 Helpful Work Bags & Briefcase Organizing Products

Here are even more useful items that will help you organize your work tote bags. Enjoy!


Business Card Cases
You should always have some of your own business cards with you, so why not keep them in a snazzy case? Check these out!


Laptop Sleeves
If your bag doesn't have a padded pocket for your laptop or tablet, protect your electronic device with a laptop sleeve. Here are some great ones.


GRID-IT Organizer
This thing is fantastic! It keeps cords and other little things from getting lost in your bag. Click on it to see it in action.
Laptop Shoulder Work Tote Bags
Looking for a laptop shoulder bag? These are the highest-rated products on Amazon right now!
Rolling Catalog Case
Interested in a wheeled briefcase? Take a look at the top-rated items!
Leather Work Bags
Want a leather work bag? Here are the leather work bags with the best reviews on Amazon.
Clear Tote Bags
How about a clear tote bag? These are awesome! They are clear for easy content recognition and durable.
---
---