Thanksgiving Decorating Ideas - Simple Yet Charming Thanksgiving Table Decorations

This post may contain affiliate links. This means if you click on the link and purchase the item, I will receive an affiliate commission. More here: Disclaimer & Privacy Policy


Looking for Thanksgiving decorating ideas? Here are the simple Thanksgiving table decorations we did the first year we hosted. Simple and affordable yet beautiful!



As a first-time Thanksgiving host, a novice DIY crafter and no desire to spend money, I put together a table that utilized all of the free resources I could think of. It turned out really awesome.
Keep scrolling to see all the photos of my Thanksgiving decorating ideas AND to see a cost breakdown of how little I spent. (HINT: It was less than $30!)

Simple Thanksgiving Decorating Ideas That Don't Cost Much & Look Fabulous

This is what the place setting looked like. It was 2 square paper plates (from The Dollar Tree!) with 2 colorful paper napkins (left over from our summer barbecues and also from The Dollar Tree!) and a charming little card that said, "So very thankful for you. Happy Thanksgiving!"
I got the free printable Thanksgiving cards on Pinterest. I heart Pinterest! So much!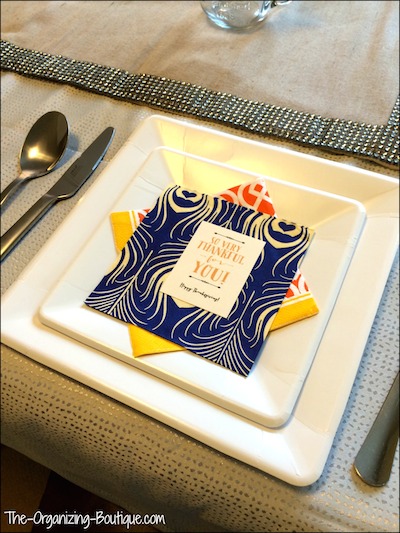 The Thanksgiving centerpiece was comprised of a gem-bordered burlap table runner and sunflower-filled mason jars. I was originally going to add little pumpkins and gourds but ended up not doing it. It's a good thing too! The food took up so much room on the table, and we needed that valuable real estate.
Here's a close up of the mason jars. I purchased 4 of them from Bed, Bath and Beyond in the summer for like $10. They came with the chalkboard labels already on and the chalk...so I wrote something festive. Keep scrolling to see a photo of all 4 mason jars together and to read the full message.



This is what the place setting and centerpiece looked like together. It was charming and colorful, and the best part was that it was effortless. This was so easy to put together that I'm pretty sure these simple Thanksgiving table decorations can't get any simpler!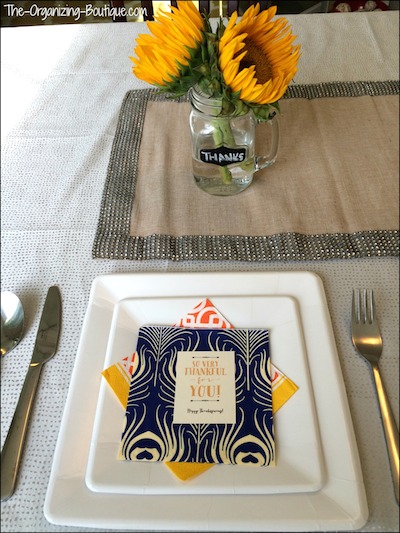 This is a shot of the whole table. Lovely!
We live in a townhouse, so our space is limited but I think we made do quite well. We used our dining room table (that seats 4) and added on our 6-foot folding table (that we typically use for backyard barbecues). We angled the tables in order to fit nicely in our small dining room and covered them with one large table cloth.
Then we topped it with the gem-bordered burlap runner, the place settings and the sunflower-filled mason jars. The spaces that are in between the mason jars is where I had originally thought I would put the little pumpkins and gourds I intended to buy. Like I said, it was a good thing that I ended up not getting them, because see all that space between the mason jars? Yeah. That was immediately filled with platters of food...and I'm just talking about appetizers!
There was a lot of food for 7 adults and 1 baby. We'll leave it at that.
Ok, moving on. Lastly, we had a mix of chairs since we are not used to hosting this many people at a sit-down dinner, but it worked out great. Everyone had a seat near a loved one and a full stomach. Now that's Thanksgiving!



Homemade Thanksgiving table decorations don't have to be fancy or complicated to make. I'm a great DIY organizer, but I'm a novice DIY crafter so the creativity of this centerpiece is something I'm proud of.
Here is a photo of my beloved Thanksgiving centerpiece all together. It reads, "Happy Thanksgiving To All!"
Not to mention Pinterest again but...to mention Pinterest again (heehee), there are tons of Thanksgiving decorating ideas and Thanksgiving centerpiece ideas that are totally doable so check them out to spark some creativity.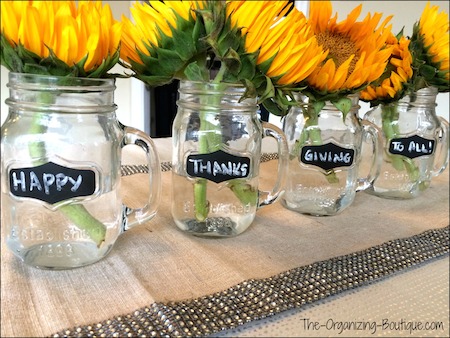 Super Cheap Cost Break Down Of
My Thanksgiving Decorating Ideas

Pinterest printable - $0
+

The Dollar Tree plates and napkins - $5
+

Burlap runner from Home Goods - $10
+

Sunflowers for mason jars - $10
+
Mason jars (already had them) - $0

+

Pumpkins and gourds didn't end up buying - $0

---
$25!!!

What a steal! AND, next year I won't need to buy a table runner and will probably have paper plates and napkins left over from the barbecues I'm sure we'll be hosting in the summer. I think I'll spend even less for next year's Thanksgiving feast so not only was the $25 very affordable, it was an investment. Sweet!

So...in conclusion, I think hosting Thanksgiving can be easy and cost-effective AND still be beautiful, delicious and charming. Can't wait for next year!
---
---