Wrapping Paper Organizer Ideas - Easy Ways To Organize Gift Wrap So You Can Quickly & Efficiently Wrap Presents

This post may contain affiliate links. This means if you click on the link and purchase the item, I will receive an affiliate commission. More here: Disclaimer & Privacy Policy


Looking for a wrapping paper organizer or wrapping paper storage ideas? You've come to the right place!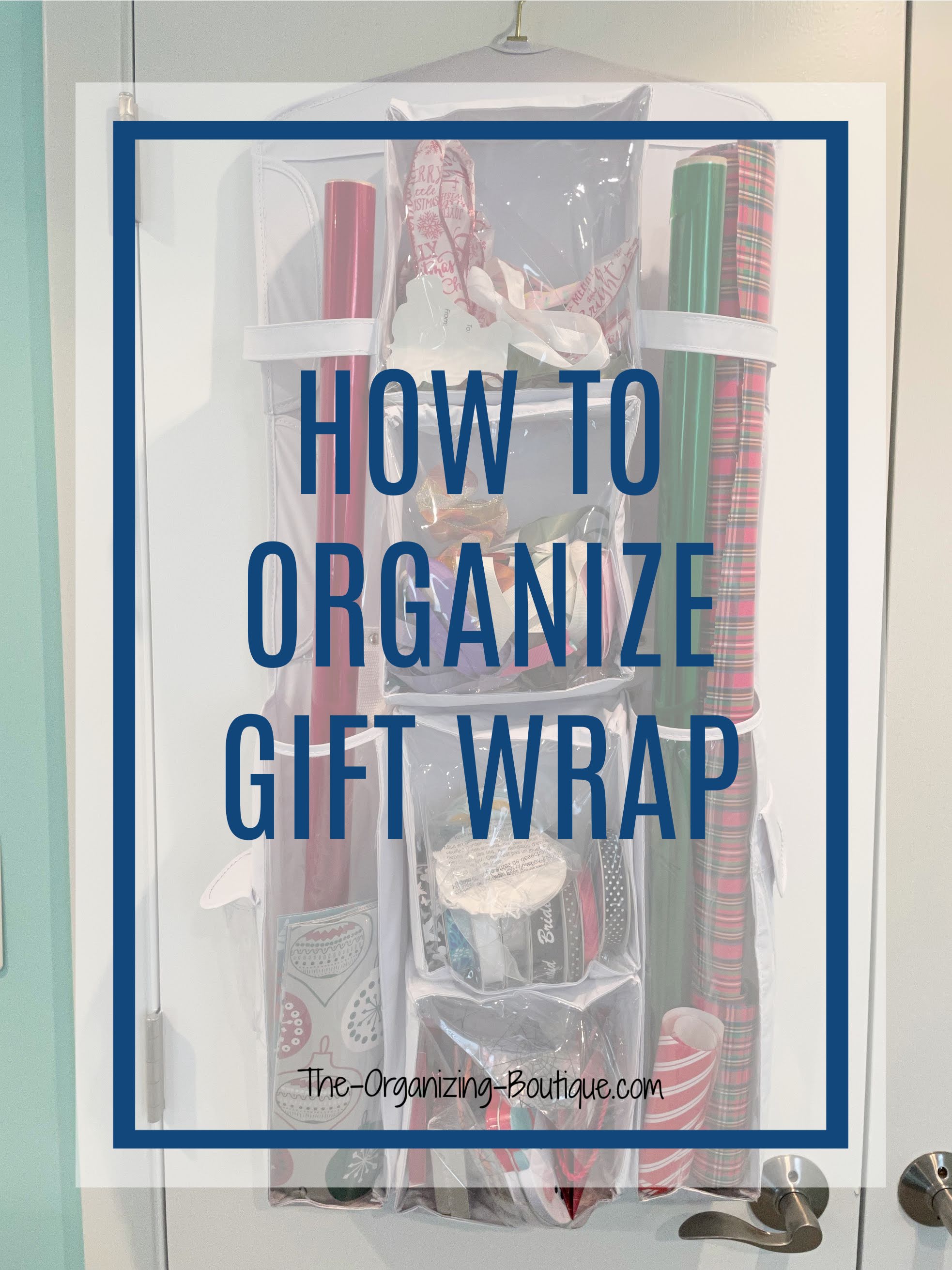 Like with anything else, having your gift wrap in order gives way to a smooth gift wrapping process, saves time and money and is just plain fun.
Outlined below is the organizing process as well as the products to organize gift wrap, so use the following tips to get started!
The Gift Wrapping Paper Organizer Process

Utilize the general organizing procedure of purge, sort and store, and apply it when you organize wrapping paper and other gift items.

PURGE:
Start by gathering all of your wrapping paper, bags, ribbons, labels, tools and other items you use to decorate gifts. Pick up one item at a time and decide if it is worth keeping. In order to accomplish this, ask yourself appropriate questions (i.e. Will I still use this? Is it ripped, shredded, usable?).


As you make decisions, put the item in the corresponding pile, bag or box - Keep, Donate, Trash, Recycle.


Take out the trash and recycling and put the donations in your car. This hinders the possibility of undoing your hard gift wrap organizing work.


SORT:
Now that you have gotten rid of all unnecessary items, it's time to focus on what's left. Separate the remaining things into categories (i.e. wrapping paper, ribbons, bags, tools, labels)


STORE:
With your gift wrapping supplies categorized, you can see how much you have of everything. Use organizational products accordingly like a wrapping paper organizer. See products suggested below.
This is the wrapping paper organizer I use and love it! See the product suggestions below to order it.


If gift wrapping is a regular activity for you and there is enough room in your house, then section off an area just for wrapping gifts. This could be a table in the corner of a room, part of your craft area or whatever space you'd like to define as this gift wrap station.
Creative Gift Wrapping Ideas

Don't Buy Wrapping Paper, Instead Use...
1. Newspaper
2. Your kid's artwork
3. Paper bag
4. Extra fabric
New Uses for Old Things

1. Use a PAPER TOWEL HOLDER to store RIBBON SPOOLS.

2. Utilize an extra TRASH CAN as a WRAPPING PAPER holder.

3. Frame WRAPPING PAPER SCRAPS to double as WALL ART.

4. Repurpose a SWING ARM HANGER to hold RIBBON SPOOLS.
MAINTAIN:

Get in the habit of putting items back in their proper places. This will ensure that you can effortlessly locate things, prevent you from buying multiples of the same item, and thus save you money.


Go through your gift wrapping supplies once or twice a year to get rid of unwanted or unusable items. A good time to do this is before the holidays, so you can figure out what you need and have a smooth gift wrapping winter season.
Gift Wrap Storage Products

The products to organize wrapping paper and other gift items are handy, convenient and fun! Check out the suggested items below.
Gift Wrapping Station
This gift wrapping center is so cool! It can organize wrapping paper, ribbons, tools, you name it. AND it has wheels so you can easily roll it into a closet for storage. Beautiful!
Hanging Wrapping Paper Organizer
I personally use this gift wrap holder, and it's great for saving space. I hang it on the back of a door using an over-the-door hook so that I don't use valuable closet space and for easy access to my gift wrapping items. Check it out!
Stacking Ribbon Organizer
This gift wrap dispenser keeps ribbons organized and features a flip top! It conveniently stacks and has a clear lid to easily see the ribbons inside.
Gift Bag Organizer
This gift bag organizer is great for keeping gift bags tidy. It hangs in the closet for easy, slim storage. Check it out!
---
---