Car Organization Tips - What To Store Where In Your Car + 10 Things A Pro Organizer Keeps In Her Car

This post may contain affiliate links. This means if you click on the link and purchase the item, I will receive an affiliate commission. More here: Disclaimer & Privacy Policy


Car organization is essential, especially for those always on the go.
Whether you are constantly carting youngsters around, hopping from one business meeting to the next, or habitually taking road trips, an organized vehicle will contribute to improved efficiency and punctuality, to say the very least.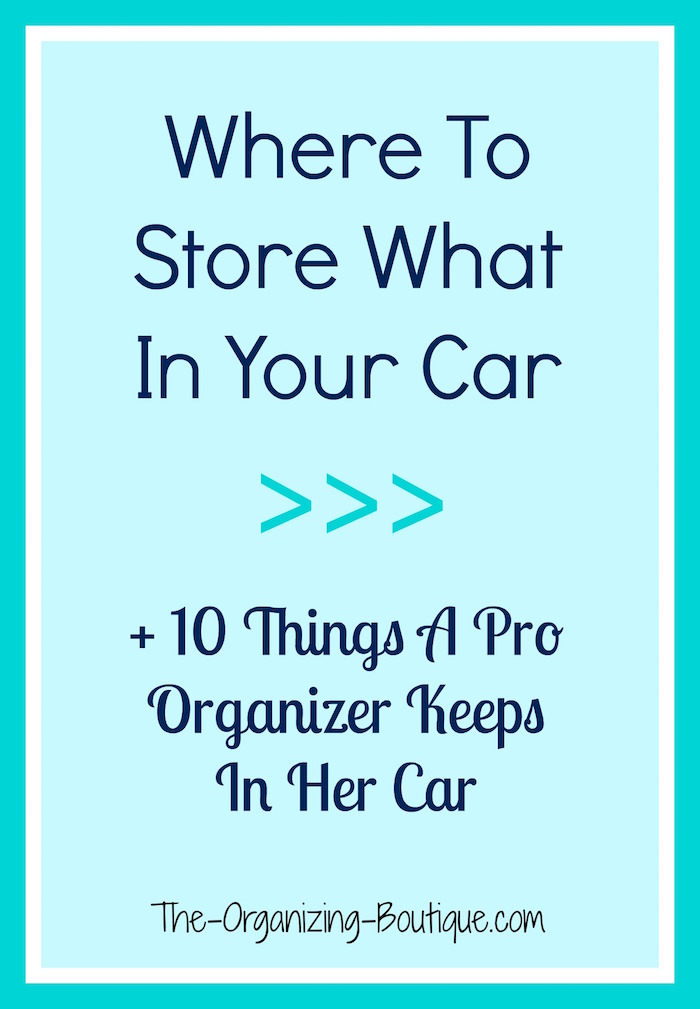 For example...
It's the first day of school for the kids. You have loaded their backpacks with the newly-purchased school books, made their lunches with fresh groceries, dressed them from head to toe in new clothes, and you are on your way to drop them off right on time! You are pulling up to the school and suddenly realize you forgot to give them some very much needed supplies!! What to do?!
Take this example, and apply it to a work or travel related situation - not very fun, huh? Having an organized car stocked for the "what ifs" in life is the way to go. You will be able to find everything quickly and be more at ease while on the road - something we could all use! The following tips on how to get organized in your car and my car organizer product suggestions will help you get started.
The Car Organization Process

Utilize the general organizing procedure of purge, sort and store, and apply it for optimal car organization.


PURGE:
• Start by going through your car and throwing away all the trash. (Also mentioned in the MAINTAIN section, try to rid your car of trash items every time you get out of it. You may also want to consider using a car trash can.)
• Next, gather all the items that don't belong in your car and disburse them accordingly (in your house, to other people, and so on).


SORT:
• Now that you can focus on the remaining relevant items, divide them up into categories (i.e. tools, safety items, hygiene products, etc.).


STORE:
• First, decide which part of the car is appropriate to store certain items. For example, the rarely used tools can be kept in the trunk, while the frequently used hygiene items (lotion, lip balm, hand sanitizer) should be stored near the front seat in the console.
• Cars usually come with multiple compartments specifically for storing your personal items. If your things fit comfortably in these spaces, utilize them as necessary. If not, check out these suggested car organizer products for maximum car organization.

**Safety Tip: Loose, unsecured items in your car can be a hazard.**


MAINTAIN:
• Rid your car of trash items on a regular basis. Make a habit of grabbing all of the rubbish whenever exiting your car. This simple car organization task will keep your car's interior free and clear of clutter.
• Repeat the above mentioned step for the items that simply don't belong. Make a habit of bringing in household items whenever going from your car to your home.
• Clean your auto on a monthly basis (or as needed). Keeping your car fresh will maintain its appearance and make it more enjoyable to drive. **Remember, an organized vehicle is easier to clean!**
What To Store Where In Your Car

Wondering what items to keep in your car? Trying to figure out where to store them? Below is a list of where to keep certain items and will help with car organization.


Glove Box
Car Manual
Frequently Used Maps/Small Atlas (this is optional if you use a GPS or have a smart phone)
Pad of Paper, Pens, Scissors
Disposable Camera
Insurance Card, Registration Papers & AAA/Emergency Information
Small Accordion File (to organize coupons, insurance card, etc.)
Center Console (& Other Front Compartments)
Medicine (Aspirin, Cough Drops)
Extra Feminine Products, Nail File, Hair Ties
Spare Change
Napkins
Cell Phone/iPod Charger
Sunglasses
Hygiene Products (lotion, hand sanitizer, sanitizer wipes, deodorant, mints, gum)
Clear Travel Case (to store beauty & feminine items)
Escape Hammer (where you can reach it from the driver's seat)
Trunk
Spare Tire
Tools (lug nut wrench & other car tools)
Jumper Cables (along with a print out of how to use them)
Umbrella
Snow/Ice Scraper
Bag of Kitty Litter (great for traction in snow!)
Reusable grocery bags
Car Trunk Organizer (to organize all of the above stuff)
Here are some more awesome car organization ideas from Pinterest. Check them out!
10 Things A Pro Organizer Keeps In Her Car

These are 10 things I keep in my car at all times (other than the obvious items like jumper cables).


Lip balm
Sunglasses
Aspirin
Feminine products
Tweezers & a nail file
Extra hair bands and clips
Pen & paper pad
Phone Charger
---
What Items Do You Keep In Your Car At All Times?
Other than the obvious auto-related items like jumper cables, what things must you have while in transit??
Check Out The Items Others Don't Drive Without
Click on the links below to read what others must have in their cars and why. Very interesting...

chapstick, CD, ipod, books, containers, work kits, air freshener, gum, hand cream

I'm on the road a lot for my job, so I need work books and kits for my clients handy. I also have lotions and Chapstick for personal use, and of course, …
Lotion, Work Out Clothes, Shoes, Socks, First Aid Kit, Sweaters, Snacks, Cleaning Supplies, Map, Chapstick, Hygiene Items... Not rated yet
We live out of town, so we have to take everything we might need. It's winter so we keep extra socks and a sweater for each of us in the car. We also …
---
---