What Is Aweber? One Of The Best Email Marketing Service Providers!

This post may contain affiliate links. This means if you click on the link and purchase the item, I will receive an affiliate commission. More here: Disclaimer & Privacy Policy


What is Aweber anyway? In my opinion, it's one of the best email marketing service providers out there.
For years, I sent my e-newsletters using Constant Contact and I still HIGHLY recommend them. Their interface is very user-friendly and they have good customer support. However, it came to the point where I needed some more advanced features that Constant Contact didn't offer, so I took to the internet to research other email marketing companies. After reading many articles and opinions, the Aweber reviews won my attention AND they offer a trial month for only $1. Sold!

Below are 3 great reasons I love Aweber and why it should be one of your small business marketing tools. Enjoy!

3 Rad Reasons I Love Aweber & Why You Will Too

1. Sign Up Forms

For many years I used Constant Contact and I really do still love and recommend them, but I got to the point where I needed some more advanced features. One being sign up forms. I wanted to be able to easily install sign up forms so people could subscribe to my list from my website, my Facebook fan page and so on.
Enter Aweber. See that form in the top of the right column? And the one at the very bottom of the page? Not only do they offer this feature, they provide tons of customizable form designs and different form types (e.g. light box, in line). I have several different lists to organize my subscribers and within each list are different sign up forms. This has really increased my number of email subscribers and also allows me to track how they are signing up so I know what's working. And that leads me to my next point...
2. Detailed Reports

I mean very detailed. Everything is tracked with Aweber. Subscribes, unsubscribes, open rates, click rates, daily subscriber rates, weekly subscriber rates, monthly subscribers rates, sign up forms displays, sign up forms conversions and on and on. It's awesome! I can see what's working, what's not working and what I can experiment with more. That leads to more subscribers, higher open and click-through rates and increased sales. It's phenomenal.
3. Customer Appreciation (With Several Exclamation Points!!!!)

As soon as I signed up for the trial, someone from Aweber called me to see if I had any questions and if I needed any assistance. Score 1 for Aweber!
Later on, when I actually did have a question I got a response from their friendly customer support and the problem was solved very quickly. Score 2 for Aweber!

Happy that I was, I sent out some tweets praising them...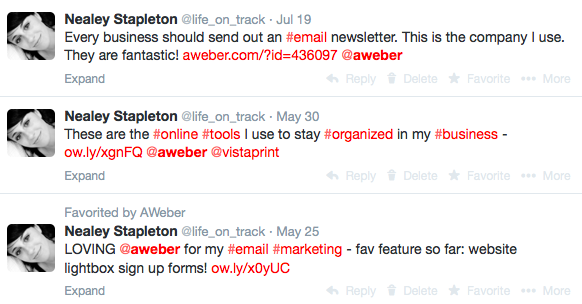 ...and then all of this (socks, a shirt, stickers, the business card of the Chief Marketing Officer and a thank you note) came in the mail. Score 3 for Aweber!



An in case you're wondering what that hand written note says:
Nealey-
Thanks for the kind tweet! We love awesome customers like you. Let me know if I can help in any way.
-Erik
Alright, So What Is Aweber? It's A Rockin' Email Service!! Ready For More?

Here's how to use Aweber - This is a 16-page step-by-step guide on what is Aweber and how to get started with it. It includes 16 screenshots and 22 Power Point slides, and it's only $10! Click the link to see the screenshots.
What is Aweber? Try it for just $1! That's what I did and absolutely fell in love with it. It's only one dollar, and there are no obligations to sign up after your month is up.

The other business management tools I use and love that are worth checking out (like a free infographic creation tool, a social media scheduling tool and more).