Menu Organizer Solutions

This post may contain affiliate links. This means if you click on the link and purchase the item, I will receive an affiliate commission. More here: Disclaimer & Privacy Policy


Are take-out menus junking up a cabinet or drawer? Here are some great menu organizer product suggestions and menu organizing tips that will help you maintain kitchen cabinet organization.
Menu organization means you can find all of your menus, easily flip through them and then locate your restaurant of choice without issue. How nice!

Avoid having to shuffle through crumpled menus and utilize the below step-by-step process on getting your menus organized. Enjoy!

The Menu Organizer Process

Utilize the general organizing procedure of purge, sort and store, and apply it when going through the menu organizer process.


PURGE:
Start by going through each menu one by one. Get rid of the ones you can no longer read, the restaurants that have closed or are no longer nearby, the ones you don't like and any others that you know you won't use.


As you make decisions, put the item in the corresponding pile - Keep & Trash or Recycle.


SORT:
Categorize the menus, so that you will be able to find what you need when you need it. What makes sense to you (i.e. type of food, alphabetically, location, price range)?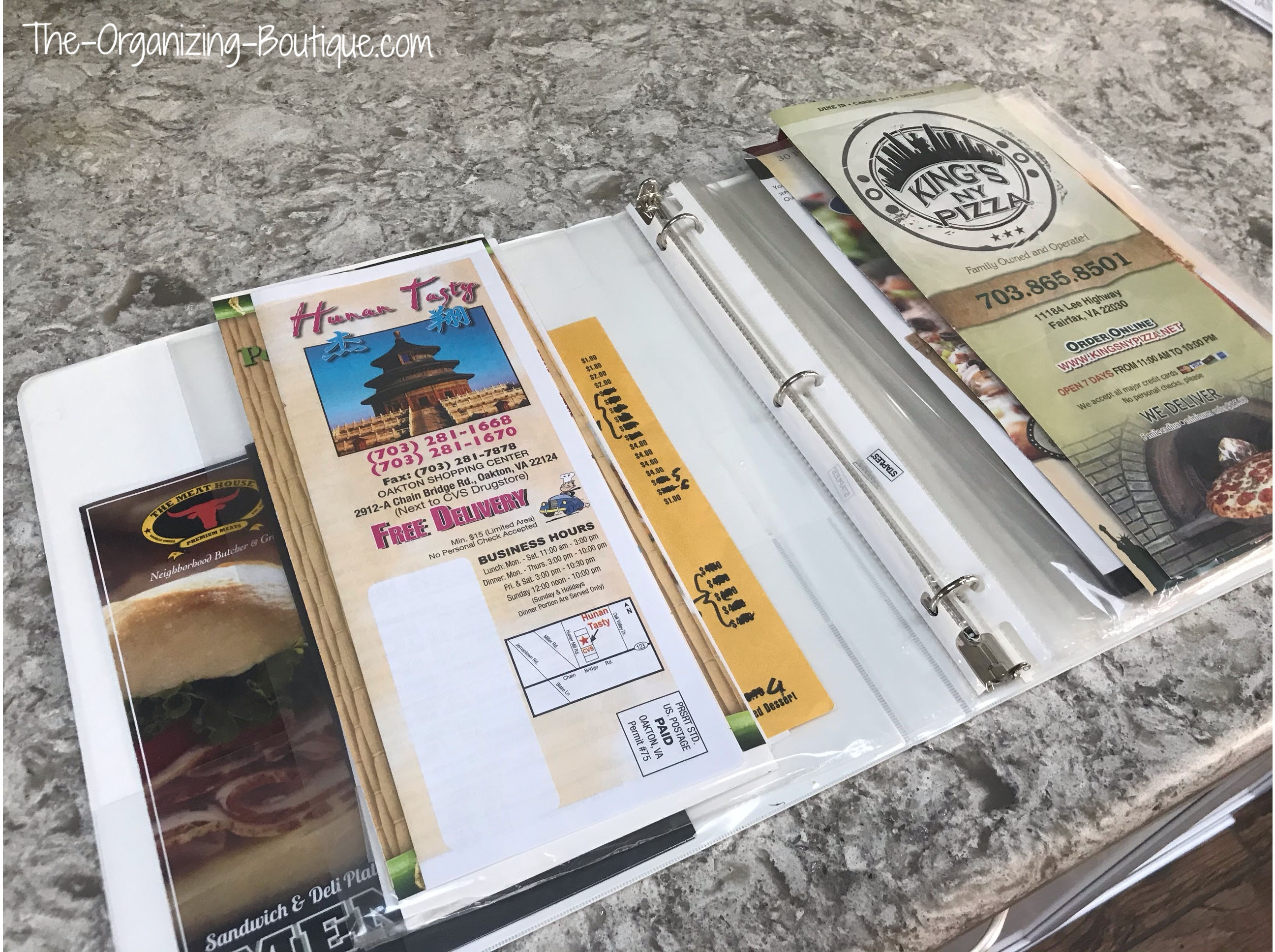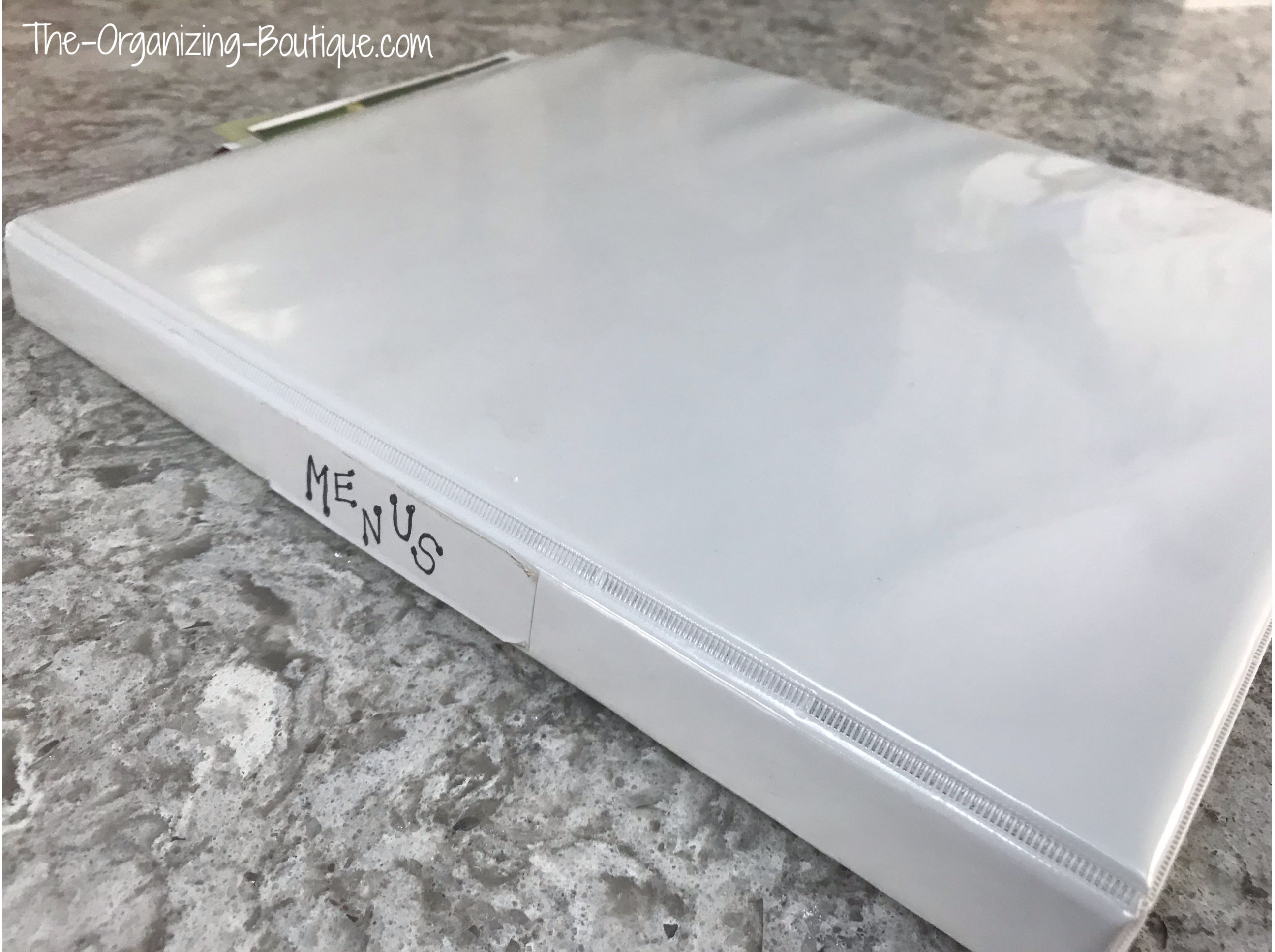 I organize my menus using sheet protectors in a binder. They are categorized by type of food, so if I'm in the mood for Asian I know right where to go!


STORE:
Get a three-ring binder, clear sheet protectors and divider tabs. Label the divider tabs according to the categories you created during the sorting process, and put the menus in the sheet protectors. Then put it all together in the binder, and store it in or near the kitchen for easy access.


If you don't have that many menus, then simply store all your menus in a labeled box or magazine file.


The above suggested binder or box can both be made easily using things already in your house, but if you do want to buy a menu-specific organizing product check out the suggestions below!



MAINTAIN:
Go through your menu binder or box once a year to weed out all unnecessary items.


Be sure to put menus back in their proper place after use. You want to be able to find them the next time you're searching for quick and easy dinner ideas! Here's more on weekly meal planning ideas and how to organize recipes.

The Menu Organizer Products

Ready to get started?! Check out these menu organizing products.

Meadowsweet Kitchens Takeout Menu Organizer
This menu organizer has pockets and labels, so you can organize your menus into categories. It fits easily in a drawer or on the shelf with cookbooks and has an elastic closure to keep everything in place.

Storage Studios Expandable Paper Organizer
An attractive accordion file like this one is another great solution for organizing menus. Use each section for a different category, label them and voila!

3-Ring Binder
Just as I mentioned above, a good 3-ring binder and clear sheet protectors will also do the trick!

Magazine File
Also mentioned above, an attractive magazine file will also do the job!
---
---