How To Organize Coupons & Gift Cards, Coupon Organizers & More!


This post may contain affiliate links. This means if you click on the link and purchase the item, I will receive an affiliate commission. More here: Disclaimer & Privacy Policy


Don't let them expire! Here's how to organize coupons and gift cards as well as some fun coupon organizers.

Why organize coupons and gift cards? Well...
Have you ever let your coupons and/or gift certificates expire?
Did you forget you even had them?
Did you remember you had them but just couldn't figure out where they were stashed?
Many of us are guilty of this throughout the year, but it's definitely emphasized around the holidays. You are telling family and friends to get you gift certificates in fear of what they might actually pick out for you, so wouldn't it be really great if they didn't go to waste?
Below you'll find step-by-step instructions for organizing coupons and gift cards as well as awesome product suggestions like coupon organizers. Happy reading!

How To Organize Coupons: The Coupon Organizing Process

Utilize the general organizing procedure of purge, sort and store, and apply it when organizing coupons and gift cards.


PURGE:
• Start by gathering all of your coupons, gift cards and so on.
• Go through them one by one and throw away anything that has expired.


SORT:
• Now that you can see what you have, separate what's left into categories. Make sure you sort them so you can easily locate specific coupons or gift cards in the future.
For example, divide them up by expiration month to ensure you use them before they expire or separate them by type to distinguish between food, apparel, and electronics or sort them alphabetically by store/company name.
• Do you have some gift cards that you know you won't use? Great! Consider selling them on a gift card exchange site like GiftCardGranny.com, CardPool.com or ABCGiftCards.com.


STORE:
• Using a coupon organizer like an expandable file, an index card box, a card wallet, a coupon binder, or product of your choice, store your coupons and gift cards according to the categories you specified in the sorting process. (See below for more product suggestions.)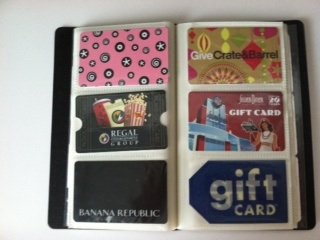 I use a business card book to organize my coupons and gift cards. This is the gift card section.

MAINTAIN:
• Get in the habit of putting all coupons and gift cards in their appropriate location in the coupon organizer as soon as you get them.
• Once a month (or whenever you access it), go through your coupon organizer and throw away all expired items.
How To Organize Coupons: The Coupon Organizers

Effectively organize coupons and gift cards with some organizing products. Check out the suggestions below.
The Couponizer - one of our favorites for how to organize coupons!
Specifically designed to organize coupons, this product will not only get you organized but will also save you money. Never again will you let your coupons expire because you can't find them!
Coupon Binder Pages
If you're going to create a coupon binder, then check out these page protectors made specifically for holding coupons!
13-Pocket Coupon File
This product is great organizing coupons, gift cards, receipts and more. It is compact, durable and affordable!
Card Cubby
This product is an awesome supplement to your wallet. Alphabetically store your coupons, discount cards and more in this palm-sized organizer.
EXTRAS

Online Coupon Resources
HotCouponWorld.com
RetailMeNot.com
---
---