Makeup Organization - Makeup Storage, Makeup Organizers & More!

This post may contain affiliate links. This means if you click on the link and purchase the item, I will receive an affiliate commission. More here: Disclaimer & Privacy Policy


Makeup organization is important for several reasons...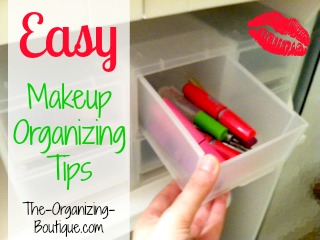 First, it's nice to be able to find your beauty items when you need them (especially during the morning routine).
Second, do you want to save money on makeup? Makeup can be costly and you want to avoid purchasing the same item twice because you can't find it.
Third, it's just plain fun!
Check out the following tips on makeup organizing and the makeup storage product suggestions at the bottom. Enjoy!
The Makeup Organization Process

Utilize the general organizing procedure of purge, sort and store, and apply it to organize makeup.


PURGE:
• Start by going through your makeup one item at a time. Get rid of everything that has expired, is outdated and/or is not usable anymore.
• Not sure how long to keep makeup? Click here!
• As you make decisions, put the item in the corresponding pile, bag or box - Keep or Trash.
• Take out the trash for a clean work area.


SORT:
• Next, separate what is left into categories in order to see what and how much you have (i.e. tools, lip color, eye makeup, foundations, blushes).
• If you have the space, you can sort your makeup into even further categories (i.e. lipsticks, lip glosses, lip liners, eye shadows, eye liners, mascaras, foundations, bronzers, blushes).


STORE:
• Store your sorted items in your bathroom or wherever you apply makeup.
• Utilize makeup storage products accordingly. See the suggestions below.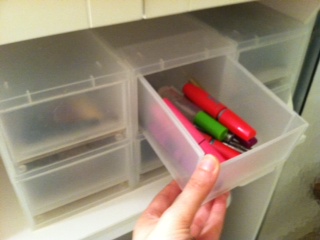 I use the mini 2-drawer translucent chest to organize my makeup (see product links below). The open drawer shown is for eye pencils and mascaras. It's really easy to find what I want quickly, and the design of this product makes it look good anywhere! Check out how I spiffed up my makeup storage drawers with Washi tape here.

MAINTAIN:
• Get in the habit of putting things in their proper places as soon as you are done using them. This simple task will keep your bathroom free and clear.
• Throw products away when they expire or become unusable. This short activity will avoid long makeup organizing sessions!
The Makeup Organization Products

Makeup storage products and makeup organizers are life savers. Never lose your teeny tiny items in those dark, deep spaces again!
My Makeup Organization Favorite - Like-It Stackable Mini Drawer
This makeup organizer is a fantastic product! I use something just like it and love it. Check it out!
On The Go - Cosmetic Case
No counter space? Utilize this cosmetic organizer case! It has drawers, extendable trays and a mirror. When you're done applying makeup, close it and store it under the bathroom sink.
For The Drawers - Wood Expandable Cosmetic Drawer Organizer
This natural wood product looks great and is customizable. It turns any bathroom drawer into an organized dream!
On A Surface - Counter Top Makeup Organizer
If you have the counter space, use this product to keep your everyday cosmetics at your finger tips!
Rolling Makeup Organizer Case
Need small bathroom ideas or small bathroom storage? Keep your cosmetics in this mobile organizer. When it's time to apply, roll it in to the bathroom and when you're done roll it right out.
Makeup Travel Case
Looking for a makeup travel bag? Check out these top-rated cosmetic organizers for travel on Amazon!
---
---