Closet Organization Tips & Closet Storage Solutions For A Closet Under The Stairs

This post may contain affiliate links. This means if you click on the link and purchase the item, I will receive an affiliate commission. More here: Disclaimer & Privacy Policy



Looking for closet organization tips for a closet under the stairs? Organizing a closet under the stairs can be a real challenge, because usually this is a small awkward space.
Never fear, the organizer lady is here!
Below you'll find the step-by-step process I used to organize my client's basement closet as well as product links and the makeover before and after photos. Happy organizing!
My Client's Basement Closet - Before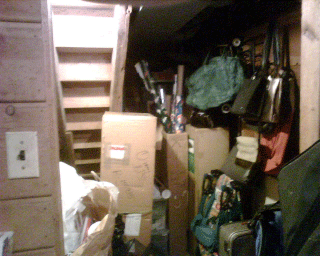 This was my client's basement closet before we did any organizing. It was very hard for her to get to things, since she could only take one step inside.
Here's how we reclaimed this space to become what my client wanted: a very functional storage closet.
How To Organize A Closet In 5 Simple Steps

1. The first thing we did was take everything out...

...and go through the items one at a time. We trashed anything no longer in working condition and donated items that she didn't want anymore.
2. As we did this purge process, we sorted the contents of the closet into categories that made sense to her.

We separated the decorations by holiday (i.e. Halloween, Christmas, Easter) and everything else by what it was (i.e. suitcases, tote bags, children's books, outdoor activity gear like coolers).
 ...to store each category of items and labeled them accordingly.
...and put against the wall to create vertical storage space. This way she could walk all the way in and get whatever she needs from any corner of the closet. Lovely!
5. Lastly, we populated the shelves...

...with the plastic bins, the luggage and so on. We put the items she uses more frequently in the most accessible locations.
My Client's Basement Closet - After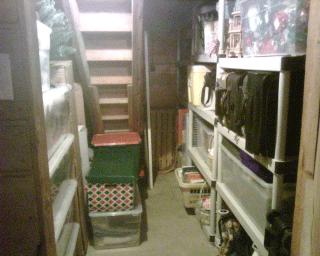 Side By Side Comparison!

| | |
| --- | --- |
| Before | After |
Closet Storage Solutions: The Products

Sterilite Ultra Storage Box
We used large, clear plastic bins with lids like these to sort and store items by category. One bin was used for Halloween decorations, one for Christmas decor and so on.
Sterilite Heavy Duty Shelf Storage Unit
Heavy duty shelving like this was used to create vertical storage space on the closet walls. This product is easy to assemble and sturdy. Check it out!
---
---