Bathroom Storage Solutions To Organize Bathroom Drawers

This post may contain affiliate links. This means if you click on the link and purchase the item, I will receive an affiliate commission. More here: Disclaimer & Privacy Policy


Need to organize bathroom drawers? Looking for bathroom storage solutions? Makeup organization ideas? Here's exactly how to get from this before photo to the after photo!

Below you'll find the step-by-step process I used with one of my clients to completely rearrange her bathroom drawers into organized dream spaces as well as the organizing products we used. Happy reading!

My Client's Bathroom Drawer - Before

This is my client's deep bathroom drawer. As you can see, it's a mix of different kinds of toiletries and it was really hard for her to locate things.
Here's how we organized it all to provide easy access to every item in the drawer.
1. We took one item out at a time,

...decided if it was worth keeping (i.e. expired, empty, etc.), and then either threw it away or put it in a pile with other like items. By doing this, we combined the purge and sort steps into one seamless process. We did this until the drawer was empty and what she was keeping was sorted into piles by category (i.e. first aid, soap, etc.).
2. Then we gave the empty drawer a good cleaning,
...and we let it dry.

3. Next, we utilized bathroom storage solutions to divide up the space in this deep drawer.

We used organizing products like glass jars (with metal lids) to store the cotton balls and cottons swabs as well as an expandable drawer divider. We took into account how much of each category she had in order to figure out where in the drawer divider the items would go.
My Client's Bathroom Drawer - After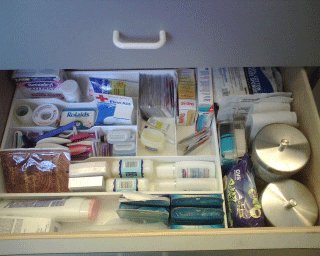 The Small Bathroom Storage Products

Expand-A-Drawer Tray
We used a drawer divider from The Container Store like this one. The expandable feature made it easy to fit it into the drawer and offered some options as to how to position it.
Organize Bathroom Drawers with Dividers
There are tons of drawer organizers out there, so choose according to your style and needs. Consider the color, the material, trays versus modular and so on.
Glass Jar with Brushed Stainless Steel Lid
As you can see in the after photo, we used glass jars like this one to hold cotton balls and cotton swabs. By putting them in the deep drawer, we were able to save counter space.
---
---