Guest Bathroom Storage Solutions - Small Bathroom Storage Ideas

This post may contain affiliate links. This means if you click on the link and purchase the item, I will receive an affiliate commission. More here: Disclaimer & Privacy Policy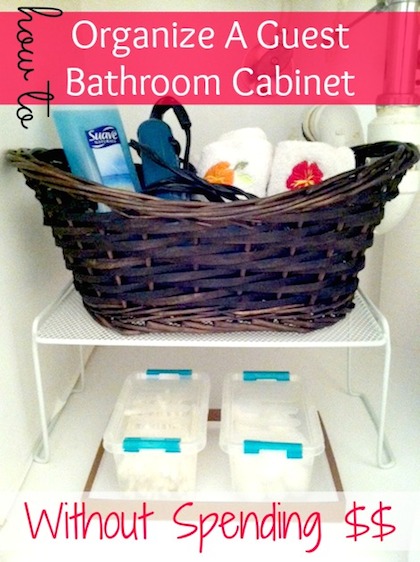 Do you have guests coming into town? Great! Here are some bathroom storage solutions that your guests will appreciate.

Bathroom organizing for your guests makes them feel welcome and provides them with what they need without having to ask.

I've had quite a few guests stay at my house recently, so I decided to reorganize the cabinet below the sink in my guest bathroom to make things more accessible as well as look better.
I detailed my organizing project on this page. Below you'll find the step-by-step process for organizing a guest bathroom under-sink cabinet as well as photos from my home. Enjoy!

Guest Bathroom Storage Solutions - The Under Sink Area Before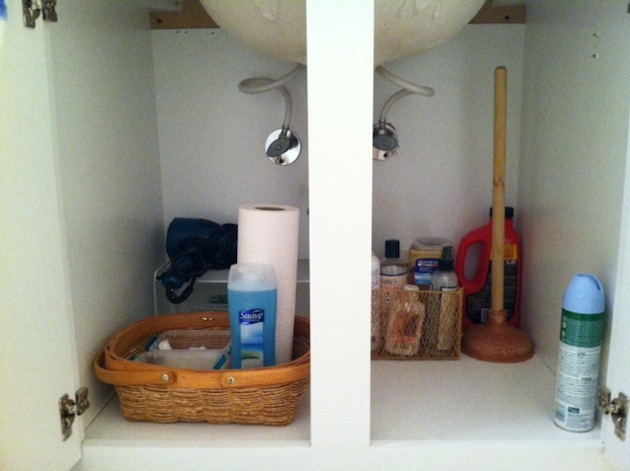 This is what the cabinet under the sink in my guest bathroom looked like before. It wasn't particularly messy and everything in this cupboard did actually belong there. However, I wanted to make it look better, since this was a cabinet that people were actually seeing the inside of.
So...what bathroom storage ideas did I employ to improve the functionality and the look of this space? I'll show you!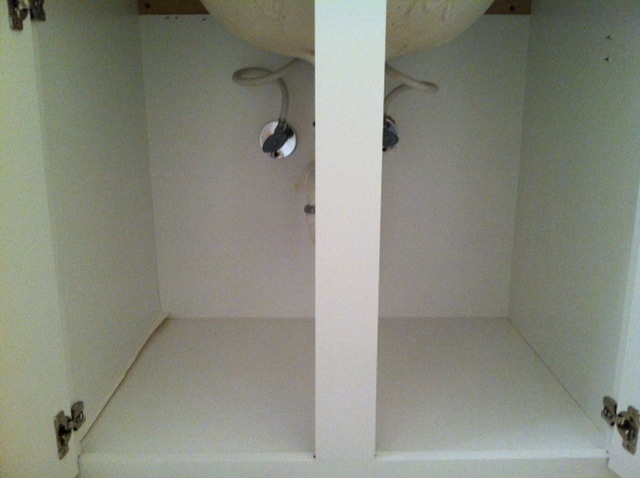 All right, let's have some guest bathroom organization fun! First, I emptied the bathroom storage cabinets completely and gave them a good cleaning.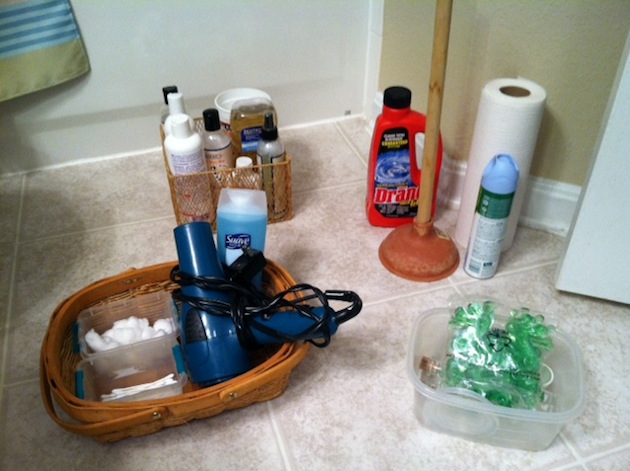 Then, I sorted all of the contents into categories that made sense to me - items for guests, dog grooming products, bathroom cleaning supplies and extra items specific to this bathroom. This way I can see how much of everything I have and use bathroom organizers accordingly.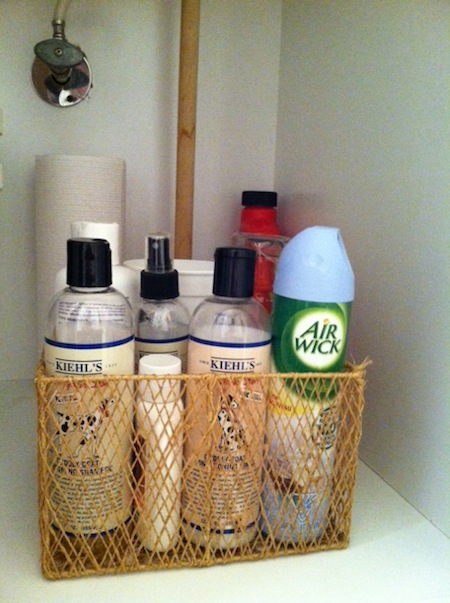 I used the right side of the cabinet for dog grooming products and bathroom cleaning supplies. The cleaning supplies don't need to be accessed that often, so they are in the back. The dog grooming products are used more frequently, so I put them in the front.
It's important to note that I DID NOT PURCHASE ANY ORGANIZING PRODUCTS or bathroom storage units for this project. Quite often, you can reuse what you already have in your home to get organized, so keep your eyes open for things that can be used as containers.
I reused the same basket I was using before to hold the dog grooming products, because it worked well. Remember, if an organizing product or system you have in place works, no need to change it!
Lastly, I put the air freshener bottle in with the dog grooming supplies, so that it was easily accessible.

I dedicated the left side of the under-sink cabinet to my guests. I reused the cabinet shelf I had before and moved it to the front. This way it is very easy for my guests to reach in and get what they want.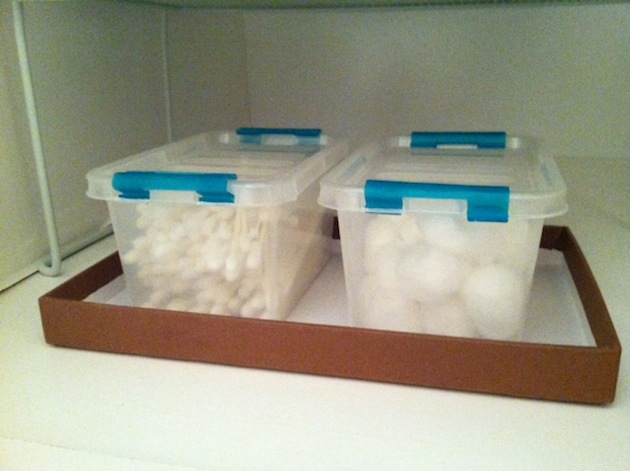 Underneath the cabinet shelf, I used 2 small plastic containers (similar to small food storage containers) to hold cotton swabs and cotton balls. Since the bins are clear, my guests should be able to easily identify their contents. They are also lidded which is nice for keeping the cotton clean and dust-free.
Lastly, I put the 2 containers on a lid (that's flipped over) from another box I have. It now serves as a tray, so my guests can grab the whole thing and put it on the counter for easy access. Lovely!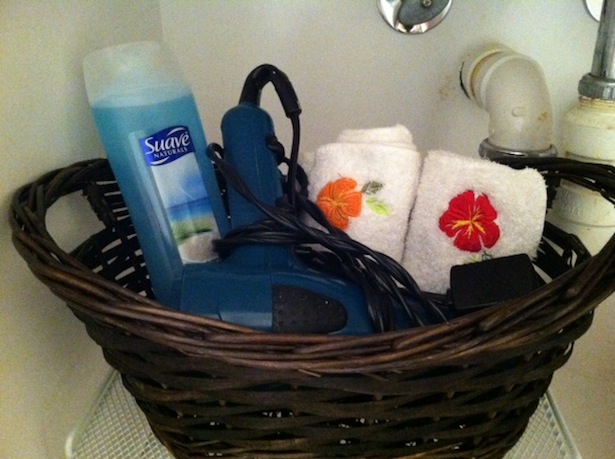 On top of the cabinet shelf, I reused a basket I already had in my home to organize and display the items guests use the most. It's very easy to reach in to and looks great!
This guest bathroom organizing project took less than an hour to complete, and my new bathroom storage solutions cost nothing since I reused containers and baskets that I already had. Love it! Below are the before and after pictures. Enjoy!


The Under Sink Area In My Guest Bathroom - Before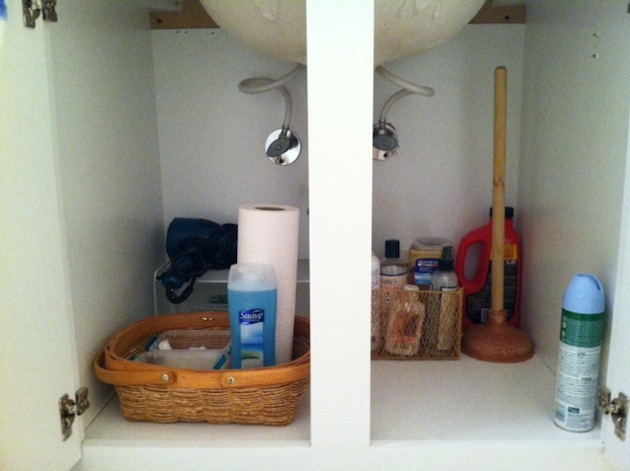 The Under Sink Area In My Guest Bathroom - After

---
---