Organize Cardigans For Women | Closet Organizing Ideas

This post may contain affiliate links. This means if you click on the link and purchase the item, I will receive an affiliate commission. More here: Disclaimer & Privacy Policy



Looking for ways to organize cardigans for women and/or men? I file them in open canvas storage bins for easy access, and it works wonderfully!
If your cardigans are getting too wrinkled, stretched out, and/or taking up too much drawer space, then this solution is for you.

Below you'll find the step-by-step process for organizing your cardigans and photos of how I FILE my cardigans in open canvas storage bins. Happy organizing!

The Process: Organizing Cardigans For Women & Men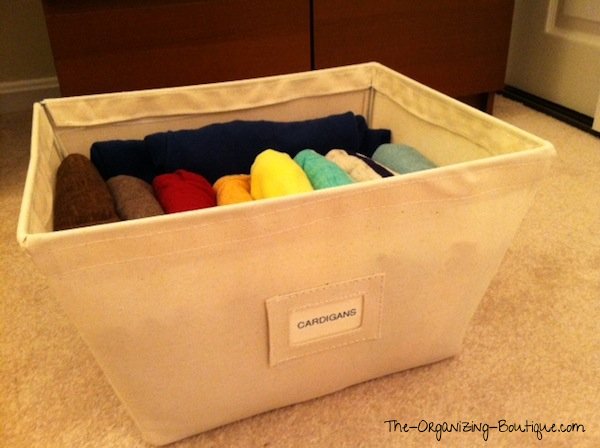 Utilize the general organizing procedure of purge, sort and store, and apply it to organize clothes like cardigans for women and men.


PURGE:

• Start by gathering all of your cardigans.
• Pick up ONE at a time and decide if it is worth keeping. In order to accomplish this, ask yourself appropriate questions (Is it ripped, faded or stained? When was the last time I wore it? Is it still in style?).
• As you make decisions, put the item in the corresponding pile, bag or box - Keep, Donate, Trash.
• Take out the trash and put the donations in the car (for a quick drop off the next time you pass the donation center) when you're done with the purging session. This avoids the possibility of undoing your hard sweater organizing work.


SORT:
• You have pared down, and now you can focus on what's left. Sort the remaining cardigans into categories that make sense to you (i.e. black cardigans, long cardigans, fancy cardigans, etc.).

STORE:
• Fold and put your sorted cardigans on a closet shelf, in a dresser drawer or in open canvas storage bins (like I do!).
• Below are photos of how I FILE my cardigans in open canvas storage bins that are so easy to access.


MAINTAIN:
• The easiest way to maintain your sweater organizer success is to put items back in their appropriate places after each use.
• One of my best closet organizing ideas is to keep a donation bag in or near the closet. The next time you come across a cardigan that you deem unwearable (i.e. faded, ripped, stained, etc.), toss it in the donation bag immediately. This way it no longer takes up valuable closet space, and you can avoid long organizing sessions by doing such quick regular purges.

Closet Storage Solutions: File Cardigans For Women & Men

First, I think it's important to point out that this is my cardigan storage solution because...
I don't like hanging them because they'll stretch.
I don't have the dresser drawer space for them.
I have plenty of closet shelf space.

This is one of two open canvas storage bins I use to store my cardigans.
And naturally, life happens and things get messy (even for professional organizers!). So...I decided to give my storage solution a tweak and try to improve upon it. After all, my cardigans were getting really crumpled.
First, I tried employing the same concept I used for organizing my scarves by rolling them. This was a little better but proved to be difficult to keep up and didn't seem to save that much space in the bin.
Next idea, how about "filing" the cardigans?!
Step 1: Dump out the bin. (You can also see here the attempt of the rolling technique that didn't work. Trying to roll them so they wouldn't wrinkle took way too long, and they still ended up being crumpled.)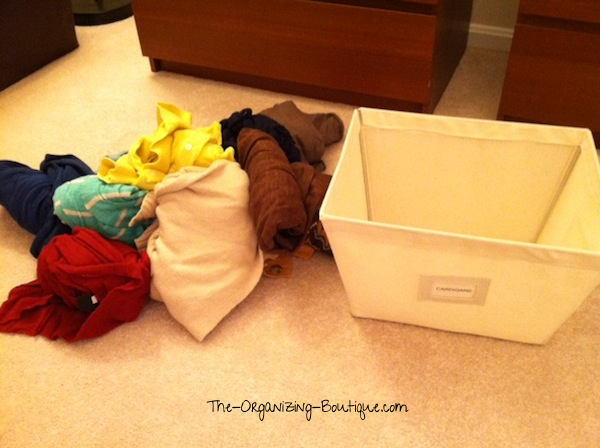 Step 2: Fold each cardigan nicely (into a rectangle or square or whatever shape fits your storage solution best).
Step 3: Put them in the canvas bin in order by color or in whatever way makes sense to you.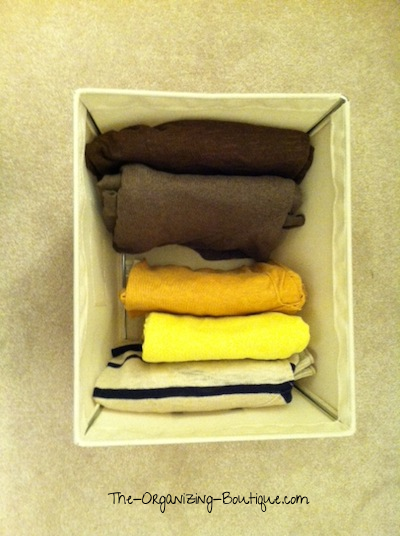 Step 4: Move the cardigans around, as necessary, to fit.
For instance, you can see in the below photos that my long dark blue cardigan (left) needed a little more room and so did my gray ruffle cardigan (right), so I filed them on the side.
Step 5: Celebrate how lovely it looks and how easy it is to pull out what you need as well as put it back!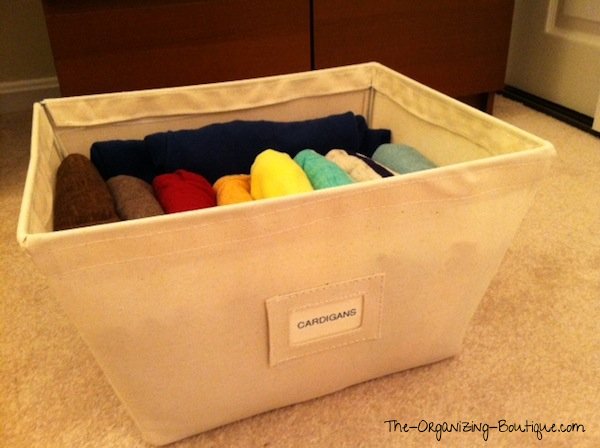 Now Let's Compare Before & After - What A Difference!

---
---
---