Living Room Ideas - How To Lay Out The Space & Organize Your Stuff

This post may contain affiliate links. This means if you click on the link and purchase the item, I will receive an affiliate commission. More here: Disclaimer & Privacy Policy


Looking for living room ideas? Check out these simple tips on getting organized and living room furniture layout!
The living room is one of the most used areas of the house, and it's perfectly normal for it to become a dumping ground.
Life happens, so let's embrace it. The following living room ideas will help with arranging and organizing your living room as well as some advice for maintaining order. Enjoy!

Living Room Ideas: Arranging The Furniture

The first step in getting organized is to look at your living room furniture arrangement.
Is it working?
Have you considered the location of permanent fixtures like a fireplace?

Does the traffic flow smoothly in and out of this space?
Does each piece of furniture have a purpose in this area?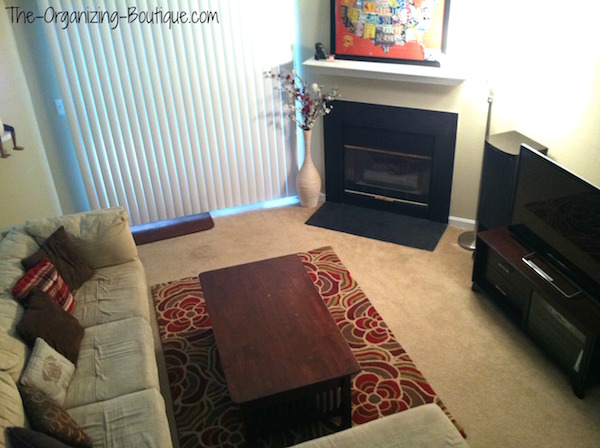 The above photo is my living room furniture design. This is how we figured out where to put each piece of furniture...

The first things we had to take into account when we placed the furniture were the fireplace and the sliding door to the balcony since those were permanent fixtures. We didn't want to put the tv over the fireplace, so it had to be against the only wall available.
From there we only had one placement option for the sectional sofa to face the tv and the fireplace, so that's what you see in the photo above.
Living Room Ideas: The Organizing Process

Utilize the general organizing procedure of purge, sort and store, and apply it to organize your living room.


PURGE:

• Once the furniture is set and you have your living room layout, start by going through the items in your living room. Pick up one item at a time and decide if it is worth keeping.
• In order to do this, ask yourself appropriate questions (i.e. Have I read this magazine or newspaper? Is this pillow ripped or stained? Does this game get played?).
• As you make decisions, put the item in the corresponding pile, bag or box - Keep, Distribute Around The House, Recycle, Donate, Trash.
• Take out the trash, put the donations in your car and distribute the items around the house. The distribution of items around the house is important to organize the living room, especially with multiple family members; ONE OF THE MOST IMPORTANT LIVING ROOM IDEAS IS TO ONLY KEEP THINGS IN THE LIVING ROOM THAT ARE USED IN THE LIVING ROOM. Rid this dumping ground of excess clutter and you'll see a huge, immediate difference!


SORT:
• Now that you've gotten rid of the unnecessary items, separate what's left into categories (i.e. Movies, Music, Books, Magazines & Newspapers, Games and so on). This way you can see what and how much you have.


STORE:
• Living rooms can be, and often are, multipurpose areas. Be sure to have living room furniture that looks good but also can be used for storage. This helps reduce unsightly clutter.
• Utilize a coffee table with drawers to house things like remotes and coasters and baskets underneath it to hold magazines and newspapers.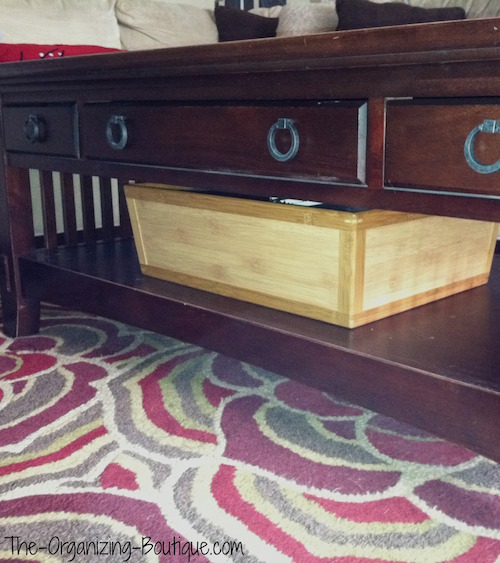 We use the drawers of our coffee table to store remotes, coasters and other small items we use in the living room. The bamboo basket underneath is for current books, magazines and catalogs.

• Use an entertainment center with shelves and drawers to hold your television equipment along with movies, games and music.
This is our entertainment center. On the shelves on the right is the equipment such as the cable box, receiver, dvd player and Wii. The drawers on the left hold DVDs, games and other accompanying accessories.
• Any other items that get used in the living room but do not have homes in the storage furniture (i.e. toys) can be contained in baskets with lids.

• See below for more recommended products!


MAINTAIN:
• Since the living room is a frequently-used area and it accumulates clutter on a daily basis, I have found it beneficial to clean it up every day. I take a few minutes out of my morning routine to fold blankets, straighten pillows, and distribute items around the house. This small daily routine is a tremendous help for maintaining order.
• Get the family involved. Everyone uses the living room, so each family member should be responsible for removing their personal items from this area on a regular basis as well. This keeps order as well as instills great habits.

• Once a year or so, do a living room purge session to get rid of anything no longer necessary (i.e. DVD cases missing the DVDs, CDs that have been converted to digital files, etc.).
Living Room Ideas: Storage & Furniture

There are great living room furniture sets and storage products out there to organize your living room. Take a look at these!
Living Room Furniture Sets
Don't know where to start when it comes to buying furniture? Check out these top-rated living room furniture sets on Amazon!
Storage Coffee Tables
These coffee tables serve both as tables and as storage units. Stylish yet functional furniture is great for communal areas, especially small living rooms. Check them out!
Living Room End Tables
Looking for more living room design ideas? Do you have any end tables? An end table is great for providing a surface for a lamp, a convenient place to put your drink if you're sitting nearby and storage for books or what have you.
Entertainment Center
This entertainment center holds a large television and has tons of storage space with the drawers, the single front shelf and the side shelves.
Living Room Storage Cabinets
Living room storage cabinets are great for storing media, toys and any other items that get used in this area.
Storage Ottoman
This ottoman is made well, looks great and opens up offering fantastic storage space for blankets and other living room items.
Want more living room ideas? I love Ikea living room furniture, and their website has photos of living room interior designs and living room styles. Take a look!

---
---
---