How To Organize Your Room - Bedroom Design Ideas & Organizing Products

This post may contain affiliate links. This means if you click on the link and purchase the item, I will receive an affiliate commission. More here: Disclaimer & Privacy Policy


If you're curious about how to organize your room and want bedroom design ideas, then you've come to the right place!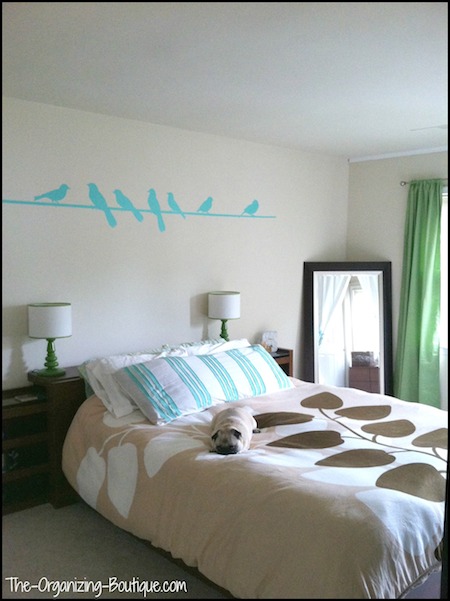 Your bedroom is a place for relaxation (as Brisket, our Pug, is demonstrating in the photo above) and should be your sanctuary.
Below you'll find the step-by-step process for how to organize your room as well as some great products that will help. Good luck!

8 Bedroom Ideas For Setting Up Your Room

1. Shape & Size

The first step is to take note of the shape and size of the room. Some bedrooms only have space for a bed and a night table, while others have room for a desk, bookcase and more.
2. Bedroom Purpose

The next thing to consider is what the bedroom will be used for. Make a list of these activities, so that you can properly divide the room into sections. For example - sleeping, doing homework, reading books, watching tv, doing hair and makeup.
3. Establish Bed Location

The first and most important section to establish is for sleeping, so the first piece of furniture that needs to be placed is the bed. It is the largest item and the initial purpose for this room. Figure out where you want your bed to be. Consider the space, the flow of traffic, being able to see the door when lying in it, where windows are and so on.
4. The Next Priority

The next section to establish is what you consider to be the next priority. Let's say that doing homework is the next most important activity, so the next piece of furniture you need to place is the desk and perhaps a bookcase.
5. Work Your Way Around

Continue in this fashion establishing sections of your room by placing the appropriate furniture in order of priority. If necessary, save space by using multipurpose furniture. For example, utilize a desk that can be used for both doing your homework and can also hold your television. This saves the space a media stand would take up.


How To Organize Your Room:
This was my bedroom! Keep scrolling to see my bedroom now.
As you can see by the way it was set up, my bedroom activities are sleeping, watching tv, and getting dressed. You'll also notice that I used one of our dressers to hold the television as opposed to introducing another piece of furniture like a media stand into this space.
6. Populate It

Once your room is set up in sections and with the appropriate furniture, populate it with your material possessions accordingly. For example, put your books on the bookcase, your office supplies in the desk, your hair accessories in the vanity and so on. This establishes homes for your bedroom items by storing them where they get used.
7. Declutter

Be sure to get rid of things you no longer need for optimum bedroom organization. Here's how to organize your room with regards to clearing the clutter and 3 ridiculously simple steps to keeping your room tidy.
8. Decorate

Lastly, this is your sleeping sanctuary so decorate it accordingly. Use colors that bring you peace, hang wall art that you love and surround yourself with things that inspire you in a positive way.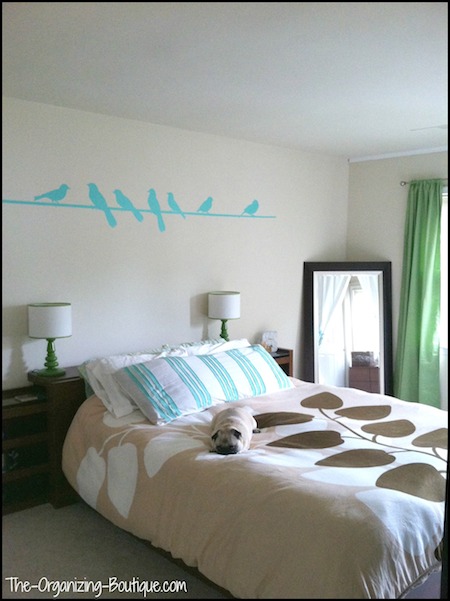 How To Organize Your Room:
This is what my bedroom looks like now since we moved. The colors are neutral with just the right pop of bright green and turquoise. There is no clutter on any surfaces, on the floor or on the walls. To us, our bedroom is comfortable and promotes clarity and simplicity.
How To Organize Your Room
With Organizing Products

Storage products make organizing the bedroom fun and easy. The following items will help you transform your bedroom from a catchall into a peaceful getaway!
Underbed Box with Wheels
A great space for storing items, but often times misused, is the area under the bed. Use these long, clear bins with wheels to effortlessly utilize this space.
Rubbermaid Hamper
Looking for a durable, lightweight hamper? Here it is! This hamper has tons of great reviews, so check it out.
Beds with Storage
Have you considered purchasing furniture that has the storage built into it? Take a look at these modern bedroom ideas!
Dresser & TV Stand In One
Furniture that serves more than one purpose saves space. This is a dresser that also accommodates a television and its components.
Murphy Bed Kits
Ever consider a bed that folds out of the way against the wall? This is a huge space saver! Check it out.
Bed Risers
Looking for small bedroom ideas? Use bed risers like these to lift your bed and create even more space under there!
Underbed Storage Drawers
Check out these plastic storage drawers and other rolling underbed storage options for easy and convenient bedroom organizing and master bedroom ideas!
Canvas Storage Bins
Get organized and add to your master bedroom decor by using stylish organizing products like these canvas storage bins. They match any interior design and can be used to hold a huge variety of things.
Corner Wardrobes
Looking for master bedroom decorating ideas? Use stylish furniture that also offers ample storage like these corner wardrobes and cabinets!
---
---