Baby Nursery Ideas: Organizing Baby Clothes In Dresser Drawers

This post may contain affiliate links. This means if you click on the link and purchase the item, I will receive an affiliate commission. More here: Disclaimer & Privacy Policy


Is your baby's room a mess? These awesome baby nursery ideas will help you organize the dresser drawers!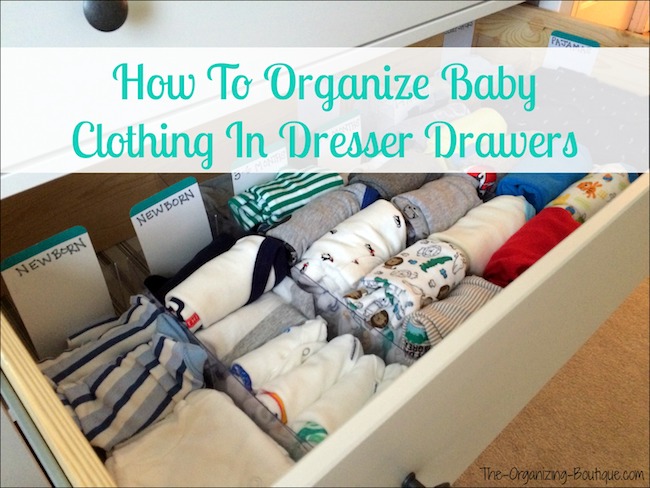 One of the most common pieces of advice I received when I was pregnant with our first child was, "Don't register for ANY clothes. You'll get more clothing than you'll know what to do with."
Boy was that spot. on.
I'm guessing that the next thing I'm going to say is not the typical response to the tidal wave of baby clothes that usually drowns expecting parents, but hey I'm a professional organizer so...
I was really excited to get to work figuring out storage solutions for all this tiny stuff and getting everything organized in anticipation of our baby's arrival.
If that's not the reaction you had or are having, which I expect it isn't, then not to worry. This post of baby nursery ideas is for you! I will guide you through this happy chaos (getting a lot of baby gifts is a good problem to have after all) and help you check something off of your baby prep to do list, so you can focus on more important things (like napping...seriously, nap as much you can while your time is still all your own).
Ready to read these baby nursery ideas? Let's get to it!
Baby Nursery Ideas For Organizing Tiny Clothes In Big Dresser Drawers (And Keeping It Tidy)

**Before we get into these baby nursery ideas and exactly what I did to get the dresser drawers organized, I want to mention a quick side note that is both important and relevant.
It is REALLY EASY TO PROCRASTINATE about doing this prep work, but it helped A LOT after the baby was born. Instead of being overwhelmed by a mess of baby clothes or wasting energy trying to explain to someone else where something was, I could focus all of my attention on our new tiny human.
If you find yourself procrastinating about getting organized, then check out Do The Opposite Of Nothing. It helps you move through your procrastination (without moving mountains, more like baby steps) so you can bring order to your life successfully.**

Ok, let's move on to step 1 of these baby nursery ideas!
1. Wash

The first thing I did was wash the baby clothes as they were gifted to us. I didn't want to wait and have a huge, overwhelming pile of laundry, so I did it a little at a time.
That said, a good piece of advice I got was to not wash everything because there's a good chance that the baby would grow out of things before getting to wear them. With that in mind, I washed everything sized for newborn, 3 months and 6 months.
Anything larger than that kept its tags (so I could possibly return it and get something else I need) and would be washed when the baby fit into that size. I sorted these bigger clothes by size (9 months, 12 months, 18 months) and stored them in the baby's closet in a hanging carousel organizer like this. Also, the outer pockets have been SUPER useful for holding little random things.

2. Set Up

I outfitted the middle dresser drawer with drawer organizers like these. This storage solution worked out well, because they are individual pieces so I could put them together like a puzzle in the drawer and maximize the space.

Why the middle drawer, you ask? I used the bottom drawer for blankets, bibs and sleep sacks, and the top drawer for diaper changing items and small clothing accessories like socks and hats.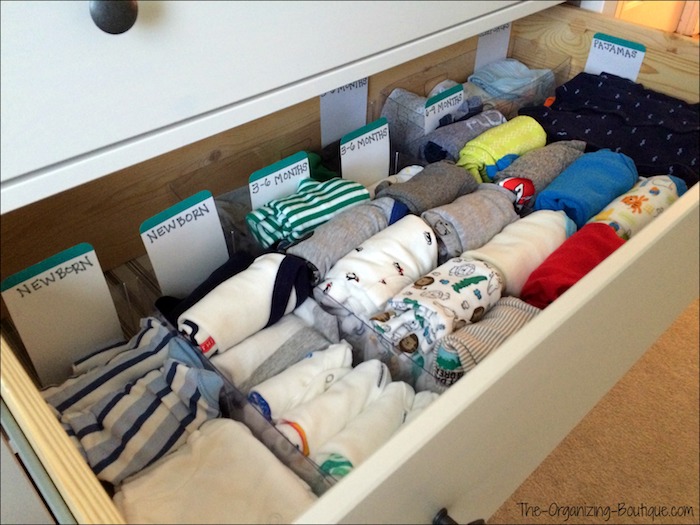 3. Sort & Roll

I sorted the clothes by size and then rolled everything to fit in the drawer organizers nicely. Each organizer held two layers of rolled clothing. It was easy to see and access everything.

The sizes I started out with were newborn, 3-6 months, 6-9 months, pajamas and sleep gowns. This obviously changed as he grew out of stuff (which I go into more detail about below).
Also, other than the pajamas and a few pairs of pants, this drawer started out as mostly onesies. Any other items like jackets were hung in the closet.
4. Label

As you can see in the photos, I used note cards as labels to specify size. Then I taped them into each organizer, so it was clear to anyone and everyone where to find what.
AND, as our little one grew out of stuff and I moved clothing out of the drawer into storage boxes, the labels were then reused on the storage boxes. Boom!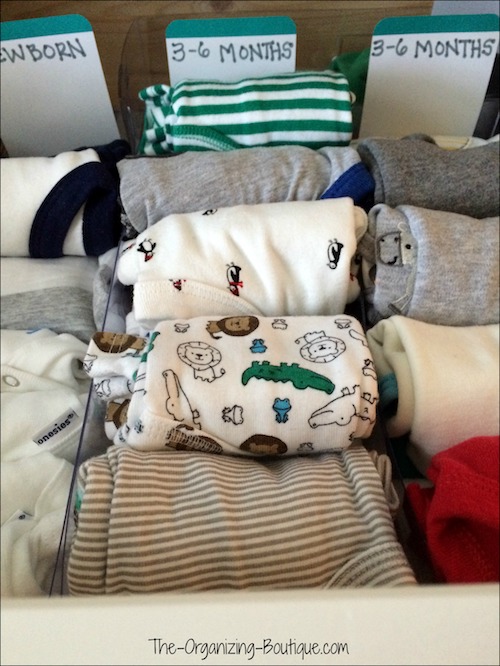 5. Maintain

As I already mentioned, as our little one grew out of clothing I took it out of the drawer and stored it in clear plastic bins with lids. Each size got its own bin, and the label from the dresser drawer was reused to identify it. The bins are now stacked in our basement, and the clothes are clean and ready to be used for our next bundle of joy.
To make this whole process easier, I always keep a bin in his room ready to capture clothes as they become too small. That way, if I put something on the baby that doesn't fit, rather than put it back in the drawer I just put it in the bin. This kept his dresser drawers current and the clothes organized. Once the bin was full, it was moved down to the basement and replaced with another empty one.
The bins I ended up using were The Container Store's Sweater Box and Deep Sweater Box, but any clear plastic bins with lids will do the trick.

And there you have it! That's how I organized my baby's dresser drawers, and hopefully these baby nursery ideas will help you too. If you liked this post, then check out this one on organizing YOUR dresser drawers. Happy organizing!
---
---