House Cleaning Checklist, Event Planning Checklist, Tent Camping Checklist & More!

Welcome to your source for to do lists of all kinds - house cleaning checklist, event planning checklist, tent camping checklist and more!

To do lists and/or checklists are integral to getting organized. Below you'll find lists that I have created along with links to other websites that have fabulous lists.
There are a lot of great resources out there, so I went exploring. The links below are the resulting collection, so no need to do any more searching. Let this be your to do list directory! It is alphabetically organized for your convenience. Enjoy!
Have you heard of List Plan It?!
It has hundreds of lists to put your entire world in order. Check it out and try it free!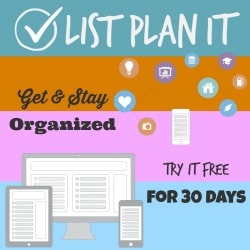 The Organizing Boutique's To Do Lists & Checklists

BBQ Items - Keep these BBQ supplies together for easy access to them and more enjoyable bbq'ing!

Bonnaroo & Tent Camping Checklist - Make camping a pleasure with this complete list of supplies for living outdoors.

Christmas - This timeline of things to do leading up to Christmas day will help you run a smooth holiday season.

Declutter - Things You Can Live Without - You can live without this list of items, so get declutterin!

Event Planning Checklist - Whether you need a birthday party checklist or a wedding checklist, this is the place to start.

First Aid Kit - What should you keep in your family's first aid kit? Here's the answer!

Holiday Inventory - Be prepared for the holidays by taking inventory before they begin, so you know what you have and what you need to get.

Home Cleaning Checklists - Streamline the home cleaning process by referring to a list, so you know what to do when and don't miss anything.

How To Be Happy - This is a great list of things you can do to improve your life and get happy now. :)

How To Clear Your Mind - Check out this list of things you can do to clear your mind and reboot.

Name Change - Just get married? This name change checklist will help with taking your spouse's last name.

Paper Shredding - What paper should you shred? This list will tell you!

Pool Supplies - Keep these items together and handy, so you can grab and go when it's pool time.

Tailgating Supplies - Football game? Concert? No matter the event, this list of tailgating supplies will maximize your outdoor fun.

Thanksgiving - This timeline leading up to Thanksgiving will help you plan an amazing Turkey Day.

Vacation Checklist - Do these things before you leave on a trip.

Great Resources For Checklists


House Cleaning Checklist Products & Other To Do Lists

Information Central Mouse Pad
Very handy, this product serves as a list maker and a mouse pad!
Knock Knock makes fantastic house cleaning checklist and to do list products. Check them out here!
---
Disclosure of Material Connection: Some of the links in this post may be "affiliate links." This means if you click on the link and purchase the item, I will receive an affiliate commission. Thank you for keeping the blog going in this way.

---