Organizing is fun!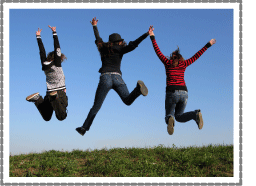 Organizing leads to happiness! I am a professional organizer, and I have experienced the positive results that organization has had both in my life as well as in many others.
I created this website with the goal of aiding as many people as possible in achieving the happiness that comes with creating order out of chaos. Enjoy!
Ready to get started? Let's go!

Begin your journey to a more efficient and satisfying life by clicking one of the links below.
---
How To Use This Site
Each web page is its own unique topic in the realm of organization.
To locate specifics quickly, use our search engine in the top of the right column of every page.
**Links leading to other websites will open new windows, so be sure to allow pop-ups in your browser's preferences.**
Using my experience, creativity and passion, this website will provide you with some great resources. Please feel free to browse. :)
Come back frequently for new tips OR let us come to you!

---
1. Get our updates in your inbox 2x a month. Put your email address in the sign up box that's in the right column under "JOIN."

2. Get our updates in your Facebook news feed. Simply "Like" our page.
3. Get our updates via Tweets. Follow us on Twitter.
A Little Bit About Me
I absolutely adore organization and have my entire life. You could say I was born to organize...
At age 5, I was arranging my grandparents' shoes by size and color.
At age 10, I was helping friends line up their Barbies by preference and sorting the accessories by likeness.
At age 16, I was cleaning out my best friend's closet. (Now of course, this helped her, but you better believe I went home with some awesome items that she didn't want!)
At age 22, I was setting up my boyfriend's closet and teaching him how to maintain. (Read his blog!)
And now, I am a professional helping my clients get and stay on track on a regular basis. I enjoy assisting others so much that I decided to create this website with the hope of supporting as many people as possible in improving their daily lives.

Enjoy and thanks for visiting!!

---
---
---
by Nealey Stapleton
Find me on Google+