Recycle Household Items - Easy Ways To Recycle Your Stuff & Keep It Out Of Landfills

Looking to recycle household items and keep them out of landfills? Check out these easy ways to recycle and our directory of amazing resources!
Fill out the form on this page to find recycling locations in your area according to what type of item you are trying to recycle.
Check out the list below of where to recycle things categorized by the type of item as well as the checklist for recycling paper.
Recycling Resources

What To Shed & What To Shred

Free yourself from the paper monster! Half of the battle of organizing paper files is knowing what to discard. This list will get you started.

Paper to Recycle

manuals and/or instruction booklets for items you no longer have or no longer work
irrelevant notes and/or notebooks from school
outdated articles, magazines, and newspapers
recipes you can no longer read
old printed emails
materials of events past
expired coupons
unnecessary or duplicate take out menus
old business cards
outdated memberships and/or subscriptions


Paper to Shred

utility bills more than a year old
bank statements more than 3 years old
outdated auto insurance policies
receipts with credit card numbers on them
ancient parking tickets
old deposit receipts
anything you are discarding that has sensitive information on it (social security number, date of birth, etc.)

PLEASE NOTE: ANY TAX-RELATED PAPERS SHOULD BE KEPT!
Categorized List Of Where To Recycle Household Items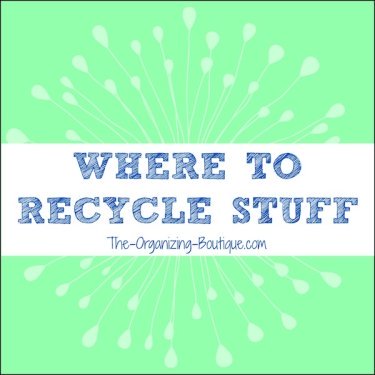 Aerosol Cans
Appliances
Batteries
CDs, DVDs, & Jewel Cases
Crocs
Mail old crocs to: Crocs Recycling West, 3375 Enterprise Avenue, Bloomington, CA 92316
Electronics
Fire Extinguishers
Glasses
Hangers (wire)
Keys
Light Bulbs
Metal Utensils
Nail Clippers
Printer Cartridges
X-Rays
---
Disclosure of Material Connection: Some of the links in this post may be "affiliate links." This means if you click on the link and purchase the item, I will receive an affiliate commission. Thank you for keeping the blog going in this way.

---