Organizing Toys: The Toy Organization Process &
Children's Toy Storage Products

**This post may contain affiliate links. This means if you click on the link and purchase the item, I will receive an affiliate commission. More here: Disclaimer & Privacy Policy**

Legos, stuffed animals, books galore?! Organizing toys is essential to parent, child, home and happiness!
With toy organization comes...
educated children on how to get and stay organized
relaxed parents who don't feel overwhelmed by mountains of toys
a clutter-free home with toys in their place
happiness
How nice and what a pretty picture that paints in my mind!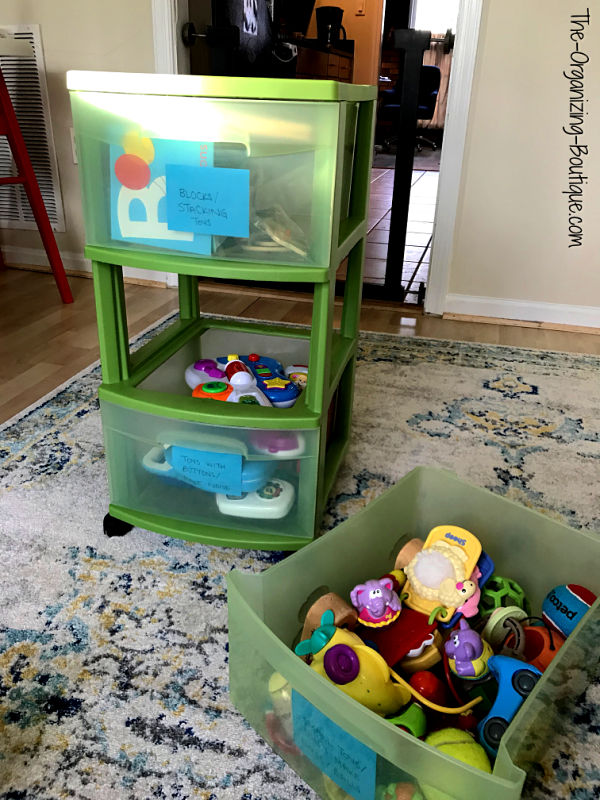 Now imagine the opposite...stress, clutter, piles, tension, mounds, yelling, overwhelming, chaos, ahhhh! Need I say more?
The following tips on organizing toys will lead you to clutter-free heaven. Enjoy!
Organizing Toys: The Process

**The best way to keep your kids organized is to get them in the habit of putting things away early!**
Utilize the general organizing procedure of purge, sort and store, and apply it when organizing toys.


PURGE:
Start by going through their items WITH THEM.
IMPORTANT SIDE NOTE: This part of the purge process is important according to age group. You probably know what they don't use or value when they are small children...
Let's say from the age of 8 and older, it is imperative that you ask your children what toys can be given away or pitched. This introduces them to the purging process early and avoids any boundary crossing.
Also if your child is struggling with letting go of stuff that you know they don't use, encourage them by explaining that there are kids who have absolutely nothing. Rather than letting unused toys collect dust, giving them away will make less fortunate children happy.

Depending on your situation, either decide what to keep and what to discard or help them do it. In order to do this, ask appropriate questions (i.e. Have they outgrown it? Do they still play with it? Are the pieces missing? Is it broken?)


As you make decisions, put the item in the corresponding pile, bag or box - Keep, Donate, Distribute, Trash.


Make a "maybe" pile if there are items that they really don't use but aren't quite ready to give away. Put this stuff in a box or bin and store it in another room (i.e. basement or attic). If they don't request any of the items within 6 months, the box can go straight to a charity.


Take out the trash for a clean work area. Put the items going to a

charity

in your car. This avoids any undoing of your hard toy organizing work.
SORT:
Now that all of the unnecessary items are gone, separate what's left into categories (i.e. board games, books, stuffed animals, etc.).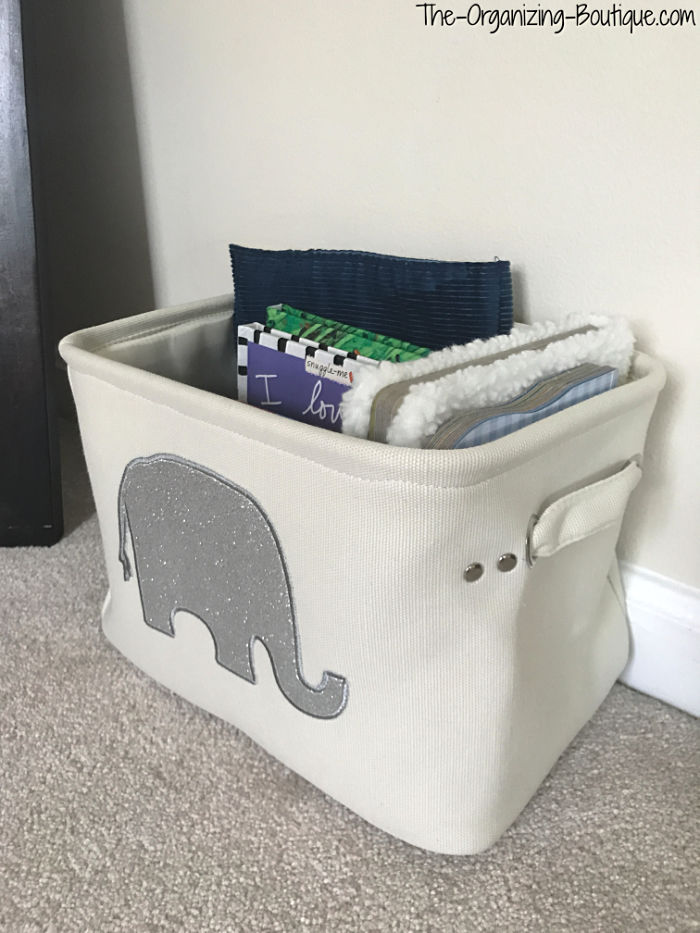 STORE:
Put the categorized items away accordingly (books on a bookshelf, stuffed animals in a bin, etc.).


Check out the recommended products for organizing toys below!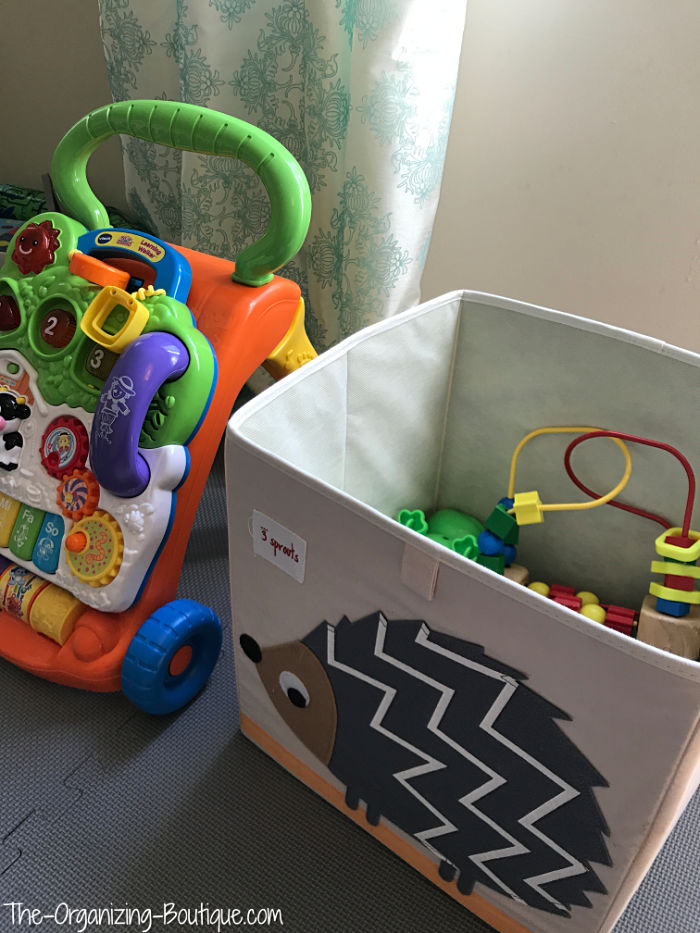 MAINTAIN:
The best way to get your kids in the habit of something is to teach it to them early and make it part of their daily routine (i.e. put toys away when done playing with them).


At least once a year, do a toy purging session with your kids. Doing this around the holidays is a perfect reason to get them motivated to do so...they will be getting more toys and giving stuff away promotes charity for those who are not as fortunate.
Organizing Toys: The Products

Toy storage organizers are a great way to keep the toy clutter under control and teach your little ones to put things away. Take a look at the following storage for kids!
Open Stacking Bins
Stack these sturdy, colorful bins and use them to store and organize toys. Your kids can easily reach in and grab what they want AND simply put items away when they're done.
Whitmor Toy Storage Shelves
This awesome childrens toy storage product comes with 12 colorful bins that are easy to reach into and simple to clean.
Over The Door Clear Shoe Organizer - a Favorite for Organizing Toys!
I know what you're thinking...this is for shoes, right? Well yes, but that's not what I'm going to recommend it for here! This product is fabulous for holding small toys, little pieces and tiny parts. It's also clear which makes finding things easy as pie.
Rolling Mesh Bin
This product is very versatile. Use it to store balls, stuffed animals, dress up clothes, you name it! After playtime, just throw the toys into the bin and roll it into a closet for an easy clean up.
IRIS LEGO 6-Case Workstation and Storage Unit
Organize those Legos! Need I say more? Check this out!
Kids Toy Boxes
Need to store stuffed animals or other large toys? Check out these top-rated toy chests that hold a lot and make clean up time as easy as throwing everything in.
---
---