Necklace Organizer & Jewelry Storage Product Suggestions + How To Declutter Your Jewelry

This post may contain affiliate links. This means if you click on the link and purchase the item, I will receive an affiliate commission. More here: Disclaimer & Privacy Policy


Is your jewelry in a jumble? Here are some great necklace organizer and jewelry storage organizer recommendations along with the step-by-step jewelry organizing process!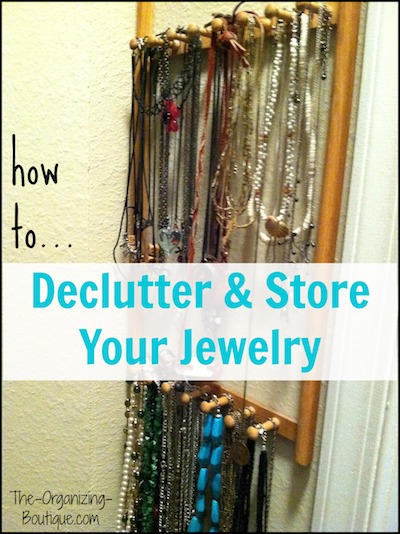 Why is it important to organize jewelry? Well, do you have a...
Favorite pair of hoop earrings? Antique family heirloom? Gift from a loved one?
Being organized means you can find these things, quickly if necessary, so time is saved. Being able to locate items means that duplicates are not purchased and therefore money isn't wasted. This also avoids frustration and raised stress levels.
Doesn't that sound pretty important?
Remember, no project is too small, especially when it comes to valuables.
To get started, use the following tips and product suggestions for organizing jewelry. Happy organizing!

The Jewelry Organizing Process:
How To Declutter

Utilize the general organizing procedure of purge, sort and store, and use it to organize jewelry.


PURGE:
Start by gathering all of your jewelry. Go through each piece one by one and decide if it is worth keeping.


In order to accomplish this, ask yourself appropriate questions (How often do I wear this? When was the last time I wore this? Is it still in style? Is it in good condition?).


As you make decisions, put the item in the corresponding pile, bag or box - Keep, Donate, Distribute, Trash. **Don't forget to record your donations for tax purposes.**


Take out the trash, and put the donations in your car. If you are giving items to friends or family members, put them in a labeled bag by the door to ensure you distribute them. This hinders the possibility of undoing your hard jewelry organizing work.


SORT:
Now that you can see what and how much you have, separate your jewelry into categories (i.e. earrings, necklaces, bracelets, brooches, rings, good jewelry, costume jewelry, etc.).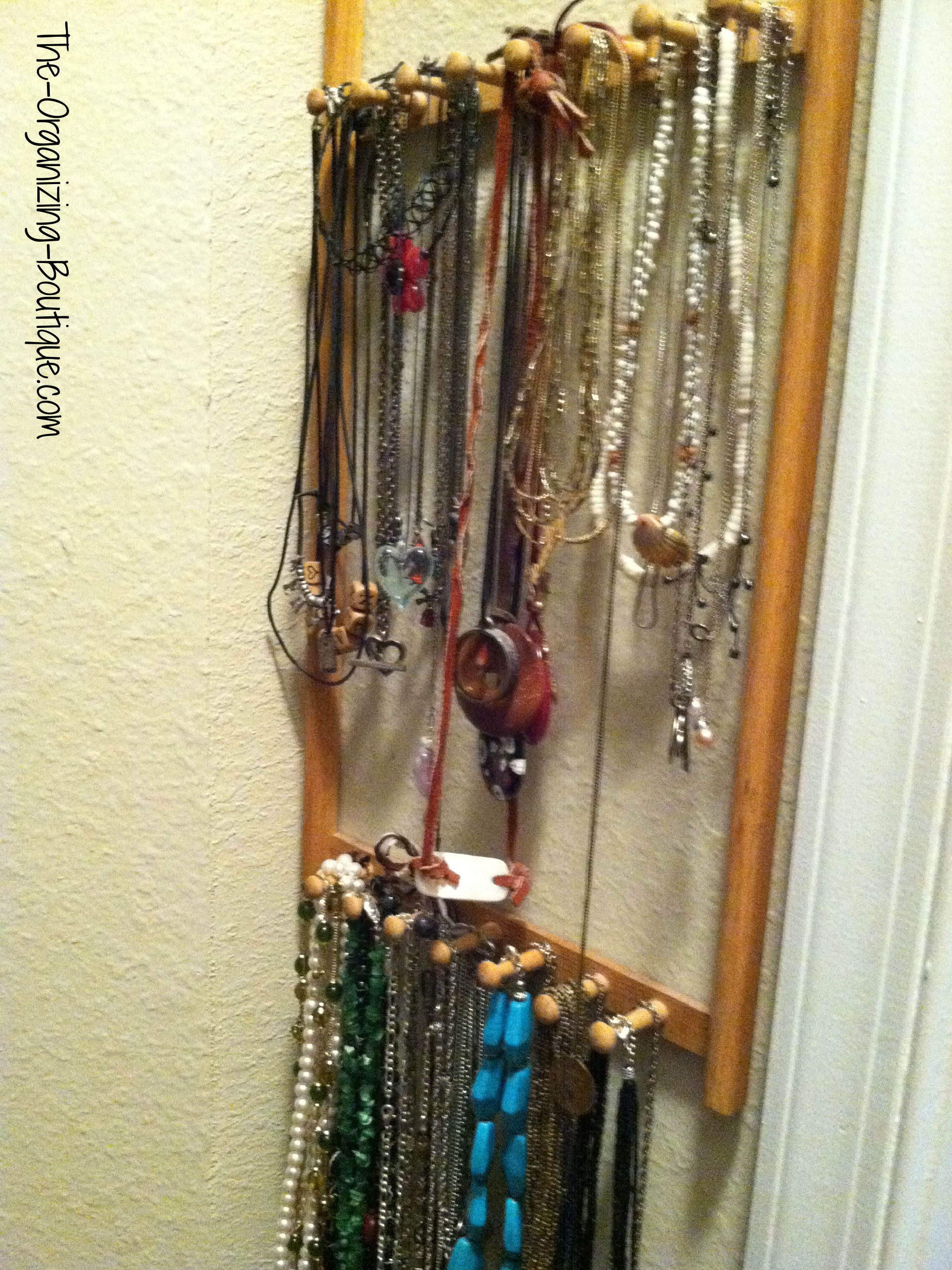 This is my necklace organizer; any series of hooks will do.


STORE:
With your jewelry sorted, you can see how much you have of each category. Use organizational products accordingly. See products suggested below.
I use this Jewelry Hanger (product link below) to store my earrings and other small jewels like brooches. This product nicely hides my jewelry among my clothing.

**Tip: These items could be very valuable. Take this into account when deciding where to store them (i.e. not out in the open).**


MAINTAIN:
After wearing items, be sure to put them back in their rightful homes.


A few times a year, go through your jewelry collection and pitch or give away any unnecessary items.
The Jewelry Organizing Products:
Necklace Organizer, Jewelry Tree & More

There are some fun, stylish products manufactured just to help you organize jewelry. Check out the ones below!

Hanging Jewelry Organizer
What a product! This jewelry hanger is great for earrings, bracelets, brooches, rings and any other small items. This product features two sides for maximum storage, clear pockets for easy viewing, and can hang concealed in the closet.

Hanging Bracelet & Necklace Organizer
This necklace organizer hanger does the job! It keeps necklaces and bracelets from getting jumbled and takes up minimal space in the closet.

Jewelry Tree
This jewelry storage organizer is a fun way to dress up your counter and store your gems. It features branches for necklaces and bracelets and a recessed base for rings, watches and other accessories.

Jewelry Travel Organizer
This travel jewelry organizer is great when you're on the go! It features padded compartments for extra protection and a variety of storage options like hooks and loop straps.

Jewelry Drawer Organizer
This stackable jewelry drawer organizer is fantastic! It features a variety of compartments to hold jewelry of all shapes and sizes. It is also lined to prevent scratches and tarnishing.

Jewelry Armoire
A client of mine has one just like this and loves it! If you've got the floor space, this jewelry cabinet doubles as a full size mirror and swivels for easy access.
---
---