Cookbook Storage & How To Organize Recipes

This post may contain affiliate links. This means if you click on the link and purchase the item, I will receive an affiliate commission. More here: Disclaimer & Privacy Policy


If you're looking for cookbook storage ideas and tips on how to organize recipes, then you've come to the right place!
Having your cookbooks organized can have a very positive ripple effect on your life. If you can find your cookbooks and recipes easily, then you are more inclined to create healthy meals which are great for your body and mind. Being organized rocks!

Below you'll find the step-by-step process on how to organize your cookbooks as well as cookbook storage ideas and products. Enjoy!

Cookbook Storage: The Organizing Process

Utilize the general organizing procedure of purge, sort and store, and apply it when organizing cookbooks.

PURGE:
Start by gathering all of your cookbooks and go through them one by one. Decide which ones are worth keeping by getting rid of those that you haven't used and know you won't in the future.

**Remember, it's very easy to look up recipes online.**
 If you come across a cookbook that you don't want but would like to keep one or two of the recipes inside, simply copy those pages and then get rid of the book itself. Put the copies in your recipe book binder or recipe card binders or what have you.


As you make decisions, put the item in the corresponding pile - Keep, Donate, Sell & Trash or Recycle.


Clear the area of the discards, so that you can clearly see what you are keeping. Put the donations in your car, so that you can easily drop them off the next time you pass the charity of your choice. Take the trash and recycling out.


SORT:
Now you can see what and how much you have. If you only have a handful of cookbooks, then no need to separate them into categories.


If you have more than a handful, separate the cookbooks into categories that make sense to you so you can easily find specific books when you want to. For example, you could sort them by the cooking method (i.e. grill, crockpot) or the type of meal (i.e. seafood, chicken).
STORE: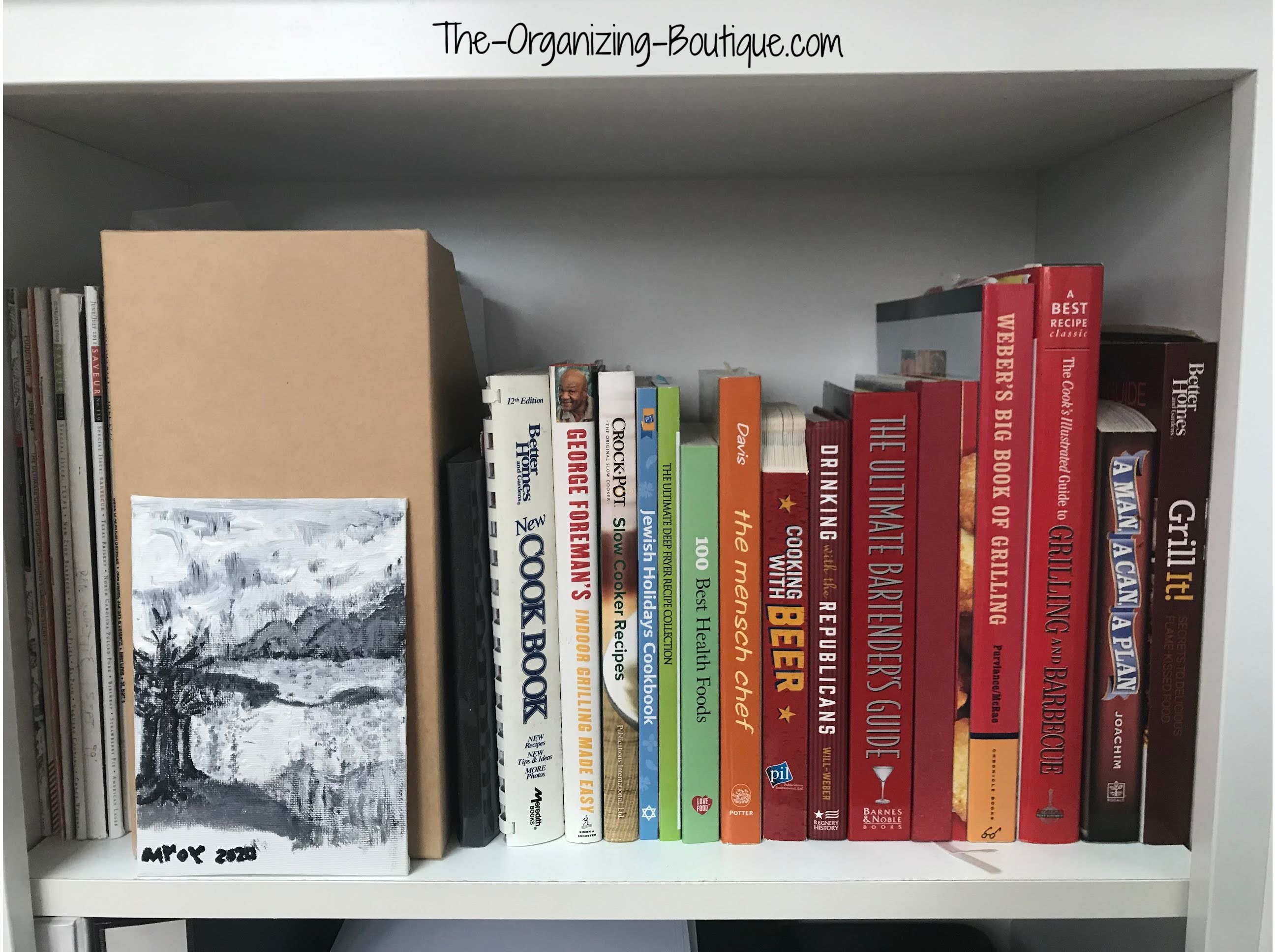 If you have a collection of cookbooks that don't all fit in or near the kitchen, then keep the most frequently used ones nearby and put the rest in another part of the house.
Need more than cookbook storage ideas? Here's how to organize recipes - print-outs, magazine rip-outs, pieces of paper handed down from family members, etc.

MAINTAIN:
Go through your cookbook collection once a year and get rid of anything that you haven't and won't use. Remember, recipes are very easily found online!


Be sure to put cookbooks away after each use. You want to be able to find them for next time.
Cookbook Storage: The Products

Cookbook Storage Bin
Store your favorite cookbooks in this canvas bin with handles. It looks good and can be moved around!


Clear Solutions Jumbo Cookbook Holder
This cookbook stand can hold anything - magazines, large cookbooks, you name it! It's adjustable and folds flat for easy storage. Fantastic!

Kitchen Book Ends
Keep your cookbooks from falling over on the counter or shelf with these  black metal kitchen book ends. Cool!

Under Cabinet Cookbook Holder
Save counter space with this awesome cookbook storage product!
EXTRA RESOURCES

---
---