A Better Alternative to Self-Storage
by Josh Seever
(Arlington VA, US)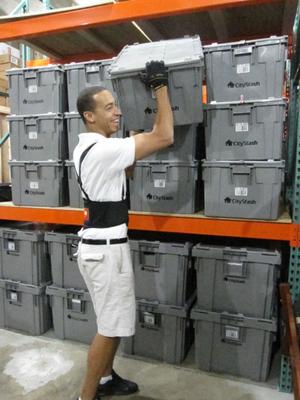 Neatly Stacked in the Warehouse
The use of self-storage is a great tool to reduce clutter in your home or apartment. But there are two problems.


First, it is inconvenient because you have to transport your own belongings to their warehouse. This often requires you to rent a truck and ask friends to help you with the physical labor.
Second, it can be expensive since you have to pay for an entire unit even if you don't use all of the space.
CityStash Storage solves both of these problem. They will drop off
custom plastic containers
for you to pack. They will pick up the containers, boxes, furniture, and anything else and store it all in their climate-controlled facility. Every item is tracked individually in your online account. Then CityStash Storage can deliver back any or all items on demand. CityStash is perfect for
storing your seasonal wardrobe, holiday decorations, and sports equipment
to free up space.
Monthly rent is charged on a per item basis (for example, a sofa can be stored for $29/month). Therefore, you only pay for the space you actually use.
CityStash Storage is a great alternative to a storage unit for helping you reduce clutter in your home or apartment. Take the first step towards organizing and simplifying your life! Visit them online at
CityStash.com
to place an order or send an email to info@citystash.com.
CityStash Storage has three locations:
1220 N Fillmore St,
Arlington VA 22201
(202) 417-2120
1050 Connecticut NW
10th Floor, Suite 1000-A
Washington DC 20036
(202) 803-6822
524 Union St
Suite #315
San Francisco, CA 94133
(415) 992-6188