GUIDE TO FALL WEDDING FLOWERS AND ARRANGEMENTS
by Izzy Smith
(UK)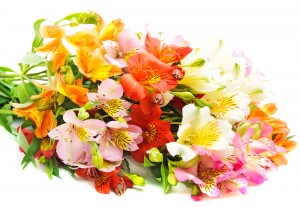 More and more couples choose to get married in the fall for various reasons. If you are one of these couples and you've picked this beautiful season for your most special day, you need to start organizing the flower arrangements as early as the beginning of summer. With your florist or wedding planner, go through the options you can pick from. The fall flowers have such warm and pretty shades that it won't be hard to find the perfect main flower for the event.

The first thing you should know about flowers is that the ones that are typical fall flowers are just perfect for weddings. Their colors are rich, shiny and bright – various shades of orange, tawny, gold, rust, yellowish green, burgundy and copper. Which are the best choices for a fall wedding ceremony and reception?

Here are some flower options:

Hydrangeas (for centerpieces)
Roses (for centerpieces and bridal bouquets)
Gerbera Daisies and Calla Lilies (for bridal bouquets)
Snapdragons
Roses
Fall leaves
Alstroemeria
Eucalyptus (for various arrangements and decorations)

Alstroemeria can also be used for a floral headband for the bride, for garlands and for wreaths.

One of the most important arrangements for every wedding is the centerpiece – it simply makes every table look much brighter and prettier. One popular option is to use an absolutely different centerpiece for each table. This can be done by using the same flowers but in different designs. Ask your florist to show you different options for this to be done. One perfect arrangement can be created with a mixture of Roses (in red, orange and
burgundy), small berries, seeded Eucalyptus and brown fall leaves. You can also add some fresh greenery.
Some couples choose a specific theme for their wedding, which will require a specific color and design. If you want to create a psychedelic effect, mix orange and golden fall flowers or red and yellow ones. Add purple flowers and the effect will be stunning. You can use purple Gerbera Daisies, Irises or Roses.
If you've chosen a hippie theme for your wedding, the boho chic style can be enhanced by making use of Hydrangeas, Snapdragons, Sunflowers, Orchids, Roses and Sallflowers. Pick lime green, orange, yellow, white, ivory and creamy shades.
When it comes to weddings, the most
important role of flowers
is in the bridal bouquet. The tradition is for the bouquet to be present throughout the wedding ceremony and the reception and then thrown for a young single lady to catch. The bouquet should represent the bride completely and enhance her beauty and appeal.
There are different styles of bridal bouquets: round, cascade, nosegay, pageant, hand-tied and posey. Each style requires differently-shaped
flowers and flower fillers
. The colors should be pretty, romantic and tasteful. The most popular fall flower for wedding bouquets is the garden rose (Evelyn and Pieter B for example). Wrapped in a silk bow they can make every bride look splendidly beautiful and charming. Other options are Aubergine Dahlias, orange-colored Roses, yellow Marigolds, rust and white Mums and more.
Fall flowers are some of the most chic ones. They are radiant and bright, romantic and passionate, and they bring elegance to a fall wedding.