My Top 9 Kitchen Pantry Organizer Products

Doing some pantry organization? Looking for a kitchen pantry organizer or two? Great! Here are some of my favorite kitchen pantry organizers!

Pantry organizers are imperative to keeping an orderly kitchen. A few simple products can make all the difference in the world, so here's a page dedicated to pantry storage organizers that will make your life easier.

Below you'll find photos of and links to my favorite pantry organizing products (or similar ones) along with their descriptions and guidance on how to use them. Enjoy!

My Favorite Kitchen Pantry Organizers
One of my best pantry organizing tips is all about using the entire (usually awkward) space AND then also being able to find specific items. This way you'll save time looking for things and you'll save money since you won't be purchasing stuff you already have.
Below you'll find my favorite products for organizing a pantry, so that you actually can use the entire space. Please feel free to add comments or ask questions at the bottom of the page.
2 Of My Top Pantry Organizing Products In Action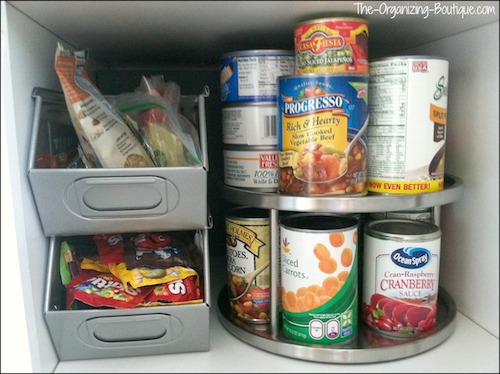 This is one shelf of my tiny pantry closet design, and these are 2 of my favorite pantry organizing products - turntables and reach-in stacking bins. As you can see, I've used all of the available space and employed products that allow me to get to everything. Lovely!

Products That Turn

Organizers that spin, aka turntables, are fantastic for using all of the available shelf space and for ensuring you can get to items in the back. Turntables are good for storing cans, jar, bottles, anything cylindrical in shape.
| | |
| --- | --- |
| | This is the Single Stainless Steel Turntable. I personally use this kitchen pantry organizer all over my house. In the pantry, I use it to organize my oils, vinegars and other cooking liquids. |
| | |
| --- | --- |
| | This is the Double Stainless Steel Turntable. This spinning product is good for smaller cylindrically-shaped items. I use it as a can organizer in my pantry and as a spice organizer in one of my kitchen cabinets. |
| | |
| --- | --- |
| | This is the OXO Good Grips Turntable. This product is very durable and turns smoothly even with heavy items on it. |
Products That Stack

Stacking bins are useful kitchen cabinet storage solutions, because they employ all of the vertical space. They also offer an easy way to reach in and grab what you need. Stacking bins are good for storing packets, bags and any other oddly-shaped pantry items.
| | |
| --- | --- |
| | These are the Mesh Stacking Bins. They are very versatile and can be used anywhere in the house. In the pantry, I use them to store oddly-shaped goods. I have 3 stacked bins - one for chips and crackers, one for granola bars and other breakfast items and one for rice, pasta and couscous. |
| | |
| --- | --- |
| | This is the Linus Medium Stacking Bin. These clear bins are made of strong plastic and make it easy to recognize the contents. This product is good for smaller pantry products like sugar packets and candy. |
| | |
| --- | --- |
| | This is an oldie but a goodie, the Iris Jumbo Stacking Basket. This product comes in different sizes and can be useful for storing shorter items like apples and oranges or small snack bags. |
More Kitchen Storage & Pantry Storage Products

There are so many different kitchen pantry organizers, so here are a few more favorites. Enjoy!

| | |
| --- | --- |
| | These are The Container Store's Handled Storage Baskets. They are great if you need to be able to pull the whole thing out. I use them in my fridge for condiments that don't fit on the door and in my kitchen cabinets for small, light things like extra pot holders. |
| | |
| --- | --- |
| | These are the OXO Good Grips POP Food Containers. They are BPA-free, airtight and stackable. They come in a variety of sizes to serve all of your food storage needs and make it much easier to organize chips, cookies and other items that come in oddly-shaped bags or packages. |
| | |
| --- | --- |
| | This kitchen pantry organizer is the Over Door Storage Basket Rack. This type of product is great if you have a pantry door (and not just a cupboard door). It offers a whole new space for storing and organizing pantry items. |
---
---
---
Disclosure of Material Connection: Some of the links in this post may be "affiliate links." This means if you click on the link and purchase the item, I will receive an affiliate commission. Thank you for keeping the blog going in this way.

---